What's REALLY in the Queen's handbag?
Aside from the Imperial State Crown that she wears at the State Opening of Parliament, there is no more familiar symbol of Queen Elizabeth II than the ubiquitous handbag that dangles from her left arm on every public occasion – from informal walkabouts to state dinners. The daytime version, by Launer, is boxy, with short handles, usually in black or white or beige. In the evening, it is smaller, in golden or silvery tones.
But the object itself is less a source of speculation than what lies inside. So imagine my surprise when th first person to describe its contents to me was Phil Brown, manager of Hull City football team. He sat next to the Queen at a luncheon in the Hull Guildhall three years ago, and managed to get a look inside.
'It was almost like a lady's prop with essential items,' he told me. 'It had things that you would expect
– make-up, (coin) purse, sweeteners she put in her coffee, the normal stuff. You expect that a lady-inwaiting would carry her handbag, but for the Queen, it was almost like a comfort blanket.'
Her ladies-in-waiting are responsible for necessities such as extra pairs of gloves as well as needles, thread and safety pins to make emergency repairs. Her private secretary keeps the texts of her speeches, which he hands to her at the appointed time. But the Queen 'is a very practical, down-to-earth lady,' said one of her long-serving ladies-in-waiting. 'She needs a comb or lipstick or Kleenex, and if she hasn't got it, what does she do?'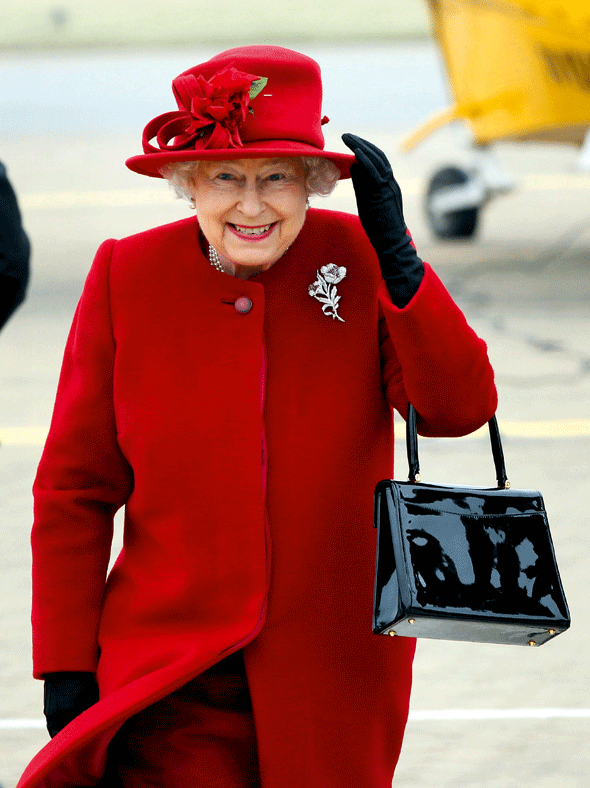 For the same reason, her handbag usually contains reading glasses, mint lozenges and a fountain pen, although rarely cash, except for a precisely folded £5 or £10 note on Sundays for the church collection plate. The most intriguing item she has been known to carry is a bag hook, an ingenious and sensible device. 'I watched the Queen
open her handbag and remove a white suction cup and discreetly spit into it,' recalled a dinner guest at the Berkshire home of the Queen's cousin, Jean Wills. 'The Queen then attached the cup to the
underside of the table. The cup had a hook on it, and she attached her handbag to it.'
There have been occasions when her handbag has served as a discreet trash receptacle as well.
During their 1983 visit to California with Ronald and Nancy Reagan, the Queen and Prince Philip decided to have a spur-of-the moment dinner with their Anglo-American entourage in the Trafalgar Room at Trader Vic's in San Francisco. At the end of the meal, the Queen cracked open her fortune cookie, read it, showed it to Prince Philip, then tucked it into her handbag. The most important item of all in the Queen's handbag is the smallest and most commonplace.
At the end of a luncheon or a dinner, even a banquet set with silver gilt and antique porcelain, she has the somewhat outré habit of opening her bag, pulling out a compact and reapplying her lipstick. When First Lady Laura Bush made a similar cosmetic fix during a Washington ladies' luncheon, she cheerily commented, 'The Queen told me it was all right to do it.'
Elizabeth The Queen: The Woman Behind The Throne by Sally Bedell Smith is published by Michael Joseph/ Penguin, priced £6.99.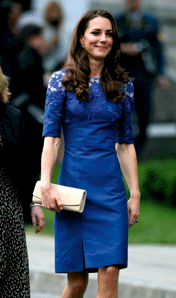 And in Catherine's...?
The Duchess of Cambridge is rarely seen without her clutch. Katy Pearson imagines what she has inside…
A silk handkerchief After getting caught out shedding a tear at the royal premiere of War Horse (Steven Spielberg's wife had to pass her a tissue) Catherine's unlikely to forget a hankie again.
A comb Catherine's glossy mane is one of her most prized assets. There's sure to be a Mason Pearson tucked in there.
A compact Because a timely touch-up is a must if you are photographed as often as Catherine.
Black kohl Eyeliner addicts such as Catherine won't leave the house without it.
Haribo sweets In the weeks before her wedding, Catherine's local newsagent revealed the bride-to-be's love of Haribo Starmix and Tangfastics sweets. If she's anything like us there's probably one or two still lost in the lining.
And in her aide's bag We're sure there'll be an atomiser of White Gardenia Petals by Illuminum (as worn by The Duchess of Cambridge at her wedding), some Nivea Natural Moisturising Day Cream (well, there's a lot of hands for her to shake), a pair of leather gloves and some mints.