WHY DID THE NAZIS MURDER LESLIE HOWARD?
Seventy years ago this June, a plane carrying the film star Leslie Howard was shot down over the Bay of Biscay by the Luftwaffe. It was no ordinary wartime skirmish. The plane was a civilian aircraft that flew regularly from neutral Portugal to a small airfield near Bristol. There was an informal agreement on both sides in the war to respect the neutrality of civilian planes from countries not involved in hostility.
Yet on 1 June 1943, the agreement was broken, as six Junkers Ju 88 fighters dived in to attack the defenceless Douglas DC-3. All 13 passengers and the Dutch crew of four were killed, and no trace of the plane has ever been recovered from the depths of the sea.
There's no question about who was responsible, right down to the German pilot who first opened fire, but many questions have been asked about why the plane was attacked. Less a whodunnit than a who-was-the-target?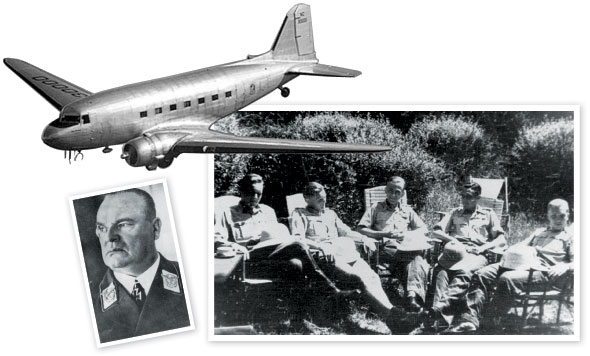 News of the air disaster rocked Britain, and delighted the Nazi propaganda minister, Dr Goebbels. Leslie Howard, while at the pinnacle of Hollywood success as the star of The Scarlet Pimpernel, Pygmalion and Gone With The Wind, had sacrificed his royalties, bought himself out of his contract, and returned to Britain in 1939, to work for the war effort. He made propaganda films for the Ministry of Information, and on his own initiative directed and starred in two films that had irritated Goebbels: Pimpernel Smith, about freeing young Jewish refugees from the Nazis, and The First Of The Few, about the designer of the Spitfire, which bolstered morale during the Battle of Britain. He broadcast letters to America designed to bring neutral USA onside, and had visited Ireland on a bridge-building mission to the anti-British premier Eamon de Valera.
As in an Agatha Christie detective story, among Flight 777's 13 passengers were several candidates for the double-edged distinction of being a Nazi target, including a possible case of mistaken identity in Leslie Howard's tax advisor and agent, Alfred Chenhalls, a tubby, bald, cigar-smoking bon viveur, who bore a resemblance to Winston Churchill.
The prime minister was in Algiers at the time, surveying progress in the Mediterranean and was expected to fly back any day. Another target might have been the mining engineer Ivan Sharp, who was buying up supplies of Wolfram from the Portuguese, to the detriment of the German armaments industry. Then there was a scion of the Berlin Jewish dynasty, Wilfrid Israel, whose rescue work with the Kindertransport inspired the film Pimpernel Smith. Israel was returning from secret negotiations in Madrid and Lisbon to enable Jews to imimmigrate to Palestine.

Even the airliner was the jinxed Ibis, the only one of four planes the Dutch KLM pilots had rescued after the German invasion of Holland, to have already been attacked twice on the Bristol-Lisbon route.
The mystery of Leslie Howard's death, aged 50, is in line with the enigma of his personality. His wistful, haunted face and vague manner suggested dreaminess, yet underneath, as David Niven, his co-star in The First Of The Few, noted 'there was a busy little brain, always going'. The slight, fair-haired actor was considered the epitome of an English gentleman, yet Leslie Howard was the son of a Hungarian Jew, Ferdinand Steiner, who had immigrated to England in the late 19th century. When Leslie was five, the Steiner family moved to Vienna but after five years returned to England. As a child, he would have witnessed the corrosive effects of anti- Semitism.
Howard met Winston Churchill in 1937 for several informal talks about filming the story of Lawrence of Arabia, and had made known his anti-Nazi views to the future prime minister, who was later to use theatricals, such as Noël Coward and Laurence Olivier, with their ease of access to notable people, as 'agents of influence'.
Howard's lecture tour to Spain and Portugal in May 1943 was sufficiently sensitive to involve correspondence with the foreign secretary, Anthony Eden, after Howard had expressed reluctance to go ahead with the Spanish part of the tour. He was visiting Madrid at a time when General Franco was being urged by Hitler to join the Axis. The prevaricating general was said to have enjoyed Gone With The Wind, and to be open to a link between the Spanish and British film-makers.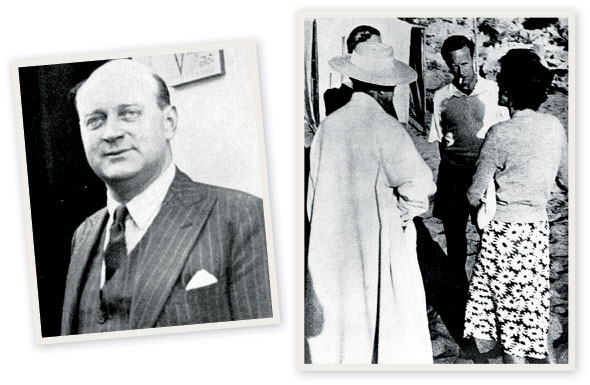 The tour came at a time of tragedy for Howard, six months after the death from meningitis of his mistress, Violette Cunnington. In Hollywood, he had acquired a reputation as a philanderer, while his wife Ruth stayed at home in England much of the time with their two children. There had nearly been a divorce when Howard fell in love with his co-star, Merle Oberon, while filming The Scarlet Pimpernel.
Violette was assistant to the producer for Pygmalion, remembered by one of the crew as 'a lovely girl, blonde, vivacious and French'. Their discreet affair was known to few. He stayed with her in London during the week and returned to his family at their 16th-century house in Surrey at weekends. Ruth had no alternative but to accept the situation, as did Violette.
Her death brought out the melancholic, mystical streak in Howard. He began to dabble in spiritualism. Alfred Chenhalls was of the opinion that a trip to sunny Iberia would do him good, and indeed it seemed to lift the depression, though his British Council host in Madrid complained of his guest's unreliable behaviour.
Despite being warned that she was a German agent, Howard also began an affair with a certain Baroness von Podewils, who was in charge of the beauty salon at his hotel. He also met an old Hollywood flame, the Spanish actress Conchita Montenegro who was married to a senior member of the far-right Falangist party. Shortly before her death in 2007, she claimed in an interview that Howard had used her fascist connections to contact Franco, theoretically to persuade the dictator to stay out of the war.

More mystery surrounds the actual flight, because of Howard's last-minute decision to travel one day earlier than scheduled. The plane was full, and they had to pull VIP status to have two passengers bumped off the flight. There are discrepancies in accounts, one being whether a priest, Father Holmes, was already on the plane before he received a message that he was urgently required elsewhere, his exit reducing the number of passengers to unlucky 13. And what significance did the German spies, watching at the airport, attach to the resident British Intelligence man's hasty trip to the bonded warehouse to collect a packet for Leslie Howard – which was nothing more sinister than several pairs of nylon stockings destined for his wife, daughter and female friends?
When my father, Ian Colvin, first became interested in Flight 777 in the 1950s there was much he knew that could only be written by concealing identities. Some National Archive files pertaining to Leslie Howard remained closed until a few years ago. My brother Andrew and I have written a new introduction and notes that provide a key to some of the secrets, though the issue of whether British Intelligence knew beforehand that Flight 777 would be attacked is still speculative.
What is certain is that Lisbon and Madrid were in a ferment of espionage and counter-espionage. Every spy one has heard of seems to have focussed on the Iberian peninsula at that time: Kim Philby, Graham Greene and Guy Burgess having responsibility for disinformation in London. Former Berlin Head of MI6, Frank Foley, made several debriefing trips to Lisbon during 1942-1943. Into this dangerous maelstrom of double bluff strolled one idealistic actor to play out his part, along with his Churchillian companion.
Flight 777: The Mystery Of Leslie Howard, by Ian Colvin, is published by Pen & Sword Aviation, priced £19.99
---
LESLIE HOWARD… in 60 seconds
Leslie Howard Steiner, born 3 April 1893 in Forest Hill, London.
Serves in Northamptonshire Yeomanry, but relinquishes commission in 1916 after suffering from shell shock.
Begins acting in 1917 in London theatres.
Moves to Hollywood where he often plays the part of the quintessential Englishman. Earns Academy Award nominations for Berkeley Square (1933) and Pygmalion (1938). He also plays Ashley Wilkes in Gone With The Wind.
Returns to England to assist with the war effort but is shot down over the Bay of Biscay in 1943. He was 50.