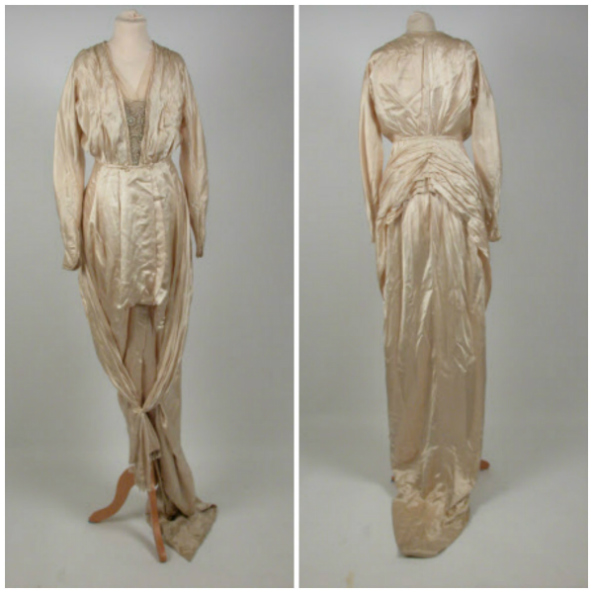 By Victoria Haddock, from The National Trust & The National Costume Society
The Women and Power programme is a great opportunity for us to highlight women's stories that may have been misrepresented or forgotten over time. At Killerton House, one way we are doing this is through our annual fashion exhibition, which will feature examples of historic dress from the 19th century to the present day.
In my article I would like to discuss an example of restrictive women's clothing from Killerton's collection that enjoyed brief popularity between 1910 and 1914. The hobble skirt was a skirt with an extremely narrow hem that impeded the wearer's stride. It is interesting to note that the rise of this short-lived fashion trend coincided with women becoming more physically active and the Suffrage movement progressing towards militancy.
The hobble skirt had its origins in the Directoire and Oriental styles of the period and may have been created by the Parisian couturier, Paul Poiret.
The cream satin evening dress (NT 1363087) in Killerton's collection dates from circa 1913, just as the trend was ending. The dress features a boned bodice with a deep V neckline that is filled in with a triangle of net that has been embroidered with glass and pearl beads. The skirt is shaped with a slashed front, pointed train and a fringed sash that knots across the front of the skirt to create the hobble effect.
The style was mocked in many cartoons and postcards and was even the main subject of a British comedy film of 1910, The Suffragettes and the Hobble Skirt that featured a man giving women hobble skirts in order to have them arrested.
Older generations of women, who had perhaps worn the fitted fashions of the 1880s, approved of the hobble skirt trend, as they hoped it would make modern women more graceful in their stride and overall appearance.
Hobble skirts were responsible for several deaths and also resulted in the New York Street Railway designing streetcars that did not have a step to board the carriage, especially for women wearing hobble skirts.
Famous designers, such as Lucile (Lady Duff Gordon) and Jeanne Paquin modified the hobble skirt by concealing pleats or offering wrap skirts to allow for greater movement. Corsets were sold that extended below the hips and some women even tied their legs together with garters at the knee to avoid splitting their skirts.
The hobble skirt eventually fell out of favour at the beginning of the First World War as the limitations of movement were not conducive to the war effort. It is curious that the demise of the tight hobble style actually led to fuller skirts becoming popular during wartime, when material was rationed.
By visiting Killerton you can discover the evolution of women's fashions and see how important dress was for giving women some power over their appearance in society.