The world's most Stylish Spy
Former British espionage worker on Vogue staff ' read the dramatic headline in the Herald Journal when American Vogue hired artist Brian Stonehouse to become its fashion illustrator in 1952.
Stonehouse, who died in 1998, had survived five Nazi concentration camps after being captured as a spy in France during the Second World War. He managed to stay alive by charming Gestapo guards with his exquisite drawings of their wives and girlfriends. General Eisenhower considered the story of his survival to be 'one of the most amazing experiences of the war'.
Stonehouse went on to become a celebrated society portraitist and fashion illustrator in New York and drew the actors Richard Burton, Sophia Loren and Tallulah Bankhead. On his return to London he was commissioned to draw the Queen, the Queen Mother, whose portrait hangs in the Special Forces Club in London, and he became a regular visitor to Clarence House.
A new book by Frederic A Sharf and Michelle Finamore is the fi rst to reveal the secrets of this extraordinary man's life, which reads like a film script. Like many of his generation, Brian Stonehouse's life was changed by the Second World War. Born in Torquay in 1918, he spent much of his childhood in France and spoke fluent French.
When war broke out he joined the Royal Artillery and was sent on guard duty to the Orkneys before being deployed by the Special Operations Executive (SOE) as a secret agent.
He was parachuted into France carrying an artist's paintbox concealing a B2 suitcase radio and a lethal tablet to be used if captured. 'His cover story was that he was a French art student working for Vogue – a story that was part fact and part fiction. He had been to art school, but at the time he had never worked for Vogue,' says Philip Athill, the curator of a recent show of his work.
In an intriguing turn of events, Stonehouse's 'cover' presaged his future career path. His artistic talent helped him survive incarceration in three French war prisons as well as five Nazi concentration camps.
Although he was undeniably courageous, Stonehouse was a mediocre wireless operator, perhaps owing to his lack of technical skills, and he was captured within a couple of months. While he knew that he should transmit from crowded places to make it difficult for the Gestapo to find him, he became careless and transmitted from a remote chateau on the outskirts of Lyon, making him an easy target for the Gestapo to track down.

He was arrested and imprisoned in Lyon, then moved to a larger prison in Castres. His courier Blanche Charlot was also seized, but managed to escape back to England. Brian Stonehouse was not so lucky: he was moved north to Fresnes Prison, put in solitary confinement and interrogated.
'Despite being tortured he continued to maintain his identity as a French art student, displaying incredible strength, not just of body, but of mind,' explains Athill.
But then, on Christmas Eve 1942, Stonehouse was told that he would be shot as a spy. The German interrogator who conveyed this bad news was Arnold Schneider. He never forgot this man and they were destined to meet again in very different circumstances.
Stonehouse was branded NN by the Gestapo – an abbreviation for the words Nacht und Nebel, or night and fog. Men branded NN were worked to death and their identities eradicated, rather like the Jews, so that their families would never know what became of them. When faced with obliteration Stonehouse decided to make it known he was a British army officer, so that his family would be informed of his death.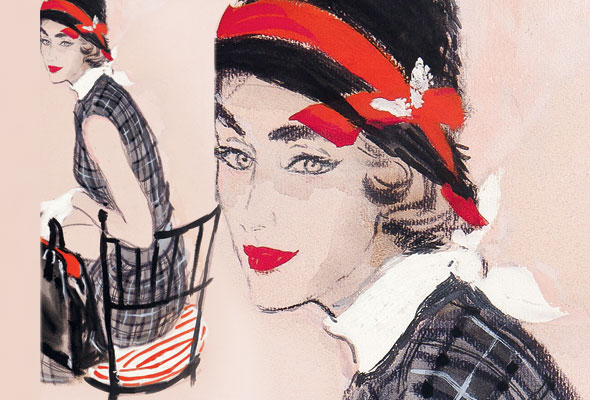 Somehow he avoided execution and on 23 October 1943 was transferred from Fresnes to a concentration camp in the German city of Saarbrücken, then later to Mauthausen. Here he was befriended by an SS guard who had been well treated by the British as a First World War prisoner. Upon discovering his artistic skill the guard assigned Stonehouse to draw portraits of guards and their wives and gave him an easy job in the kitchen.
After two further moves, in September 1944 he was taken to Dachau, where conditions were abysmal. In Dachau he sketched the crematorium as well as the Nazi offi cers and their families. Together with other British officers he organised the International Prisoners Committee, which helped people survive and boosted morale. When the camp was liberated by American troops in 1945, Stonehouse returned to his family.
This exceptional war hero's work did not end after VE day, though, for he helped interrogate former Nazi concentration camp guards and attended their trials. In an ironic twist of fate, Stonehouse found himself interrogating Arnold Schneider, the very Nazi who had sentenced him to be shot as a spy.
Stonehouse was handed a pistol and given permission to execute Schneider, but he refused, saying that he bore no malice to the Germans and had drawn down the curtain on this part of his life.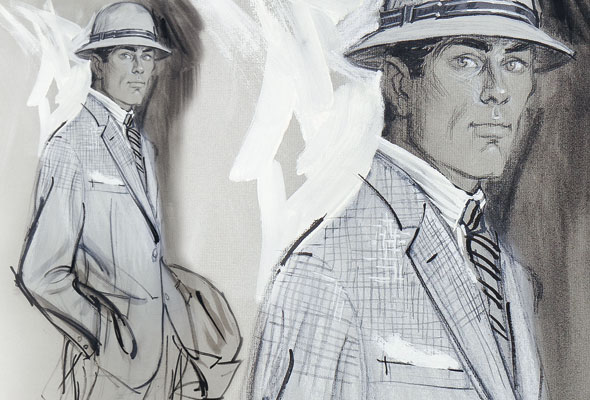 In 1945, the UK honoured Stonehouse with an MBE for his war services. Around this time he met a dashing American army officer, Major Harry Haller, who had been recording the Occupation for the American Above: A cartoon drawn by Stonehouse during the war Left: Pictured in uniform before receiving his MBE public. A lighter chapter of his life followed: Stonehouse moved to New York with his friend Major Haller, who belonged to an old Maryland family with roots in 17th-century America.
Crossing the Atlantic, Stonehouse aimed to become a portraitist and Haller's social connections gave him an immediate entrée into New York society. He was attracted to the style of wealthy women who came to sit for their portraits. In addition to capturing their faces he drew their elegant clothes and jewellery.
He had a particularly keen eye for gloves and hats and his flair caught the attention of Jessica Daves at American Vogue, who hired him as staff illustrator. At Vogue, Stonehouse drew some of the world's most beautiful women and his drawings startle with their poise, vitality and stylish originality. His style helped shape this elegant era: his designs look spontaneously effortless – rather like ballet. The fluidity and beauty of his work – characterised by its dramatic, sweeping black lines and striking use of colour – encapsulate post-war optimism and opulence.
A golden decade followed as Stonehouse became a sought-after star of the New York fashion scene and women flocked to him. New York hostesses loved his impeccable manners and chiselled features. His mantelpiece heaved with invitations to their black-tie dinners and he was befriended by stars such as Tallulah Bankhead.
He treated his models with kindness and they loved working with the tall, handsome and debonair Englishman. A few of them, such as Pauline Thomas, became part of his world for decades. At Vogue, Stonehouse's exquisite fashion illustrations competed with artists such as René Gruau, Carl Erickson and René Bouché. During these years he was a financial success and his drawings began to appear regularly in ads for Saks Fifth Avenue.
The 1950s have been called 'the last great days of fashion illustration' by some design historians. Its heyday was the 1920s and 1930s when fashion illustrators were hired by the Parisian couturiers: Givenchy, Shiaparelli, Christian Dior, Elizabeth Arden and Balenciaga. When the dynamic Diana Vreeland took over as editor of American Vogue, however, she preferred young fashion photographers such as Richard Avedon to capture the energy and vitality of the 'youthquake', as she called it, of the new age, and fashion illustration fell out of favour.
Stonehouse's association with Vogue ended with the issue published on 1 October 1962, but he continued working for Elizabeth Arden until the 1980s. Celebrity photographers may have dominated the 1960s, but in recent years fashion illustration has enjoyed a new popularity with the emergence of a generation of artists, including the celebrated David Downton, drawing inspiration from 20thcentury designers. The best 1950s pictures are now sought after as collectable artworks in their own right.
In the fashion world there are few stories as exceptional as that of Brian Stonehouse.
Brian Stonehouse, MBE: Artist, Soldier, War Hero, Fashion Illustrator, by Frederic A Sharf with Michelle Finamore, Sharf, £12.99 from V&A Bookshop: 020-7942 2696, www.vandashop.com

Pictures: Abbott and Hodder Ltd, Sharf Collection