A world of interiors
We all know how we live – in a mess generally, surrounded by the accumulated detritus of years spent living with spouses, offspring and now, in the era of the boomerang child, grandchildren as well, quite likely. But how does the rest of the world do it? With considerably more style and elegance, it seems – if you take the interiors featured in Taschen's latest glossy house book as a reliable guide. 100 Interiors Around The World is a sumptuous trawl through 100 international homes, from a dining room in Zurich and a Japanese bathroom to a cool Greek apartment and colourful open-plan living in Thailand. It's like a very posh version of Through The Keyhole – even allowing for the inevitable presence of a stylist and stills photographer, they're all frighteningly tidy.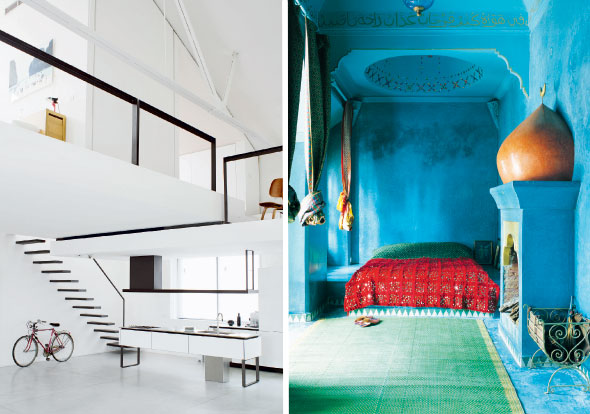 Left: Minimalist black lines add contrast to this white living space in a former office building in Italy. Right: Crowned by an onion dome, the fireplace was designed for this bedroom in Marrakech
Many of the interiors are in apartments dating from the late 19th century, but Taschen has included contemporary houses too, with all their clever technical innovations. Quite often it's not the room that intrigues, but the view out of the window: the urban skyline seen from a Singapore tower block, the calm and peaceful watery rocks-and-pine landscape surrounding a Swedish island holiday home.
Left: Biarritz, France: a damaged part of a building has been reconstructed using sheets of corrugated metal to create a loft-like living space. Right: A tatami bed and a raised roof with strips of windows in a bedroom in Chiang Mai
As the introduction to this intriguing book notes, there is a 'regular occurrence of certain types of furniture: Eero Saarinen's Tulip chairs and table, Eames designs or Arne Jacobsen's Series 7 plywood chairs'. It's no use just having a stylish house, it seems, if you want to join the international decor set, you also have to have the right furniture.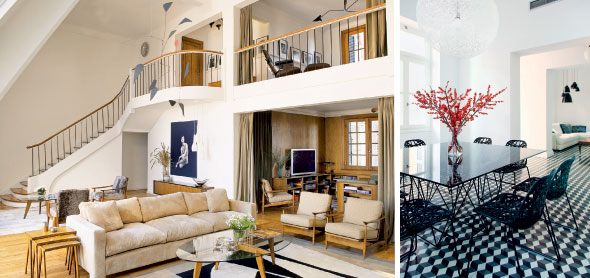 Left: Velvet curtains separate study and bedroom areas from the living room in Buenos Aires. Right: Clean, cool lines in a home in Athens – the table and chairs are by Habitat
100 Interiors Around The World (TASCHEN, £34.99).