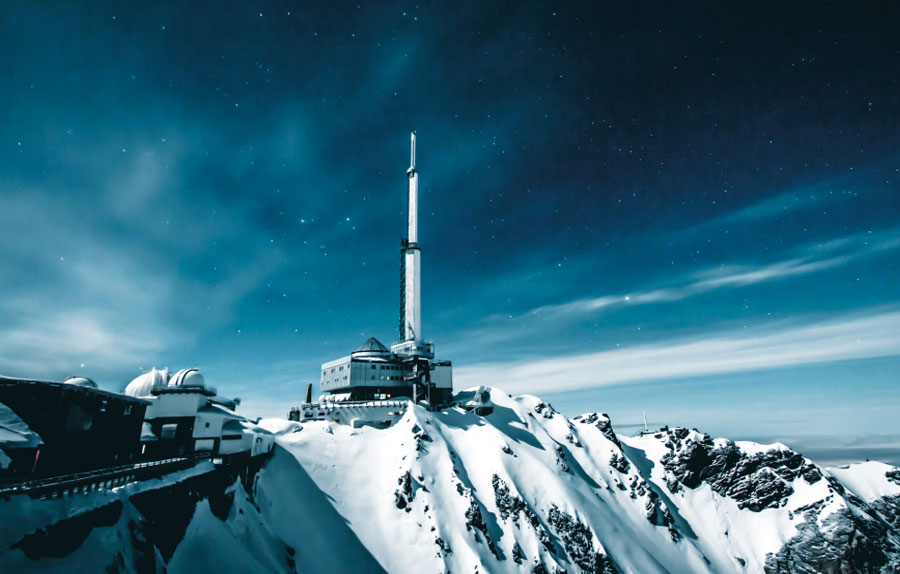 Above: Pic du Midi, French Pyrenees
Pic du Midi, French Pyrenees
Nasa scientists took photographs of the Moon from here in preparation for the Apollo missions. You can take a cable car from the village La Mongie to the summit at 9,439ft, where an observatory sits in the clouds. It was designated an International Dark Sky Reserve in 2013, and you can book an overnight stay at the observatory and sleep under the stars.
Atacama Desert, Chile
This is driest place on Earth if you exclude the North and South Poles. That's not helpful for plants and animals but it provides optimal conditions for stargazing thanks to few clouds and near-zero light pollution. As a result it is a magnet for professional and amateur astronomers alike, and home to many scientific observatories. There are plenty of local stargazing tour companies to take you to the best spots.
Natural Bridges, National Monument, Utah, USA
In remote Lake Powell, Utah, this was the first area to be certified as an International Dark Sky Park. The main attraction here is the 'river of light' phenomenon created by the Milky Way as it rises over the Owachomo Bridge. Plan to camp overnight for the full experience.
Kruger National Park, South Africa
The largest game reserve in South Africa, Kruger National Park, occupies more than 7,500 square miles. Most visitors come hoping to see the famous Big Five animals - elephant, rhino, buffalo, lion and leopard - but the remote location and lack of light pollution make for amazing viewing of the night skies. Expect to see the Southern Cross, Scorpio and the rings of Saturn.
Mauna Kea, Hawaii
The upper reaches of this 14,000ft extinct volcano are one of the world's best astronomy sites: the Mauna Kea Observatory is home to 13 of the world's largest telescopes, though they are strictly for the use of scientists. Expect to see the Milky Way, the bands of Jupiter and the constellations of Ursa Major and Orion.