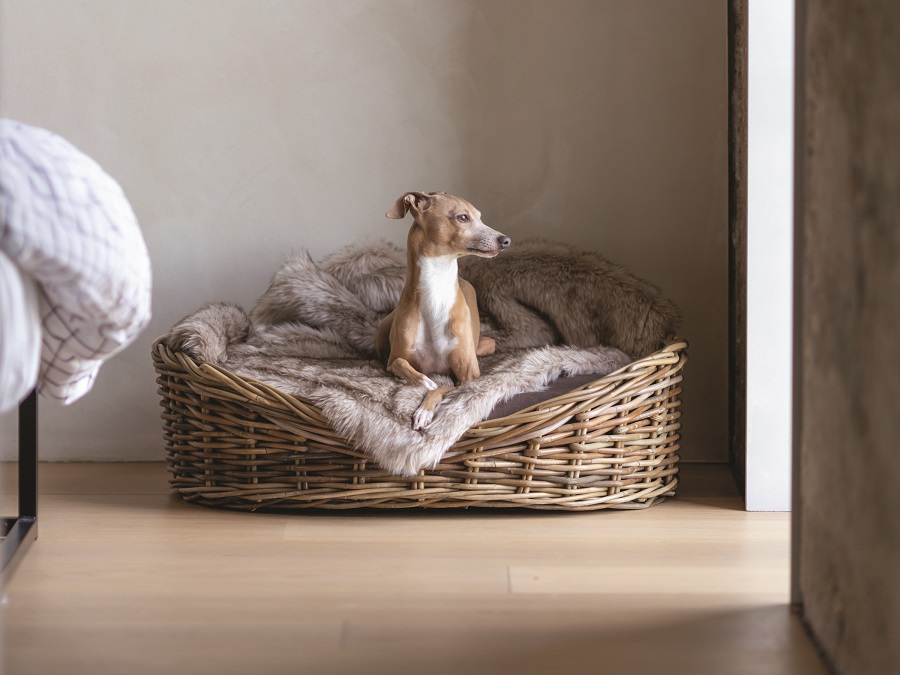 By Lucy Robinson
As our beloved dogs spend almost half their care-free lives sleeping, finding the perfect bed is, in my opinion, as important as ensuring your own sleeping quarters are up to scratch. I've popped together a selection of dog beds to suit every taste, catering not just for comfort alone but considering other essential factors such as durability, practicality and style.
Charley Chau
First up, this range of astonishingly gorgeous beds by British brand Charley Chau; a family-owned British business founded by two, in their own words, 'crazy dog ladies', Christine and Jenny Chau (sisters too) in 2010, inspired by their pack of adorable Italian Greyhounds. As a 'pointy dog' owner myself, I have always been in awe of the whole Charley Chau range. These beds simply ooze luxury, always soft to the touch and available in a choice of rich, almost daring colourways or more subtle neutral tones. The designs have been inspired by lush greenery, natural canes and shy, blushing blooms. They have curated a collection of beds that help bring a nature-inspired look to your dog's digs and your home, which includes the new 'Deeply Dishy' in Leaf & Lime Velour.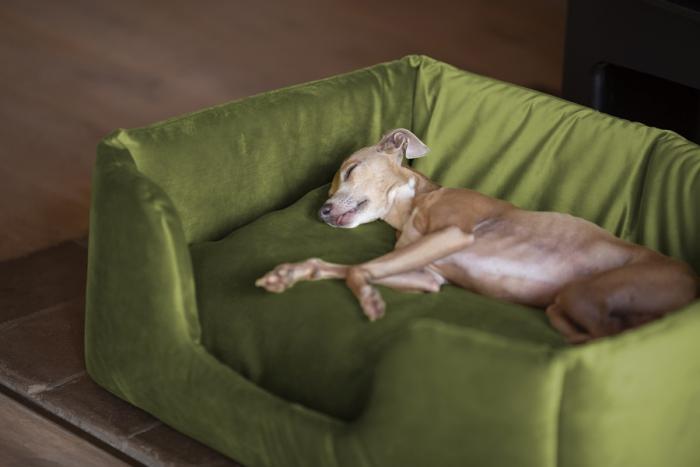 Their Dog Blankets are a great way to add a little cosiness to your dog's bed. Charley Chau's Double Fleece Dog Blankets are a "can't live without" – a super-soft fleece that washes beautifully time after time. All of the dog blankets are machine washable, ideal for mucky paws!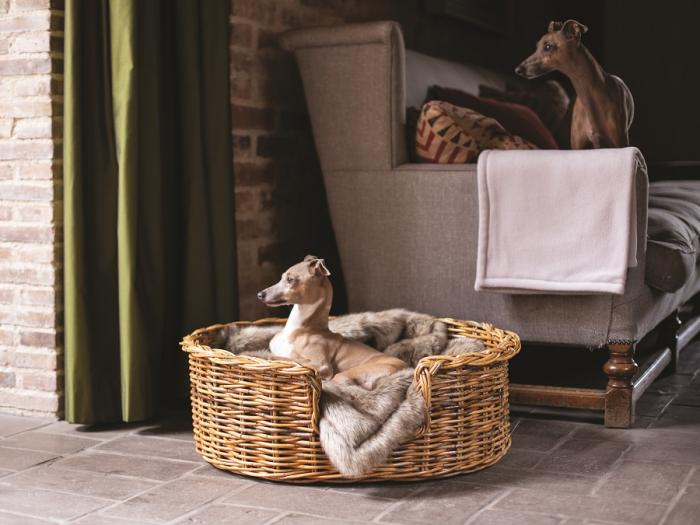 Chatsworth Cabinets Bespoke Pet Bed
As well as creating timeless pieces for homes, this British brand designs beautiful bespoke luxury pet beds, which easily stand alone as a tasteful new furniture addition in your home. Available in a choice of over 10 stylish colours, their beds can be personalised with your pet's name engraved into the headboard. The bed is raised off the floor on a plinth, the raised sides keep your pet out of cold draughts. Complete the look by placing your pet's favourite snuggley blanket or cushion inside.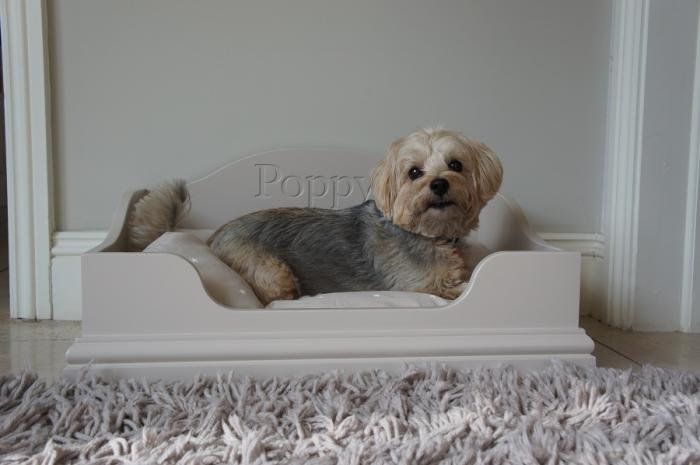 VioVet Country Lounger
Inspired by autumnal tones, VioVet's own-brand Country Lounger matches comfort with affordable luxury. This particular dog bed pairs a woody brown with a beautiful tartan of muted greens, oranges and shades of berry. The quilted faux suede sides are deep and generously stuffed to support sleepy heads, and the inner cushion can be reversed to match. After a long walk, your dog will love snuggling into a warm corner, or sprawling in ultimate comfort! The bed is available in a range of sizes to suit all breeds.

Sophie Allport
Sophie Allport's charming oval-shaped pet bed dog bed is a real winner with its stylish print, affordable price tag and durable cotton fabric. has deep filled fibre shoulders for enhanced comfort with a drop down front for easy access; a super cosy bed for your dog to curl up in. Made from hardwearing cotton Woof fabric, it is covered in an array of adorable breeds, including wirehaired Dachshunds, Springer Spaniels, Cocker Spaniels, black Labradors, Pugs, Jack Russells and fox red Labradors on a wheat beige background colour.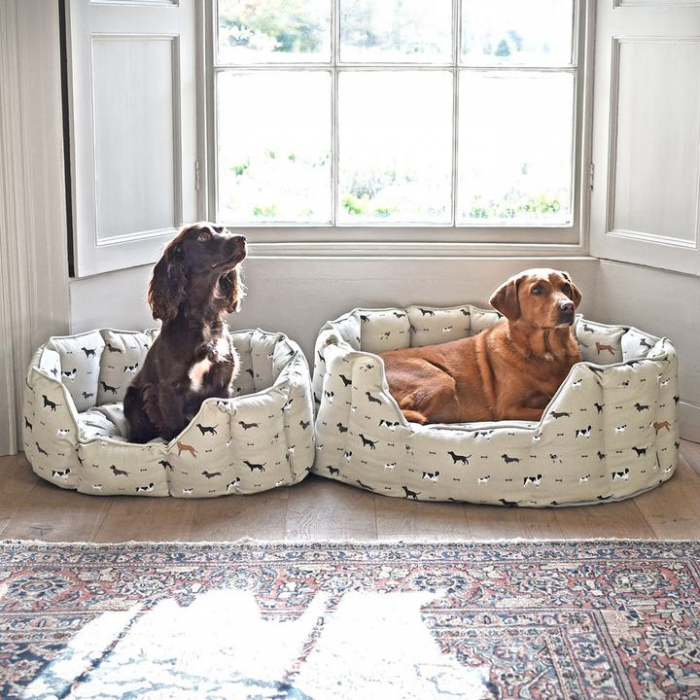 Sleepeezee
Renowned for it's ease and practicality, the Sleepeezee handmade pet range offers a snug and comfortable sleep for your pet. These pet beds are amazingly, the only washable pet beds on the market – simply wash in your machine at 60 degrees with your usual detergent. The odour-eliminating fabric and supportive memory foam filling means you can be sure that your pet gets a perfect sleep. The neutral shades compliment any interior, but better still, with every sale of a Sleepeezee pet bed, they donate £4 to Battersea Dogs and Cats Home.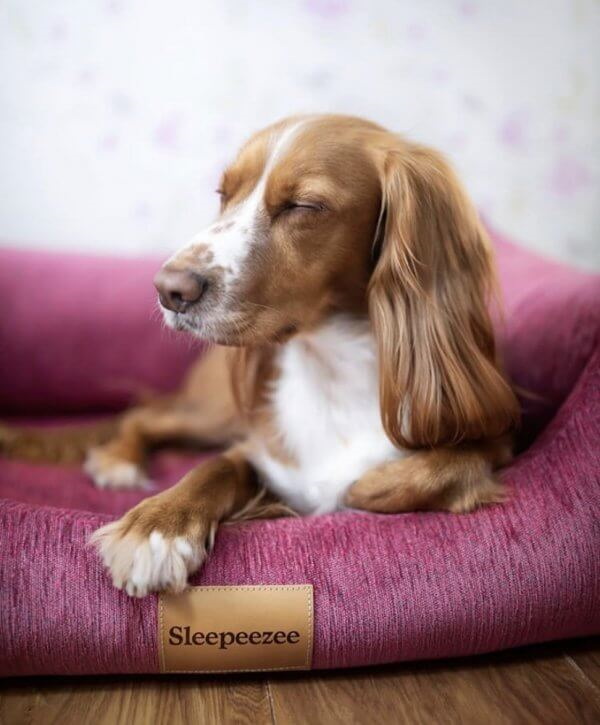 Here's hoping this Top 5 Pick of pet beds helps your hound snooze safe and sound.