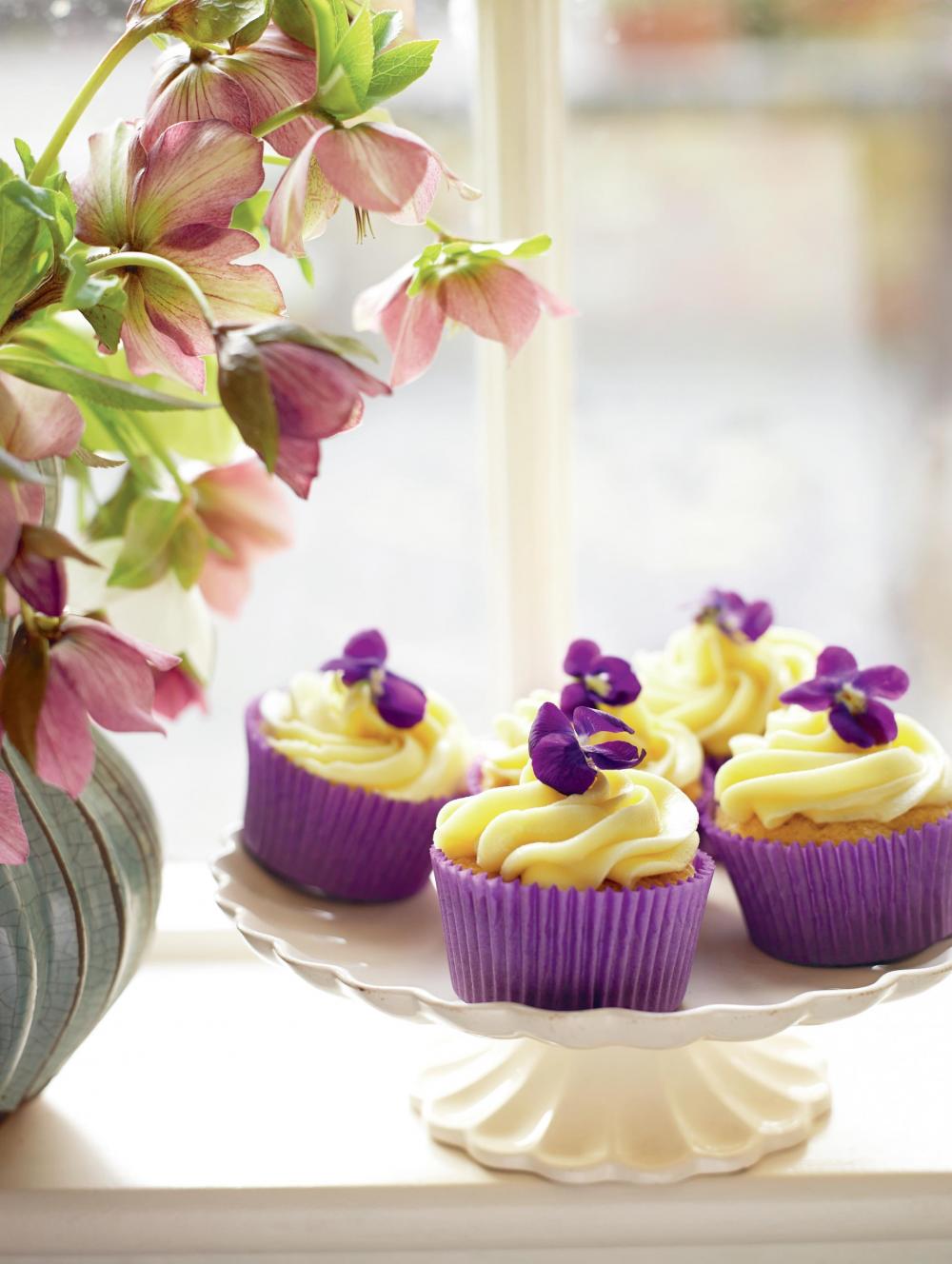 Zesty Lemon and white chocolate cupcakes
These are really zingy, citrusy cakes. The sharpness of the lemon combines so well with white chocolate. It's important to buy good white chocolate, as it makes a better icing; I prefer Swiss brands.
Makes 12
For the cakes
175g self-raising flour, sifted
1 tsp baking powder
1 tsp vanilla extract
Finely grated zest of 2 large unwaxed lemons
175g golden caster sugar
175g unsalted butter, really soft, in small pieces
3 eggs, lightly beaten
For the filling
12 tsp lemon curd
For the buttercream
200g good-quality white chocolate, finely chopped
200g unsalted butter, very soft
To decorate
12 fresh or crystallised violets
Tools
Apple corer
Large piping bag, fitted with a star nozzle
Preheat the oven to 180°C/fan 160°C/350°F/gas mark 4 and line a cupcake cake tray with 12 paper cases. I use a food mixer for this cake, but you could use a large bowl and a hand held whisk, or a food processor.
Sift the flour and baking powder into the bowl. Split the vanilla pod lengthways, if using, and scrape the seeds into the bowl with the tip of a knife, or simply add the vanilla extract. Add the sugar, butter and eggs. Beat until well mixed, then divide between the cakes. Bake for 15-17 minutes, or until the cakes are golden brown and spring back to touch. Leave in the tin for a few minutes, then remove to a wire rack to cool completely.
Once the cakes are cool, remove the centre of each using an apple corer or a teaspoon and place 1 tsp of lemon curd into the centre. Replace the cake plug.
To make the buttercream, put the white chocolate into a heatproof bowl and stand it over barely simmering water. Once melted, remove from the heat and cool.
In a food mixer, or in a bowl using a hand-held electric whisk, cream the butter until light, then slowly add the cooled, melted chocolate. Chill slightly, then whisk to thicken. Fill the piping bag and pipe the buttercream on to the cupcakes. Decorate each with a dry, freshly picked violet, or a crystallised violet.
Seasonal Baking by Fiona Cairns (Weidenfeld & Nicolson) Photography: Dan Jones