Mother's Day is all about celebrating family, and it's always a busy day here at Coworth Park.Generally Mother's Day falls at the end of March when we are just starting to see the first signs of spring.
We have lots of families dining with us in Restaurant Coworth Park and in The Barn, and each year the atmosphere is fantastic. For some, Afternoon Tea following a long spring walk is just the ticket for a Mother's Day treat. We offer a special Mother's Day Afternoon Tea in the Drawing Room which includes a glass of champagne. All our Mother's Day menus in Restaurant Coworth Park, The Barn and the Drawing Room are accompanied with a floral gift for each mother dining, which we think is a nice touch not only to celebrate the ladies but also the coming of spring.
I have great memories of Mother's Day as a child, which involved not only spending time with my mum but also with my granny. Even as a grown man, I have a real soft-spot for her!
These days, I really enjoy cooking for them on Mother's Day - it feels like giving back a little after years of them looking after me.
In my family our favourite meal is a good Sunday roast and particularly a delicious roast chicken with all the trimmings, cheesy leeks and potatoes. What's not to love? My recipe for Cotswold White Chicken is great as it can be made in advance, meaning more time to spend with our mums on the day itself.
Cotswold White Chickens are in my opinion the best English chickens; they are slow-reared for three times as long as normal free range chickens. This results in a very tasty bird indeed. They are farmed in the Midlands and we use them in all our outlets across the year; from a wintery chicken dish in The Barn to a summery wedding breakfast following a ceremony in our wildflower meadow.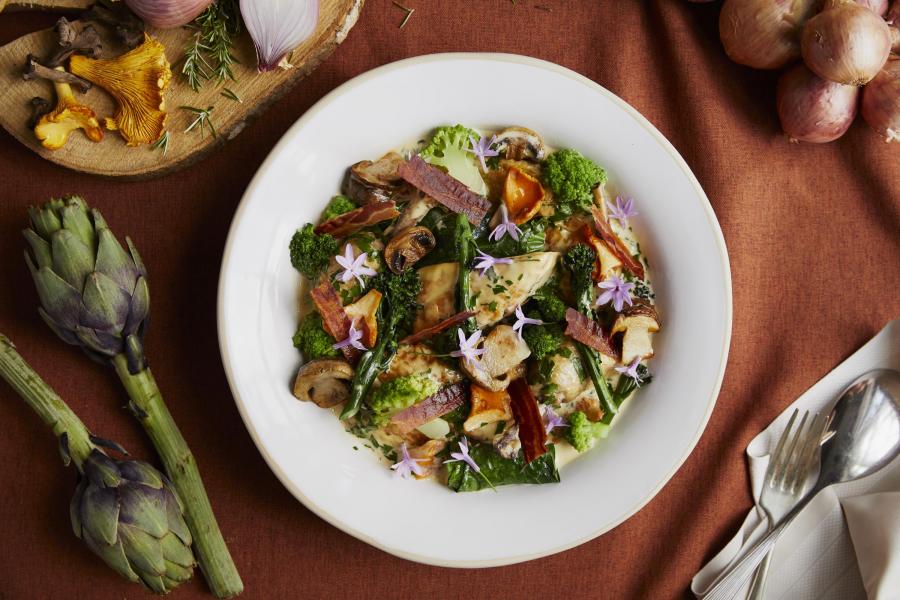 Adam Smith's Cotswold white chicken with brassicas and smoked bacon
Serves 4
Ingredients
1 x whole Cotswold White chicken

1x head garlic

25g thyme

250g rosemary

200g button mushrooms (thinly sliced)

2 x banana shallots (thinly sliced)

250ml dry white wine

2lt white chicken stock

500ml double cream

1 hispi cabbage

250g sprouting broccoli

1 Romanesco cauliflower

250g wild mushrooms

4 tbsp chopped parsley

500g smoked bacon/ pancetta


Method
Cut the chicken in 10 pieces, each piece still on the bone. To do this; remove the wings and their tips, take the legs off and cut each in half through the knuckle. Cut down the centre of the breast and through the bone, and cut each in half. This is classically called cutting for sauté and you will have 2 wings, 2 thighs, 2 drumsticks and 4 pieces of breast meat all still on the bone; this helps keep in the moisture and adds big flavour.

Heat a thick-bottomed sauté pan and add a little cooking oil, season the chicken and place all skin side down in the pan. Cook for around 10 min until the skin is crispy and golden brown in colour, turn the chicken over and cook for a further 5 min.

Remove the chicken from the pan and reserve.

Slice half of the smoked bacon as thin as you can and bake in between baking trays in the oven at 170oc, this usually takes around 15 min until they are golden and crisp depending on the oven.

Add the garlic bulb that has been cut in half, remaining bacon that has been diced, the sliced shallots, sliced button mushrooms, thyme and rosemary; cook these all until they are golden brown in colour and deglaze the white wine, reduce this until a syrup. At this point, add the white chicken stock and simmer for 15min.

While waiting for the sauce, prepare the cabbage, Romanesco and broccoli into even sized pieces.

After 15 min add the double cream to the stock and bring to the boil, once boiled pass through a sieve and into a clean pan.

Add the chicken and all the brassicas into the sauce and slowly simmer for around 10 minutes, until the chicken and brassicas are just cooked.

Add the chopped parsley and serve into a large bowl, garnish the top with some pan fried wild mushrooms and bacon crisps.


Happy Cooking!

Adam Smith
Executive Chef at Coworth Park