The What, Where, When: 10 October
WHAT: Railway in Wartime/ Pickering 1940s Wartime Weekend.
Market town in North Yorkshire is transported to 1943, featuring dance, a children evacuation re-enactment, a parade of military vehicles and a blackout. Also includes steam trains departing for Levisham, where a French village occupied by German troops is recreated.
WHERE:
Pickering & along the line at Levisham, Goathland and Grosmont Stations
www.nymr.co.uk
WHEN:
10 – 12 October
WHAT: The Esher Hall Antiques and Fine Art Fair.
Displays the very best antiques and fine art for collectors and antique lovers, interior designers and private buyers.
WHERE:
Esher Hall, Sandown Park Racecourse, Esher, Surrey
www.esherhallfair.com
WHEN:
10 – 12 October
WHAT: Vitalise Woman of the Year Awards
. Honours the achievements of exceptional women, both in the world of business and personal achievement.
WHERE:
Hilton Metropole, Birmingham, B40 1PP, West Midlands
www.womenoftheyear.org.uk
WHEN:
10 October
WHAT: Am Mòd Nàiseanta Rìoghail - Royal National Mod
. Scotland's premier annual Gaelic festival featuring music, drama, dance and literature. Highlights include shinty matches, Gaelic music competitions and recitals by rural Scottish choirs. The Queen is the event patron, with members of the Royal Family regularly attending.
WHERE:
Inverness, Scotland
www.acgmod.org
WHEN:
10 – 18 October
WHAT: Chester Literature Festival
. City hosts talks, workshops, performances, and readings by authors, literary, theatre and media figures.
WHERE:
Venues across Chester
www.chesterliteraturefestival.co.uk
WHEN:
10 – 26 October
WHAT: World Mental Health Day
. Combats stigma attached to mental health issues. Encourages awareness and empowers people to create positive changes in their lives, communities and countries in regards to mental health and illness.
WHERE:
Worldwide
www.wfmh.org
WHEN:
October 10
WHAT: International Day of the Girl Child
. Recognise girls' rights and the challenges girls face around the world.
WHERE:
Worldwide
www.un.org/en/events/girlchild
WHEN:
11 October
WHAT: World Arthritis Day & Fit To Move
. Focuses on all forms of arthritis and highlights the support network available to both sufferers and their carers. Encourages people with or without arthritis to keep active and fight back against joint problems.
WHERE:
Worldwide
www.worldarthritisday.org
WHEN:
12 October
WHAT: Off the Shelf Festival of Words
. Literary festival offering a programme of author events, debates, poetry, workshops, walks, talks, exhibitions and story telling.
WHERE:
Various venues across Sheffield
www.welcometosheffield.co.uk/off-the-shelf
WHEN:
11 October – 1 Nov
WHAT: All About Dogs
. Largest canine show in the region for pets, working dogs and show dogs. Part of the Robin Hood Game and Country Show.
WHERE:
Showground, Ipswich, IP3 8UH, Suffolk
www.allaboutdogsshow.co.uk
WHEN:
11 – 12 October
WHAT: Three Wine Men – Cardiff
. TV wine personalities, Oz Clarke, Olly Smith and Tim Atkin, host UK-wide shows to encourage the public to taste and discover new wines.
WHERE:
The Parc Hotel, 1 Park Place, Cardiff, CF10 3UD
www.threewinemen.co.uk
WHEN:
11 – 12 October
WHAT: CRUISE Show – Glasgow
. The only consumer exhibition of its kind in the UK, helping visitors plan the perfect cruising holiday. Also held in Manchester, Birmingham and London.
WHERE:
SECC, Glasgow, G3 8YW, United Kingdom
www.cruisingshow.co.uk
WHEN:
11 – 12 October
WHAT: Weald & Downland Autumn Countryside Show
. Traditional harvest festival featuring vintage tractors, a horticultural show, a dog show, craft demonstrations and displays.
WHERE:
Weald & Downland Open Air Museum, Singleton, Chichester, PO18 0EU
www.wealddown.co.uk
WHEN:
11 – 12 October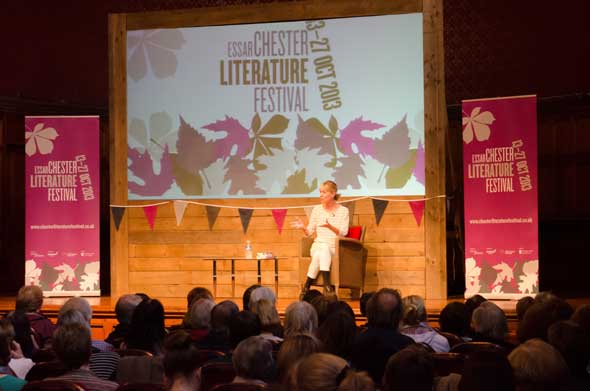 WHAT: The Pink Ribbon Ball
. Major highlight of Breast Cancer Awareness Month combines fundraising activities with a society event offering champagne reception, grand and silent auction and pink prize balloons.
WHERE:
Natural History Museum, Cromwell Road, London, SW7 5BD
www.breastcancercampaign.org
WHEN:
11 October
WHAT: Women of the Year Lunch and Awards
. Honours and celebrates achievements of women from all walks of life. Winners are chosen by a judging council.
WHERE:
Intercontinental Hotel, Park Lane, London, W1J 7QY
www.womenoftheyear.co.uk
WHEN:
13 October
WHAT: Guildford Book Festiva
l. Features discussions, workshops, performances and competitions.
WHERE:
Various venues Across Guildford
www.guildfordbookfestival.co.uk
WHEN:
13 – 19 October
WHAT: The Harrogate Antique Fair
. Around 70 exhibitors showcase goods. Usually features a Gala Reception held in aid of Martin House Children's Hospice.
WHERE:
Harrogate International Centre, Kings Road, Harrogate
www.harrogateantiquefair.com
WHEN:
15- 19 October
WHAT: Bryan Ferry: one-off UK performance
. Ferry will perform to an exclusive crowd in the luxurious setting of the Long Room at Lord's. Tickets are priced at £200 and will include a champagne and canapé reception, four course Bicentenary dinner with wine, port and cheese, as well as the opportunity to enjoy further music and dancing after Ferry's one-off performance.
WHERE:
St John's Wood Rd, London NW8 8QN
www.shop.lords.org
WHEN:
17 October
WHAT: Dog Day Afternoon
. Back by public demand Cabbages and Frocks lifestyle market in Marylebone village is hosting free competitions 2.00pm onwards.
WHERE:
Cabbages & Frocks Market, Saint Marylebone Parish Church, Marylebone High St, London W1U 5BA
www.cabbagesandfrocks.co.uk
WHEN:
11 October
WHAT: Inaugural Exhibition at New Premises
. The company has just moved to new premises at Three Kings' Yard, the state-of-the-art refurbishment reopens with 'A Flourishing Tradition: Works of Art from the Classical World and Ancient Egypt'
WHERE:
1 Three Kings' Yard, London W1K 4JP
www.charlesede.com
WHEN:
15 October
WHAT: Allied Editions returns to Frieze Art Fair.
On the occasion of Frieze Art Fair 2014, Camden Arts Centre, Chisenhale Gallery, Institute of Contemporary Arts (ICA), Serpentine Galleries, South London Gallery, Studio Voltaire and the Whitechapel Gallery are delighted to announce their fourth collaboration as Allied Editions – a non-profit Gallery editions collective.
WHERE:
Frieze Art Fair, Regents Park, London Stand J13
www.friezelondon.com
WHEN:
15 October
WHAT: Gerhard Richter Exhibition and Gallery Opening
. An exhibition of new and recent works by Gerhard Richter will inaugurate her Marian Goodman's London gallery. This will be Richter's first gallery exhibition of this nature in London for nearly two decades.
WHERE:
Marian Goodman Gallery, Golden Square, Soho, London, W1R 3AD
www.mariangoodman.com
WHEN:
14 October
WHAT: William Tucker RA, Figurative Sculpture
. Lifetime Achievement Award winner William Tucker is back with a new exhibition, 'Figurative Sculpture'.
WHERE:
Pangolin London, Kings Place, 90 York Way London N1 9AG
www.pangolinlondon.com
WHEN:
15 October