We are lucky to have people like the Royal Choral Society
Choirs, musical therapy, in many ways the power of music affects us all. Joining a choir isn't just a fun thing to do, scientists have found it can even have health benefits, achieving a calming affect similar to the way yoga does.
There are countless choirs in the UK that you can join, or support and many rely on donations to be able to hold performances and carry on bringing the joy of song to local communities.
Possibly the most prestigious, and one of the oldest of their number is the Royal Choral Society, a charitable organisation that was formed specifically for the opening of the Royal Albert Hall in 1871. HM Queen Elizabeth II is patron of the society.
Conducted by some of the best known names in classical music such as Verdi (they premiered his Requiem in the UK in 1875), Elgar, Gounod, Dvorak, Sir Malcolm Sargent, and today by Richard Cooke, when I was asked to sing with the choir (for nearly three hours...in Latin), I was daunted to say the least!
Interweaving the words of poet Wilfred Owen, killed in action in the final days of the First World War, and the Latin Mass for the Dead, Britten's work is as relevant now as it was when it was completed in 1962.
Throughout both world wars the choir, despite depleted membership were still a key player in London's musical scene, even introducing a Sunday afternoon concert series at the Royal Albert Hall in 1915.
Janet Jalfon, administrator for the choir and member for ten years, handed me my songbook for the evening, but before I could get down singing she has a minute to tell me how the rehearsals have been going.
'Beautifully, they are absolutely excellent. The choir is well on form, we have had good tutorials from Richard Cooke obviously and it is going to be good.'
'We knew we were doing it nearly three years ago but we didn't start rehearsing the music until this year,' she continues.
'A lot of people knew the music and some people have sung it once or twice before and they know what the impact of the work is.'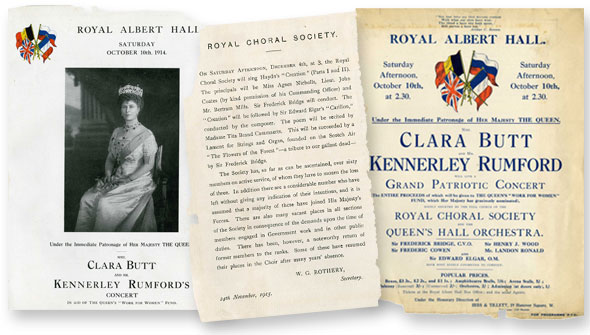 The arrival of conductor Richard Cooke means it's time for the rehearsal to begin. Having not sung since university (except in the shower of course) and sight-reading a piece the choir had already spent months getting familiar with and rehearsing, I was somewhat of a church mouse to begin with. Terrified of hitting a bum note surrounded by such an astounding choir is a rather scary feeling.
But it doesn't take long to get back into the swing of things and before I know it I'm singing at full volume and am disappointed when I find the rehearsal has come to an end – proving the age old adage correct, time really does fly when you're having fun!
All funds raised from their performance of Benjamin Britten's War Requiem on Remembrance Sunday, 9 November will go to Veterans Aid who support ex-servicemen and women in crisis.
'We are hugely privileged to have been asked if we would consider being the charity for the Royal Chorister Society to sing for us on remembrance on Sunday,' said Dr Hugh Milroy of Veterans Aid, 'I was really thrilled, really excited... that money will change lives.'
'We are lucky in Britain to have people like the Royal Choral Society.'
www.royalchoralsociety.co.uk www.veterans-aid.net 0800 012 68 67 / 0207 828 2468