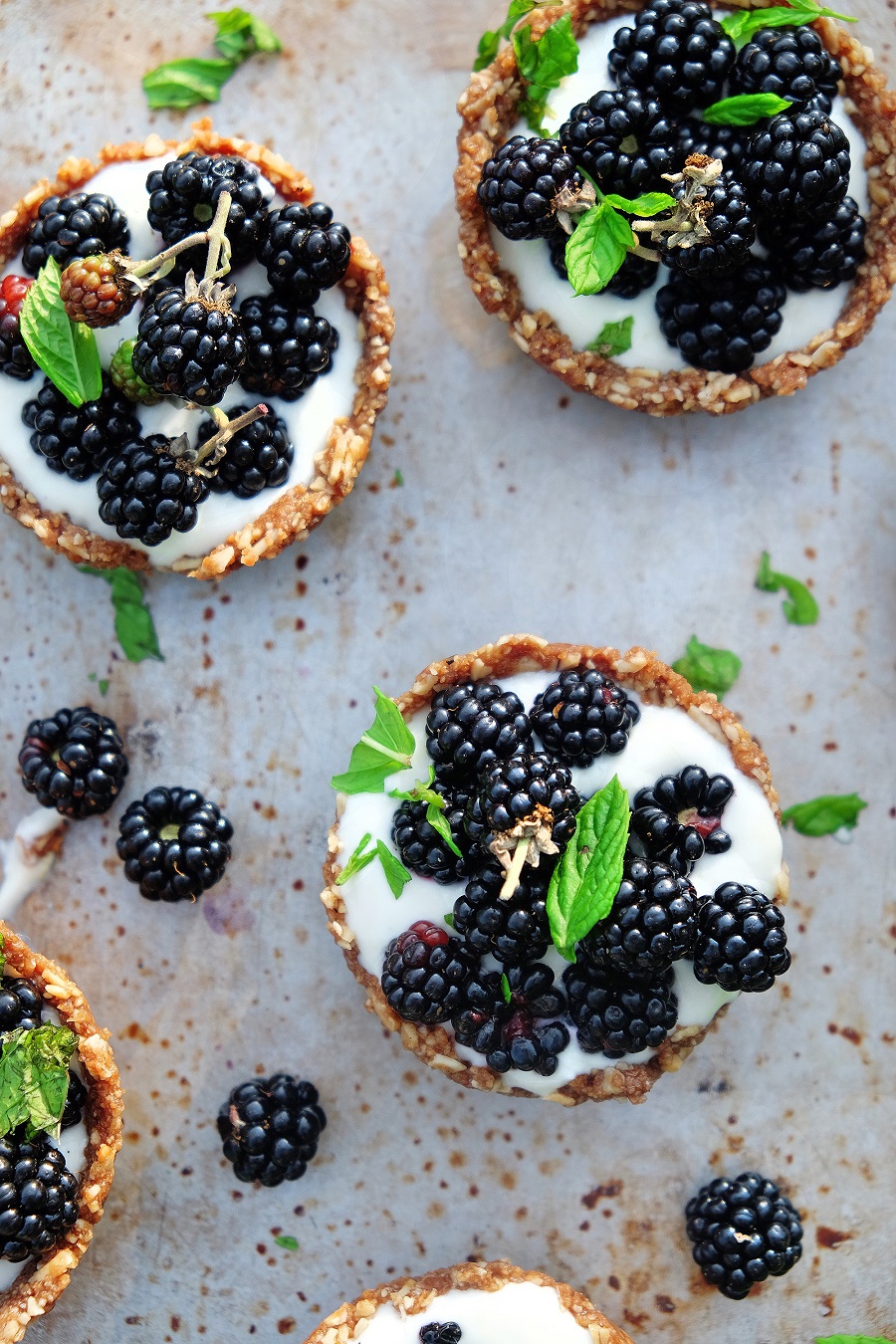 Wild Blackberry Tartlet. This incredibly simple, yet deliciously divine pud will be the talking point of your alfresco afternoon tea. Best accompanied with a tipple of something bubbly, or a cup of Lady Gray. Enjoy!
Ingredients
½ pack of dark chocolate hobnobs
100g flaked almonds
120g Butter
Sea salt
2 punnets of blackberries
2 sprigs of mint, roughly picked
Filling
250g mascarpone
1 tbsp greek yoghurt
1 lemon zested
1 tbsp maple syrup
1 tsp of vanilla paste
Method
1. Begin by toasting your flaked almonds in a preheated 200c oven, leave until golden (around 5-8 mins)
2. Melt the butter in a small pan over a low heat.
3. Blitz your flaked almonds until roughly chopped and place in a mixing bowl, then separately blitz your hobnobs into crumbs and add to the bowl.
4. Pour your melted hot butter over and mix together with a pinch of sea salt.
5. Line a 12-hole tart tray (this should make around 10) with cling film
6. Place 1 ½ tbsp of the hobnob/almond mixture in each and spread very thinly on the base and up the sides to achieve a thin crispy case.
7. Place in the fridge for two hours to set.
8. Whisk your filling ingredients and fill each tartlet case to almost the top. Top with the blackberries and pinched mint and serve.

If you want to give this delicious recipe a try, make sure you snap a photo of your finished dish and tag us on socials @theladymagazine for the chance to be featured!