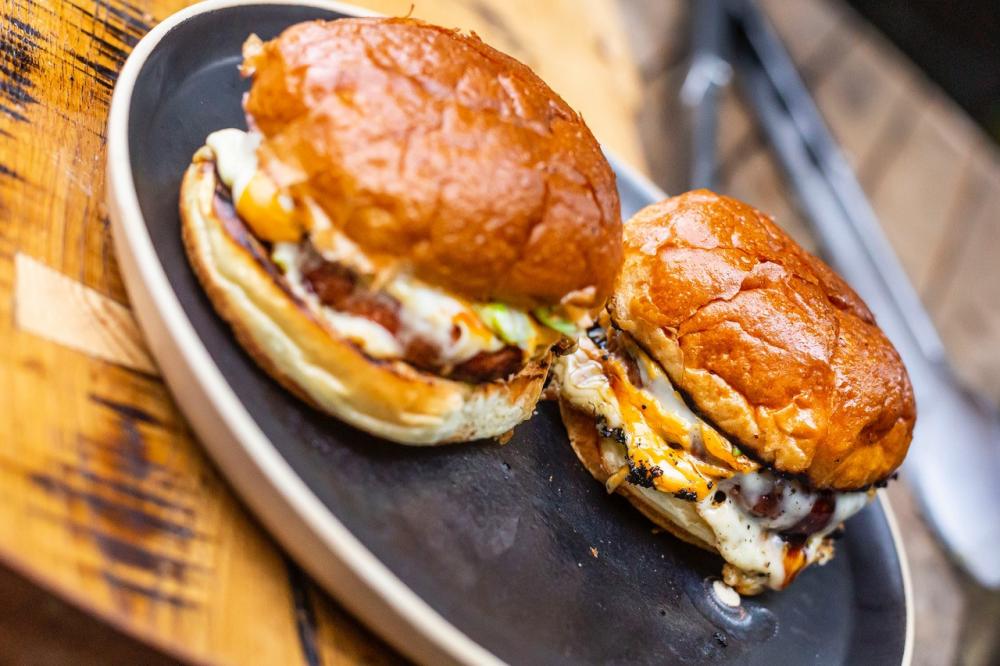 DJ BBQ's Teriyaki Burger with Chopped Spring Onions
Break the rules with these epic sweet and tangy burgers from The Meatless Farm Co.
Makes: 4
Total Time: 15 minutes
Burgers:
2 packs Meatless Farm burgers (4)
3 spring onions finely chopped
Cheese (optional)
Teriyaki sauce:
70ml light soy sauce
1 thumb ginger finely diced
2 tbsp rice wine vinegar
1 tbsp corn flour
85g soft brown sugar
2 cloves garlic crushed and chopped
350ml water
Method:
To prepare the Teriyaki sauce, place a small saucepan onto the BBQ. Pour in the soy sauce, rice wine vinegar and water. Add sugar, ginger and corn flour. Bring to boil over a low heat stirring gently for 5 mins until glossy.
Season the burgers and add into a frying pan cooking for 3 – 4 minutes, turning occasionally. Finish off the burger placing some cheese on it to melt (if you want).
Toast your brioche buns directly onto the grill of the BBQ for 1 min, this will create a barrier for the juicy marinade and stop them from going soggy.
To serve, place the burgers (topped with cheese) into the buns and add another layer of the Teriyaki sauce and sprinkle with the chopped spring onion.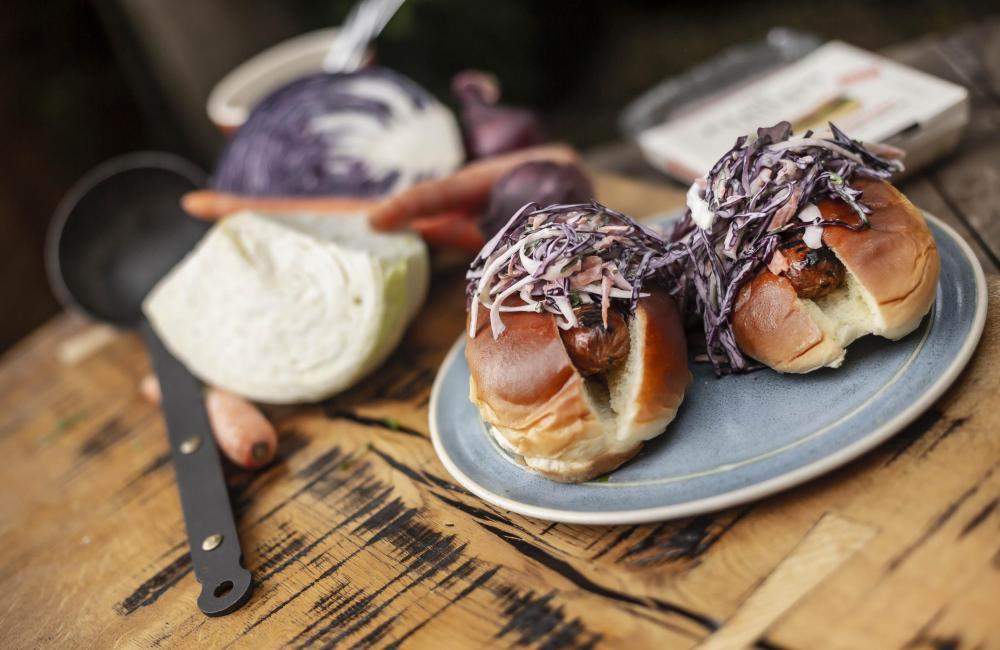 DJ BBQ's Rainbow-Slaw Hot Dogs
Pack a flavoursome punch with these killer quick hot dogs from The Meatless Farm Co.
Makes: 6
Total Time: 20 minutes
Ingredients:
1 pack Meatless Farm sausages (6)
½ white cabbage finely chopped
½ red cabbage finely chopped
3 carrots shredded
1 medium red onion finely chopped
½ tbsp English mustard (or to taste!)
6 sausage buns
Apple cider vinegar
6 tbsp of mayonnaise
Method:
Place the sausages on the grill and leave them to cook for 8 - 10 mins, giving them a turn every 2 - 3 mins. Top tip – turn the sausages 90° and clockwise each time then you will know which side has been cooked.
Put the cabbage, carrots and onions in a large bowl and stir to combine.
In a smaller bowl mix the mayonnaise with a squeeze of mustard and drizzle of apple cider vinegar. Pour the mixture over the vegetables and fold everything together so that the all ingredients are covered in a creamy sauce, then season to taste.
Place the sausages into the buns and top with a hearty dollop of coleslaw.