Book Reviews: 10 October
OUT NOW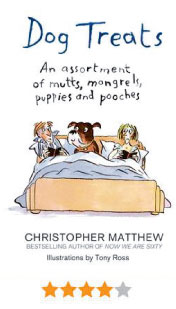 DOG TREATS: AN ASSORTMENT OF MUTTS, MONGRELS, PUPPIES AND POOCHES by Christopher Matthew (Little, Brown, £12.99; offer price, £11.69)
It would be tempting to dismiss a book of light verse about dogs into the 'downstairs loo' category, but these witty poems are insightful as well as fun. Amusing and well crafted, they are as much an aff ectionate but unsentimental close-up of man's best friend as a sharp-clawed dissection of dog owners.
From a Latin rendition of How Much Is That Doggie In The Window? (hilarious but word-perfect) to a perceptive skewering of social stereotypes (like the glossy divorcee who moves to the country but won't go for walks), there are delights on every page. And the man knows what he's barking about: spaniel owners will recognise his depictions of the hyperactive but endearing propensities of the breed. A gourmand terrier is 'a sort of doggie AA Gill/ without the bite', a line that made my day.
Reading of old Jim's final hour at the vet's, his behaviour more dignifi ed than his owners', I was in floods – but Tony Ross's illustrations soon had me howling with laughter again.
A gem of a book that will appeal to dog lovers and fans of social satire alike. Best in show.
Juanita Coulson
---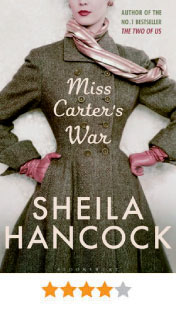 MISS CARTER'S WAR by Sheila Hancock (Bloomsbury, £12.99; offer price, £11.69)
She is one of television's best-loved stars, but having turned her hand to writing, Sheila Hancock can now also boast the accolade of bestselling author.
After the success of her two autobiographies, her first foray into fiction has a strong plot and a feminist heroine, Marguerite – beautiful, clever and determined to set the world to rights.
Marguerite's trials and tribulations go from serving behind enemy lines in the Second World War and being one of the first women to graduate at Cambridge, to teaching in a girls' grammar school, the peace marches of the 1950s and the Swinging Sixties – with a fair share of love and loss along the way.
With the life and times of the brilliant Miss Carter, from the war to the rise of Margaret Thatcher, Sheila Hancock has created an inspiring character – and a compelling portrait of Britain.
Lilly Cox
---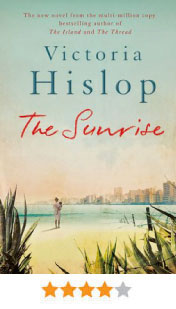 THE SUNRISE by Victoria Hislop (Headline Review, £19.99; offer price, £14.99)
Since her bestselling 2005 debut, The Island, Victoria Hislop has made a name for herself crafting novels that combine Mediterranean history and escapism in perfect proportions. Her latest, however, is rather less uplifting than its title might suggest.
It is set in 1972, in the golden resort of Famagusta, Cyprus, where the wealthy flock to The Sunrise, a luxury hotel. But as sexual tension simmers between the owner's Jackie O-like wife and her handsome nightclub manager, violence is fermenting between the island's Turkish and Greek Cypriot communities. Following a coup and invasion by Turkish forces, Famagusta becomes a ghost town where only a few families cling on.
Although at times harrowing and typically readable, The Sunrise lacks the richness of its predecessors.
Stephanie Cross
---
BOOK OF THE WEEK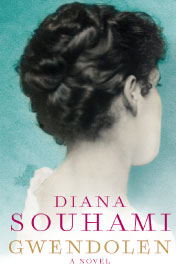 Headstrong heroine
GWENDOLEN: A NOVEL by Diana Souhami (Quercus Books, £16.99; offer price, £14.99)
This arresting reinterpretation of George Eliot's last heroine, the awed and selfish Gwendolen from Daniel Deronda, is imaginatively narrated in Gwendolen's voice. It opens with the 18-year-old beauty gambling recklessly at the roulette tables, until she meets the gaze of exotically handsome Deronda, who breaks her luck in more ways than one. She is smitten and, years later, writes her confessional to the man she has loved secretly all her life.
Pressurised by her uncle to secure her family's future, Gwendolen marries wealthy aristocrat Henleigh Mallinger Grandcourt, even after discovering he has a mistress and four children. Trapped in a turbulent, loveless marriage with a 'vicious' sadist who treats her and his mistress as cruelly as he does his dogs, her role is to obey him, submit to his 'icy' advances and produce a legitimate heir. With no money of her own, Gwendolen has few options.
Souhami specialises in feminist books exploring the limitations of women's lives: she has written acclaimed biographies of Radclyˆffe Hall, Greta Garbo and Edith Cavell. Unsurprisingly, her female characters are more convincing than her males: her Daniel is rather sketchily drawn. Even if you dislike the spoilt, self-obsessed heroine, or haven't read Eliot's original, this elegantly written reimagining of a classic, in the vein of Jean Rhys's Wide Sargasso Sea, is a compelling read.
Rebecca Wallersteiner
---
COFFEE TABLE BOOK
THE BIBA YEARS:1963-1975•–—˜™•–š› by Barbara Hulanicki and Martin Pel (V&A Publishing, £35; offer price, £31.50)

It is one of the brands that epitomises Swinging Sixties London: founded in 1963, designer Barbara Hulanicki's fashion label Biba acquired cult status through its destination shops – and changed the British retail landscape.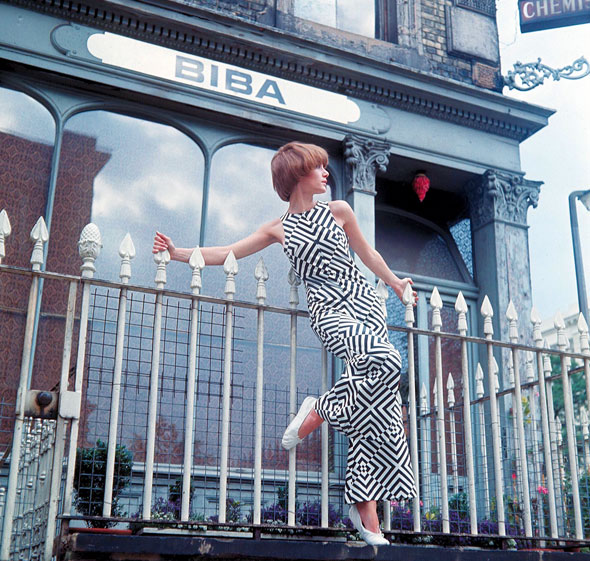 This elegant book traces the brand's story, from its beginnings as a mail-order boutique to its heyday as 'the world's first lifestyle brand', as Pel says in his introduction. With previously unpublished fashion illustrations by Hulanicki (including an adorable sketch of Audrey Hepburn) and beautifully shot pictures of her designs, it is a fitting tribute to the pioneer of aff ordable fashion and her enduring influence.
JC
---
PAPERBACKS

THE ASTAIRES: FRED & ADELE by Kathleen Riley (Oxford University Press, £12.99; offer price, £11.69)
On 30 May 1923 the audience filed into the Shaftesbury Theatre for the first night of a now long-forgotten musical show called Stop Flirting. They didn't know that they were about to experience the birth of a phenomenon – the Astaires' conquest of London began that night.
Kathleen Riley's biography relates the dancing pair's rise to stardom and their climb from small-town obscurity to showbiz legends.
The author understands her subjects perfectly and her writing never gets in the way of a fascinating story.
Gillian Spickernell
THE ZODIAC ARCH by Freya Stark (IB Tauris, £9.99; offer price, £9.49)
Dame Freya Stark (1893-1993) was one of the most remarkable adventuresses and travel writers of the 20th century. This new edition of her essays is a scintillating tapestry of reflections and experiences from her travels in the Middle East. From the wise musings of her Persian teacher to the Arabian legends and stories she picked up along the way and her sharp grasp of international politics, her eloquent prose conjures up lost worlds – and a formidable free spirit.
JC
---
ALSO ON THE SHELF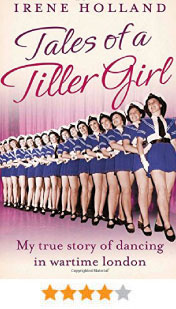 TALES OF A TILLER GIRL: MY TRUE STORY OF DANCING IN WARTIME LONDON by Irene Holland (Harper, £7.99; offer price, £7.59)
This account of the 1940s dance troupe The Tiller Girls is the perfect read for anyone interested in dance or wartime Britain. Holland, now 84, reminisces about performing at the Palladium alongside stars such as Frank Sinatra, Nat King Cole and Judy Garland. A charming story.
Melonie Clarke
---
3 GREAT BOOKS: ABOUT FIRE

THE FIREBUGS by Max Frisch
THE ARSONIST by Sue Miller
THE GREAT FIRE OF LONDON by Peter Ackroyd
---
THE LADY BOOKSHOP
Order by phone 0843-060 0035
Online
www.theladybookshop.com
By post Send your cheque, payable to The Lady Bookshop, to: The Lady Bookshop, PO Box 69, Helston TR13 OTP