Book Reviews: 19 May
OUT NOW
GAVIN MAXWELL: A Life by Douglas Botting (Eland Books, £18.99)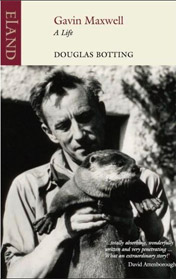 Best remembered for Ring of Bright Water, his enchanting story of the otters he lived with in a remote cottage in Scotland, aristocratic travel writer Gavin Maxwell (1914-69) was also a spy, racing-driver, shark-fisherman, naturalist, poet and painter. This fascinating biography recounts his 'troubled and tempestuous life', and the destructive demons that drove him.
An idyllic childhood running wild with his siblings on his family's estate in Galloway was overshadowed by the death of his father during the First World War. Rebellious, dashing and romantic, Maxwell's sexual magnetism attracted many admirers of both sexes, although his deepest love was reserved for animals. His home was an exotic menagerie, with pets including tropical birds, a giant Saharan lizard and a ring-tailed lemur that bit through Maxwell's tibial artery, causing him to nearly bleed to death. 'Maxwell was more accident- prone that any other human being I had ever met,' writes Botting. Endowed with boundless curiosity and a restless creative drive, 'he had the propensity to conjure drama and danger out of thin air'.
In an elegant, insightful and compelling portrait, Botting has done a fine job of peeling back the layers – without ever quite solving the riddle of his friend's contradictory and highly complex personality.
Rebecca Wallersteiner
---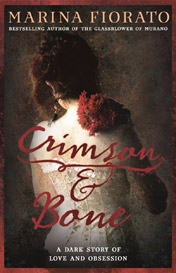 CRIMSON AND BONE by Marina Fiorato (Hodder & Stoughton, £17.99)
Marina Fiorato is an expert at weaving stories out of fascinating women's lives, either real people or fictional characters, and her books transport the reader on a journey to faraway places – Italy is a recurring theme. Her latest offering does not disappoint. Here, she tells the story of a pregnant, suicidal prostitute, Annie Stride, who is saved from jumping to her death by Francis Maybrick Gill, a promising painter. From their chance meeting on Waterloo Bridge, their lives change forever: Francis transforms Annie from a fallen women into an artist's muse, and she becomes the darling of the art scene.
Capturing 1850s London in vivid prose, the dark underworld of the city is brought to life, as is the beauty of Florence and Venice.
These are the backdrops for the desperate situation Annie has found herself in, and the secret she uncovers. Far from a saviour who has put her on a pedestal, Francis's sadistic tastes spell danger, and Annie cannot escape her past, especially when Francis's dark deeds are exposed. In this dark and brooding tale of survival, Fiorato expertly handles the complexities of the plot, the locations, and her characters to deliver a thrilling tale of love, lust, and revenge.
LS
---
BOOK OF THE WEEK
Love thy neighbour?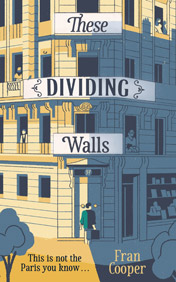 THESE DIVIDING WALLS by Fran Cooper (Hodder & Stoughton, £14.99)
Set against the backdrop of a Parisian summer, this contemporary novel tells the interwoven stories of the tenants in an apartment block in a 'forgotten corner of the city'. But despite the seemingly ordinary setting, the fast-paced narrative – taking in the characters' personal histories, their failed lives, love affairs and secrets – holds the reader's attention throughout. a woman lives in her childhood apartment, remembering her privileged past; a young mother, frustrated with her life, is losing her mind; a man wrestles with his faith, while another campaigns against a Muslim couple moving in. Meanwhile, divided politics, terrorist threats and anti-Islamic plots rage through the city, risking livelihoods and lives.
In this topical book, Cooper does not shirk from examining the various ideologies at play. This is best displayed when a mild- mannered tenant deceives his wife and negotiates his place within the Far Right, with far-reaching consequences. The novel explores how people can live at close quarters – their days 'measured out in the scrape of strangers' plates, the tinny ring of someone else's telephone' – while their private lives are worlds apart. Cooper has written a Ship of Fools for today, bringing forth the poetry and pathos of ordinary lives. A strong debut. Lyndsy Spence
---
COFFEE TABLE BOOK
BALENCIAGA: Shaping Fashion by Lesley Ellis Miller (V&A Publishing, £30)
Spanish couturier cristóbal Balenciaga (1895-1972) is best known for his sculptural dresses and bold use of colour – bright fuchsia and red accents, flamenco-inspired flounces, dramatic volume and line. He was described by Cecil Beaton as 'fashion's Picasso', with a 'deep respect for tradition' underlying his experiments with the modern. Published to coincide with the exhibition at the Victoria and Albert museum (from 27 May), this gorgeously illustrated book features iconic magazine shoots, garment pictures and unpublished images. But it is so much more than a catalogue of his exquisite creations.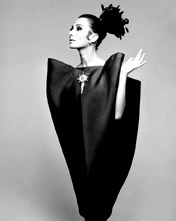 The text explores the designer's life and career, his eclectic influences from classical paintings to religious iconography and traditional Spanish dress, and the microcosm of a couture house, with its interplay of creativity, commerce and finely honed craft. Concluding with a chapter on Balenciaga's influence on today's fashion, this is a feast of frocks to swoon over.
JC
---
PAPERBACKS


LETTY FOX: Her Luck by Christina Stead (Apollo Library, £14)
Australian novelist Christina Stead (1902-1983) blazed a trail in her day, with her bold, sparkling fiction and unconventional life choices. The tensions between individuality and fitting in, rebellion and convention, freedom and family – central themes of her life – are at the heart of her superb comic novel, first published in 1946. It follows the fortunes, amours and adventures of the eponymous headstrong heroine, as she ploughs her own furrow in pursuit of romance, marriage and meaning on both sides of the Atlantic – while reminiscing about her colourful relatives. Reissued as part of the Apollo imprint's mission to rescue neglected literary gems, with a brilliant introduction by Tim Parks, it is a compelling tour de force, spilling over with exuberant characters, richly observed settings and mordant wit. There is almost too much of everything: plotlines, people, pages (nearly 600). But sexually voracious, go-getting Letty makes for an irresistible, if deliciously fickle, narrator, holding the reader in thrall throughout. Juanita Coulson
THE FOREVER HOUSE by Veronica Henry (Orion Books, £7.99)
Belinda Baxter is an estate agent who devotes her life to finding the perfect homes for the families who approach her. New on the market is Hunter's Moon, in the Peasebrook Valley, owned by the Willoughbys for over 50 years. Belinda has her work cut out: the house harbours some dark family secrets and the more Belinda uncovers, the more she starts to come to terms with her own past. Vernonica Henry's latest outing, set in the Cotswolds, is as delightfully fun as it is frothily feel-good. While the characterisation of Belinda Baxter is not without its flaws, it certainly does not detract from a very comforting escapist novel by this bestselling author. Helena Gumley-Mason
---
THE LADY'S RECIPE READS
Two great books for expanding your cooking repertoire – with minimal fuss. By Juanita Coulson

OKLAVA: Recipes from a Turkish- Cypriot Kitchen by Selin Kiazim (Mitchell Beazley, £25
)
Taking the name of her restaurant – and her book's title – from the Turkish word for 'rolling-pin', chef Selin Kiazim acknowledges the influence of her Turkish-Cypriot grandmother, who was always wielding one in preparation for some delicious treat. Kiazim takes us from home-cooked dishes from holidays in northern Cyprus to her modern take on the country's cuisine. From courgette, feta and mint fritters to fried vegetables with garlic yoghurt and pomegranate, her light dishes are perfect for summer entertaining. Rooted in childhood memory and home cooking, but with influences from cheffing stints in great restaurants, this is honest, unshowy but delicious cooking.
A MODERN WAY TO COOK by Anna Jones (Fourth Estate, £25)
Graduate of Jamie Oliver's Fifteen, cook, stylist and writer Anna Jones has worked in some of the country's best kitchens after ditching an office job to follow her passion. The force behind a quiet cooking revolution, she may well be the best food writer you've never heard of (no flashy TV appearances, no Instagram hype). I certainly hadn't heard of her until discovering this gem of a book at a friend's kitchen supper – we were tucking into a heavenly black-eyed bean stew with coriander pesto, a recipe from this book. Packing in great flavours and healthy ingredients, these quick and easy dishes (all vegetarian, but you won't notice) will see you through weekday suppers, but will also impress dinner guests – as I found out.
Tweet us your recipe reads @TheLadyMagazine using #ladyrecipereads