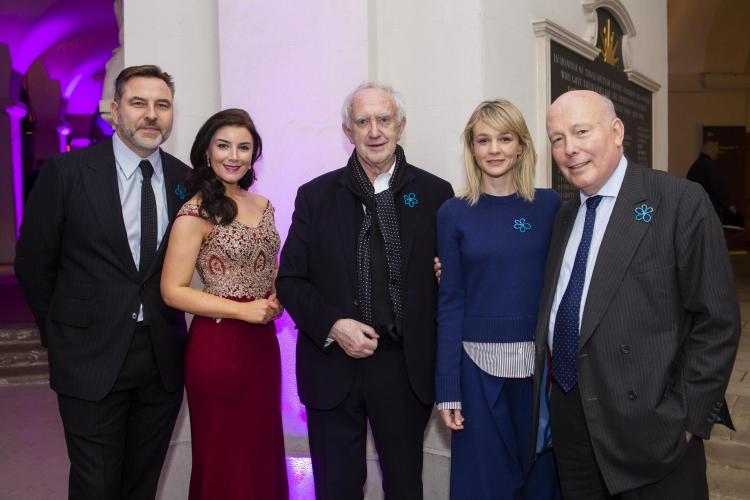 On Tuesday 18th December more than 2,000 people entered into the festive spirit at an uplifting carol service to support those affected by dementia.
The Carols at Christmas concert at the iconic St Paul's Cathedral was organised by Alzheimer's Society and is expected to raise over £110,000. The evening was hosted by Alzheimer's Society's Global Dementia Friends Ambassador Carey Mulligan and featured readings by author and comedian David Walliams, actor, novelist, film director and screenwriter Julian Fellowes and actor Jonathan Pryce, who are pictured above with Irish classical singer, Margaret Keys.
Alzheimer's Society's royal patron Princess Alexandra was also in attendance and Mayor of London Sadiq Khan provided a message for the programme, detailing his commitment to make London the world's first dementia-friendly capital city by 2022.
BAFTA award-winning actress Carey Mulligan whose grandmother 'Nans' lived with dementia said: "I have had the privilege of reading at Alzheimer's Society's London Carols at Christmas concert for many years and this was the first time I've hosted this special event. It's heart-warming to see so many people coming together for such an important cause. I have witnessed first-hand the impact that the condition has on individuals and their families from my personal experiences with my wonderful grandmother Nans who had dementia."
"There are 850,000 people living with dementia in the UK, a figure that is set to exceed one million by 2021. The money raised at today's concert will help provide funding to ensure people affected by dementia get the support they need now, as well as contributing towards vital research to help future generations. I urge everyone to come together and unite against dementia this Christmas."
Highlights included musical performances from an Alzheimer's Society Singing for the Brain group, where all members are affected by dementia, and the critically-acclaimed St Paul's Cathedral Choir.
Dementia devastates lives. Alzheimer's Society research shows that 850,000 people in the UK have a form of dementia. By 2021, 1 million people will be living with the condition. This will soar to two million by 2051.
For more information on how you can support Alzheimer's Society visit https://www.alzheimers.org.uk/get-involved/events-and-fundraising