Curious about Collagen?
When it comes to simple wellbeing solutions, I'm a huge believer that beauty comes from within.
If we eat well and nourish our body with wholesome foods, lots of greens, herbs and stay hydrated then this will show on the outside too.
However, let's get specific and discuss Collagen, the powerful protein responsible for skin elasticity, is one of the most hyped skincare ingredients in the world. It has an ability to plump out fine lines and help retain youthful looking skin. Collagen can be effectively destroyed too, by things such as too much sun exposure, unhealthy lifestyle and diet alongside ageing in general.
I love to eat foods that support and promote healthy collagen production such as berries, avocado, linseeds and super greens alongside a healthy, quite strict facial routine morning and night.
Some days though, life gets busy and things can fall out of place and other priorities take over so having a variety of on the go, easy options to boost collagen intake alongside other essential minerals is what we all need in our lives.
There are many options out there on ways you can easily boost your intake, and I'm all about ingredients and transparency in things I take.
My go-to right now if I'm short on time and can't have my usual greens filled smoothie, is a Collagen and Manuka Honey Jelly stick that still allows me to get my daily intake and it's easy to just throw in my bag so I know it's their when I need it. It also tastes great plus, I love Manuka Honey and its endless benefits, it features in my diet most days and sometimes I'll even just have a spoonful as it's so healing if you feel unwell.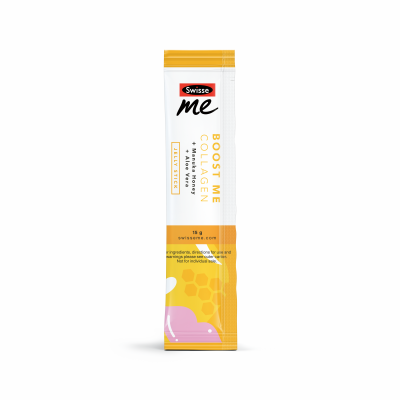 Find the Collagen sticks and more at www.swisseme.com and support your beauty from within.