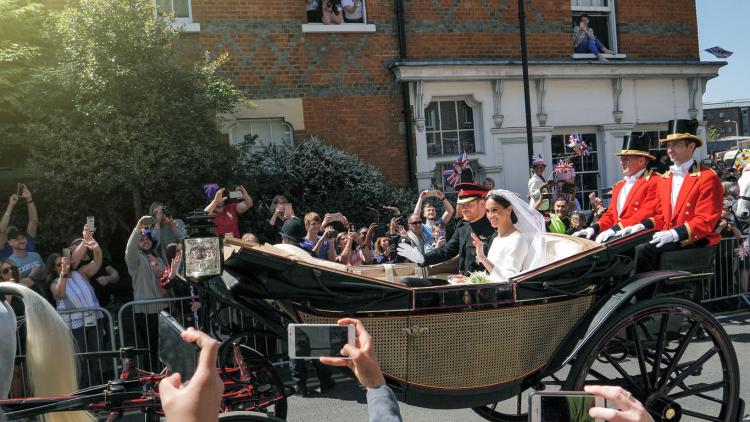 Following a survey of 2,000 people by online jewellery retailer William May, it appears we know far more about the gossipy style headlines than anything more profound. 69% of Brits knew what TV show Meghan starred in before meeting Harry, yet less than half knew what Trooping the Colour celebrates. Overall, Brits scored a pretty poor 27% on the Royal knowledge test.
Regionally, North Easterners did the best, but they only scored 36%, and if you're from the East of England, it's off to the Tower with you, as you only scored 20%!
(UK breakdown: Scotland 27%; Wales 29%; Northern Ireland 24%; England 27%)
(Regional breakdown: East of England 20%; Greater London: 23%; Yorkshire & The Humber 24.5%; South West: 25%; East Midlands 26%; West Midlands 27%; North West 31%; South East 31%; North East 36%)
What do we know most about?
As well as over two-thirds of us knowing that Meghan starred in Suits before meeting Harry, over half (53%) knew that Prince William and Kate Middleton met at St Andrews University (although 29% thought it was a Cambridge University; 10% thought it was at the BAFTAs; and 8% thought they met in California). Considering it was so heavily covered in all the papers and the glossy mags, maybe us Brits could have done better on this one.
In contrast, less than half of Brits knew that the Trooping the Colour actually celebrates the Queen's birthday. 29% thought it was to celebrate the end of WW2 (Trooping the Colour had been going on long before the war – since 1748, to be exact), and very worryingly, 12% thought it was the celebrate Brexit! Almost two-thirds of Brits were unaware that in Scotland, Prince Charles is referred to as the Duke of Rothesay.
Some of us are clearly up to date on our contemporary royal knowledge, however, and read the papers regularly; it's only just been announced that Harry and Meghan are moving into Frogmore House, and when asked what their official residence was, a third (34%) answered correctly!
William May also uncovered the following public predictions: 77% of Brits believe Harry and Meghan's baby will be a brunette, but 16% said blonde, and 7% said ginger. And 70% of Brits think that Prince Harry and Meghan Markle will have a baby boy.
When it comes to royal bling, the nation's favourite wedding tiara was actually the one showcased most recently; the stunning emerald tiara worn by Princess Eugenie (30%). This was followed by Kate Middleton's diamond tiara (26%), initially bought from Cartier in 1936 as an anniversary gift from King George VI to his wife. Queen Elizabeth's tiara came third (25%), and last, but not least, was Princess Diana's century-old, diamond-encrusted Spencer tiara (19%). Diana's tiara wasn't from the royal collection, but from her own – fairly posh - family. Poor Meghan didn't even get a look in!
59% of Brits think that schools in the UK should start teaching children more about the royal family. And they reveal that they learnt the most about the royal family via newspapers or word of mouth (30%). This is followed by online articles (20%), documentaries (15%), and 5% learn from TV shows such as The Crown.
It seems that the majority of Brits (52%) would like to see Prince William next on the throne, rather than Prince Charles. 25% felt more traditional saying Prince Charles, and 24% of hopeful Brits would like to see Prince Harry on the throne after Queen Elizabeth. Perhaps sadly, the tradition of watching the Queens speech on Christmas Day is slowly dying. 68% of Brits said that they wouldn't be watching her 3 o'clock reflection on the past year to the nation.
Think you could do better? Find out how you would compare, by taking this interactive quiz:
https://www.william-may.co.uk/blog/2018/12/royal-knowledge-quiz/