Recipes: Dairy free
CHOCOLATE HAZELNUT RAW CHEESECAKE
MAKES ONE EIGHT INCH CAKE
TIME - 15 - 20 MINUTES PREP - FREEZE FOR FIVE HOURS
INGREDIENTS
FOR THE BASE:
250g ground hazelnuts
10 Medjool dates, pitted
3 tbsp cacao powder
2 tbsp raisins
1 tsp vanilla paste
Pinch salt
(Any remaining mixture can be used to make
energy balls)
FOR THE FILLING:
1 pot Nush cashew milk or almond milk yoghurt
250g cashews, soaked in boiling water for 30 minutes and drained
120g coconut oil, melted
100g ground hazelnuts
5 tbsp maple syrup (or more, to taste)
6 tbsp cacao (or more, to taste)
70-100ml hazelnut milk
1.5 tsp vanilla paste
Pinch salt
TO SERVE:
Grate raw chocolate on top, if desired
METHOD
To make the base, blend together all ingredients until the mixture starts to clump together. Press into the base of an 8-inch springform cake tin and allow to firm up in the freezer to firm for 20 minutes.
To make the filling, blend the ingredients together in a high powered blender until completely smooth and creamy adding a splash more milk if needed.
Spoon filling over the set base and place back in the freezer overnight.
Remove from the cake tin 15-20 minutes before serving.
Serve with grated raw chocolate and top with homemade energy balls if desired.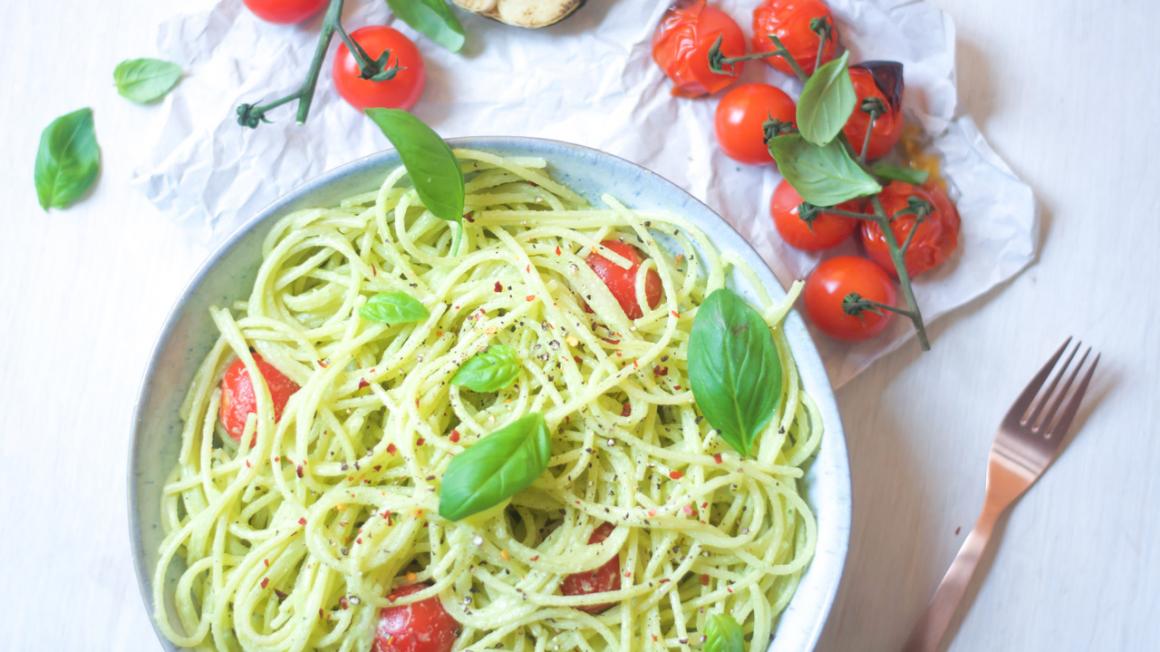 CREAMY AVOCADO GLUTEN-FREE PASTA
SERVES 2
TIME - 20 30 MINS
INGREDIENTS
200g gluten-free pasta or courgetti
For the avocado sauce:
1 pot Nush natural cashew or almond milk
yoghurt
1 large ripe avocado, pitted and sliced
2 cloves garlic crushed
1 tbsp olive oil
Two large handfuls fresh basil
3.5 tbsp of Parmigiano Reggiano or nutritional yeast, grated
Juice ½ lemon
Pinch chilli flakes (optional)
50ml pasta cooking water
Salt and pepper, to season
To serve:
Roasted cherry tomatoes
Steamed or boiled rice and chilli to taste
METHOD
Cook the pasta according to packet instructions. Drain, reserving the starchy pasta water for later use, then set aside.
As the pasta is cooking, blend together all the ingredients for the sauce apart from the pasta water until smooth.
Once the pasta is cooked, add in a spoonful of the pasta water into the sauce until you reach your desired consistency.
Taste and season, then stir into the cooked pasta along with the roasted cherry tomatoes. Sprinkle over Parmigiano Reggiano or nutritional yeast and serve.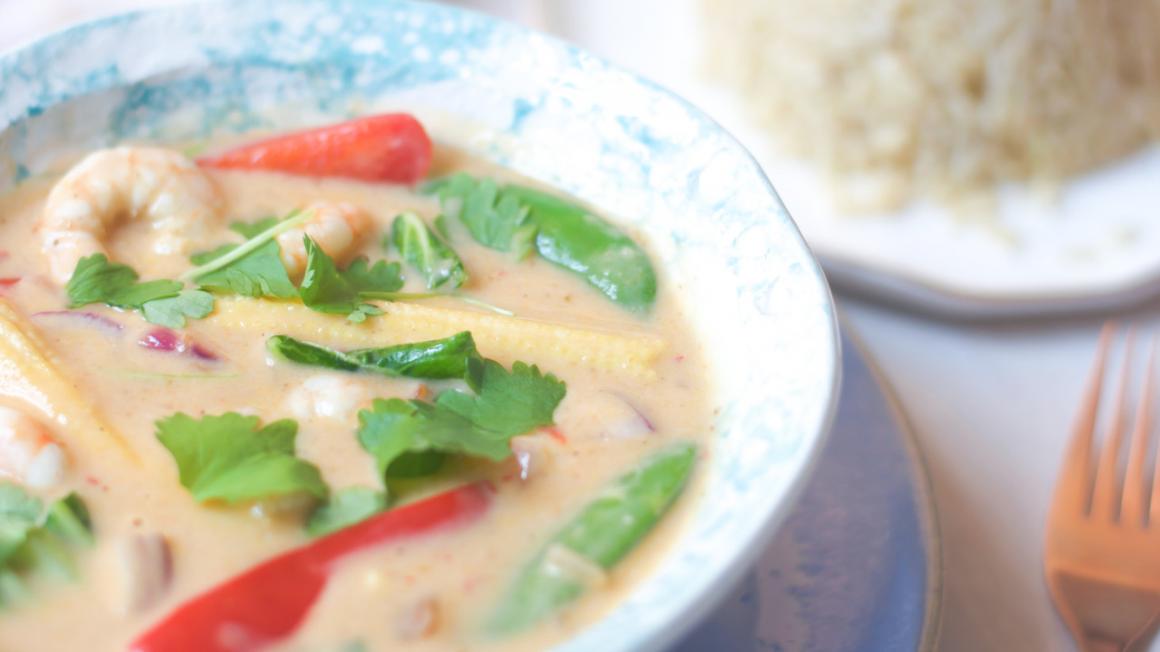 RED THAI PRAWN CURRY
SERVES TWO PEOPLE
TIME - 30 - 40 MINS
INGREDIENTS
2 pots of Nush cashew milk or almond milk yoghurt
1 red pepper, de-seeded and thinly sliced
1 large handful baby corn
1 large handful sugar snap peas
2 pak choi, chopped
150g prawns
1 tbsp coconut oil
1 small red onion
2 tbsp red Thai curry paste
1 tsp grated ginger
1 tbsp fish sauce
1 tsp coconut sugar
100ml water
Small bunch coriander
Juice of 1 lime
Salt and pepper, to taste
TO SERVE:
Steamed or boiled rice and chilli to taste
METHOD
In a large pan, heat the coconut oil on a medium heat and add in the chopped onion. Cook until softened.
Add the grated ginger and Thai paste and stir to combine, then cook for a further minute to release flavour.
Add the fish sauce, water and Nush cashew or almond milk yoghurt and stir until well combined. On a medium heat, bring to the boil and then reduce simmer for 10 minutes.
While the base is cooking, finely chop the stems from the fresh coriander and stir into the curry. Chop the the leaves and set aside.
Add the prawns and vegetables to the curry base and cook until the prawns are completely cooked through and the vegetables are softened. Add a splash more water or yoghurt if needed.
Once ready to serve, season to taste and add more chilli as desired.
Add a squeeze of fresh lime and top with fresh coriander leaves.