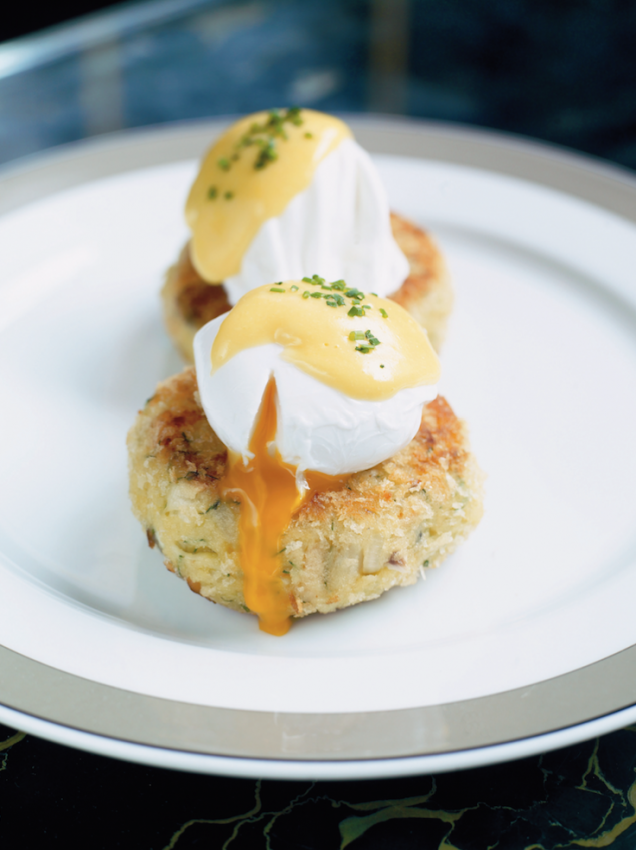 This week's classic breakfast dish comes straight from The Wolseley, London.
Serves 4-6
250g undyed smoked haddock
250ml milk
1 onion
3 bay leaves
2 cloves
125g smoked salmon, cut into strips
125g waxy potatoes cooked
125ml mayonnaise
25g capers
15g finely chopped dill
3 egg yolks
75g shallot, finely chopped
200g panko breadcrumbs
Juice of 1 Lemon
Vegetable oil, for frying
4-6 eggs
Dash of white wine vinegar
20g chopped chives
How to make;
Poach the haddock in the gently simmering milk with the onion, bay leaves and cloves until it flakes readily; about 5 minutes. Remove the haddock. flake the fish into a large mixing bowl and leave to cool.
Add all the remaining ingredients except the oil, whole eggs, vinegar and chives, reserving half of the breadcrumbs. Leave the mixture to rest for at least half an hour.
Form the mixture into 75g cakes, then roll these in the remaining breadcrums. Heat some vegetable oil in a large frying pan and fry the fishcakes until well-coloured on both sides and cooked through (you may need to do this in batches or two pans.
Poach the eggs using the vinegar. Serve the fishcakes with a poached egg on top and scattered with the chopped chives.