Favourite foodies: @coruskating
Gluten free/pescetarian food blogger Kate, or @coruskating, boasts an impressive 11,200 following on Instagram. Between London and Devon, Kate frequently shares pictures of her some of her best creations that will give you serious food envy...but not to fret, you can recreate some of her top autumn/winter favourites below!
How long have you been blogging and what made you want to start?
I first began blogging about two years ago. I initially began it as a means to kickstart a new healthy lifestyle, I wanted to shift a few pounds, reduce my gluten intake and give up meat! I thought that by documenting my journey, I would have an increased incentive to persevere. Over the months, my focus has shifted and my approach adapted, and I have found my semi-niche.

What inspires you?
Anything and everything! One day it could be something I've seen on Instagram, and another day its something my Granny is talking about. In terms of food, I also find healthy twists on traditional favourites very fun and interesting.

What projects have you been working on recently?
I am relaunching my website soon, and so I've spent quite a lot of time working on that recently. I'm also planning on branching more into lifestyle as well as food on my Instagram account and website.

What is your favourite meal?
This is a difficult question, I'm a bit of a foodie! I would have to say either Paella, which my Dad made pretty much every Friday as I was growing up, or an authentic Italian carbonara (minus the meat, as I'm a pescetarian).

Any advice for those seeking to start their own blog?
I would say be authentic to yourself, and who you are. I think image quality is quite important — so a camera is definitely a good investment. Lastly, I think engagement is important.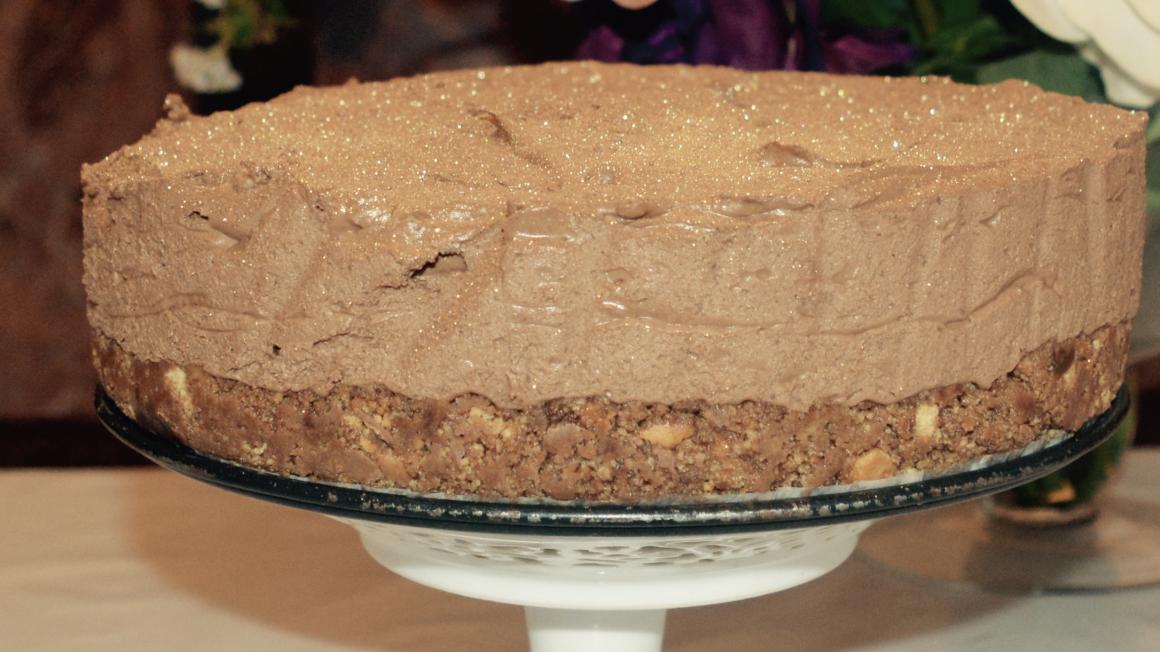 Chocolate and Chestnut Truffle Cake
Serves eight
Ingredients
• 60 g butter
• 130 g chocolate digestives
• 435 g chestnut puree (unsweetened)
• 2 Eggs (separated)
• 400 g 80% dark chocolate
• 600 ml double cream
Method
Preheat your oven to 180C. Grease a 25 cm, loose-bottomed, tin, and line the sides with baking paper.
Begin my breaking the digestives into crumbs. I find it best to put them in a plastic bag, and break them with a rolling pin. Melt your butter, and place in a bowl with the broken digestives. Once combined, press into the based of the lined tin. Place in a fridge to cool.
Next, beat together the chestnut puree and egg yolks. Once smooth, melt your chocolate with half of the double cream, and add to the mixture. Whisk the remaining cream until thick and almost stiff, and fold into the chestnut mixture. Whisk the egg whites until stiff, and also fold in gently.
Pour the mixture over the base, and level the surface. Chill overnight, or for at least five hours. Before you serve, gently remove your in and the baking paper. I then dust mine with cocoa powder.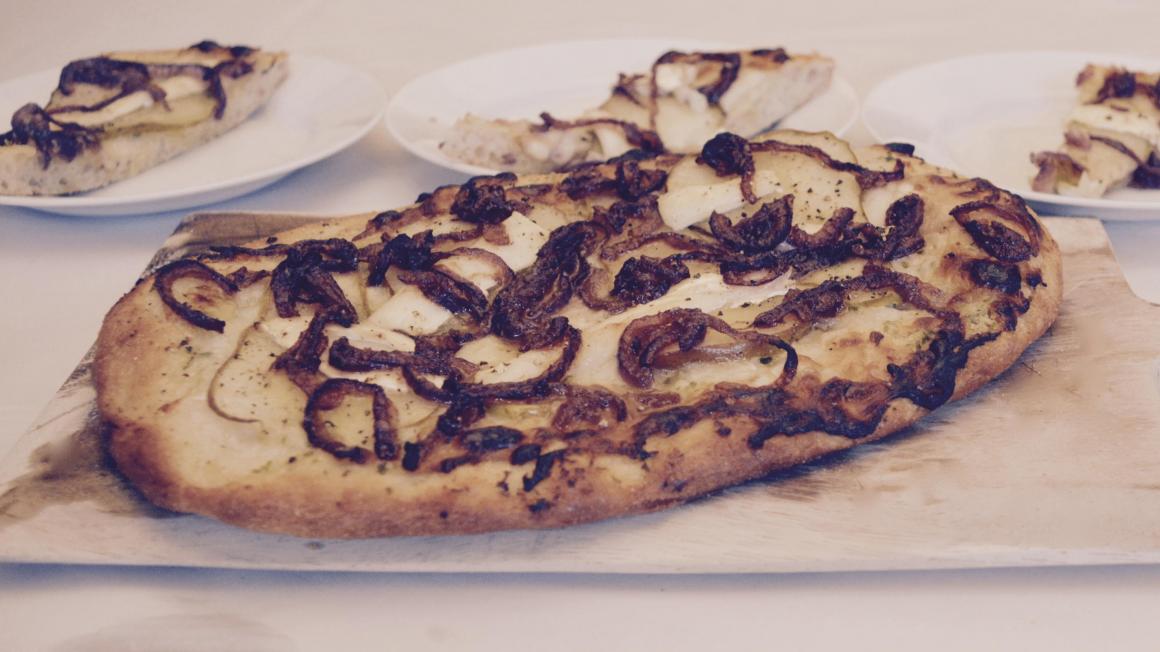 Quick and Easy Goats Cheese, Pear and Caramelised Red Onion topped Naan
Serves three
Ingredients
• One Plain Naan Bread or Flat Bread
• One Red Onion
• One TBSP Balsamic Glaze
• 1/2 TBSP Honey
• 200 g Goats Cheese
• 1/2 Pear
Method
Preheat your oven to 220C and line a baking tray.

Whip the goats cheese in a bowl until soft and creamy. Spread thickly over the naan/flatbread.

Finely chop the red onion and soften over a medium heat. Once soft, add the balsamic glaze and honey. Continue to cook for two minutes.

Meanwhile, thinly slice the pear and layer over the goats cheese. Add the red onion on top.

Place on the baking tray, and bake for 6 minutes, or until golden brown.

Serve warm.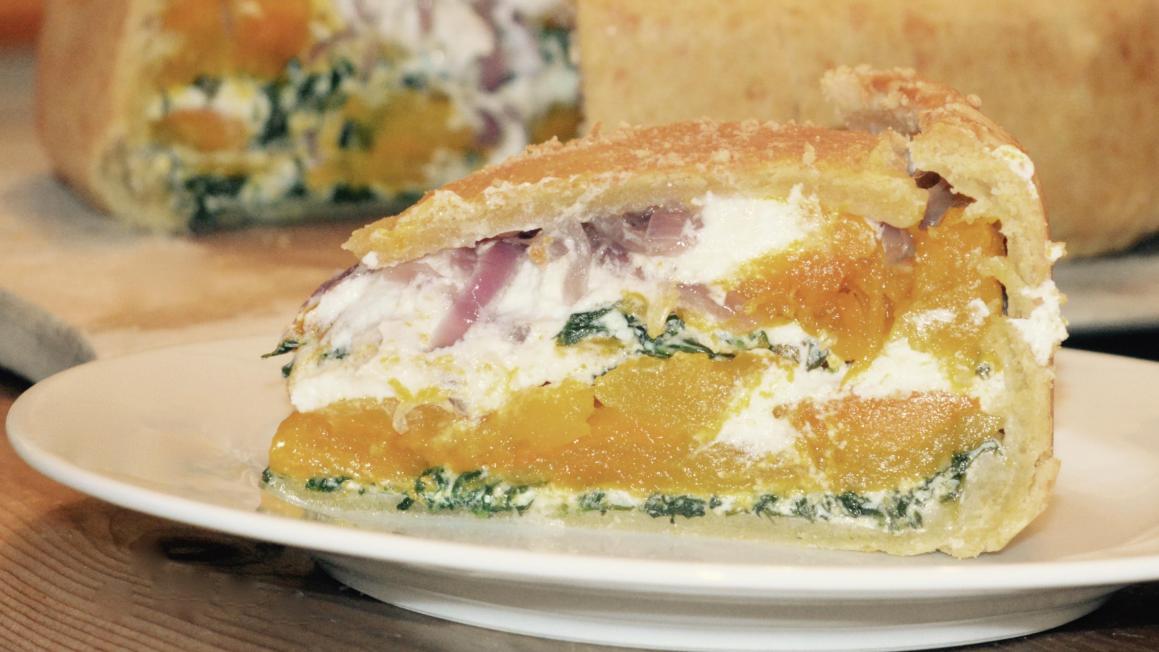 Autumn Rustique Pie
Serves ten
Ingredients
• 2 Pumpkin (or Butternut Squash) peeled and sliced thickly
• 3 Red Onions sliced thinly
• 1.5 kg Spinach
• 300 g Ricotta
• 400 g Goats Cheese (rindless/soft)
• 6 Garlic Cloves sliced
• 1 Tsp Ground Cumin
• 525 g Plain Flour
• 75 g Course Polenta
• 225 g Butter (cold and sliced)
• 90g Parmesan (grated)
• 1 Egg (small and beaten)
Method
Begin by adding the flour, polenta, butter and a pinch of salt to a food processor. Pulse the mixture until it resemble breadcrumbs. In a mixing bowl add the parmesan. Pour the crumb-like mixture into the bowl and mix with the parmesan. Slowly, add 6 TBSP of cold water and mix into the bowl — until the dough begins to stick. Knead the dough for around 5-10 mins until it forms a ball. Wrap the pastry in cling film and refrigerate for 30 minutes.

Next, layer the sliced pumpkin over a large roasting tray, or two, and drizzle with olive oil and the cumin powder. Season with salt and pepper, and roast at 180C for 30-40 mins.

Then, sauté the sliced onions and garlic on a medium heat until softened. Place the spinach in a sieve and pour a kettle on boiling water over it. Repeat with cold water, to cool it. Squeeze the spinach dry and chop finally. Season and mix with the ricotta. Set aside.

Lightly flour a surface, and roll out two-thirds of the pastry until around 1 cm thick. Line the base and sides of a 23 cm loose-bottomed tin. Cover the bottom of the pastry with half of the spinach mixture. Repeat with half of the pumpkin, and half of the goats cheese. Repeat the spinach, pumpkin and goats cheese again. Add the garlic and onions to the top and season. On your lightly floured surface, roll out the remaining pastry and lay on top of the pie — pinching the edges together. Brush the surface with the beaten egg and scatter with some parmesan.

Bake at 200C for 35-40 minutes, or until golden brown. Leave to cool for around 15 minutes and serve!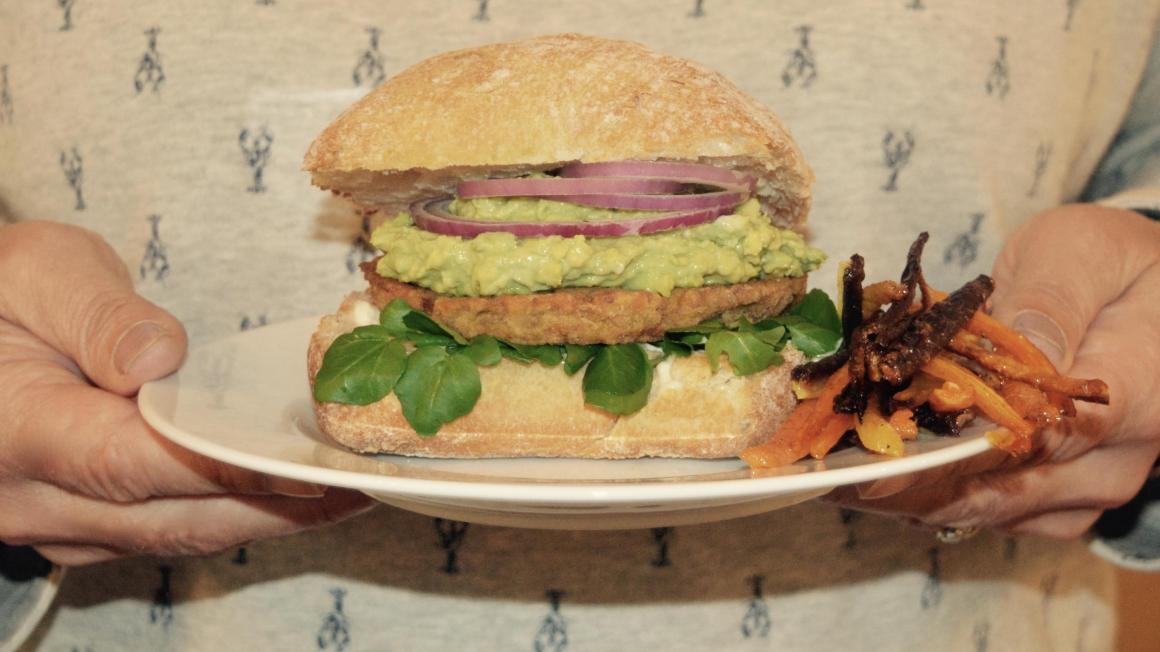 Kidney Bean and Butternut Squash Burger
Serves four
Ingredients
• 1 Butternut Squash (Small, peeled and thinly sliced)
• 200 g Kidney beans (tin, soaked)
• 1 Onion (thinly chopped)
• 1 Tsp Cumin
• 1 Tsp Harissa Paste
• 2 Garlic Cloves
• 1 Egg
• 50 g Cornflour
• 4 Ciabatta Rolls
• 1 Avocado
• 1 Red Onion
• Watercress
• Olive Oil for frying
Method
Soften the onion, butternut squash and garlic over a medium heat, for around five minutes.Drain of any excess liquid, and place in a food processor.

Add the Kidney Beans, Cumin, Harissa, Egg, and Cornflour and pulse until sticky and thick — but fairly smooth. If the mixture is slightly runny, add more cornflour (this gives the burger a nice consistency when cooked)!

Shape the burger mixture into patty shapes, and gentry fry in the olive oil. This will roughly take 3-4 minutes on each side.

Once cooked, serve in the ciabatta with mashed avocado, sliced red onion and watercress.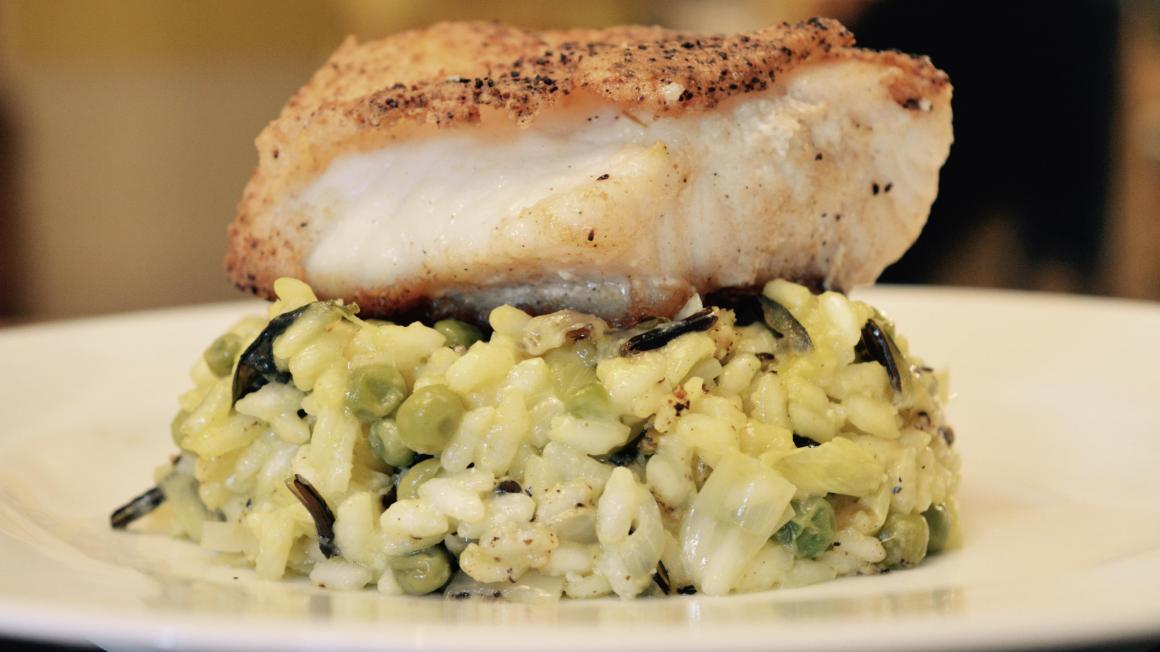 Red Snapper with a Leek, Pea and Parmesan Risotto
Serves four
Ingredients
• 4 Red Snapper portions (Or any fish of your choice)
• 1/4 Cup of Plain Flour
• 2 Tsp White Pepper
• 1/2 Tsp Salt
• 1 Tsp Onion Powder
• 1 Tsp Garlic Powder
• 2 Cups of Arborio Rice
• 2 Leeks sliced
• 3 Garlic cloves (chopped)
• 2 Cups peas (frozen is fine)
• 6 Tbsp grated parmesan
• 3 Tbsp butter
• 800 ml Vegetable Stock
Method
In a frying pan, add the butter, leeks and garlic. Gently fry for about five minutes.

Add the rice and peas, and stir for around a minute.

Slowly add the stock, stirring regularly, until it is all absorbed.

Finally, add the parmesan and set to one side.

In a bowl, mix together the plain flour, white pepper, salt, onion powder and garlic powder. Coat the red snapper portions, one at a time, in the flour mixture on both sides and set on a plate.

Heat the olive oil in a frying pan until hot. Add the red snapper portions and leave skin side down to cook for five minutes, before turning and repeating. At this point, you can continue frying depending on how you like your fish cooked.

Finally reheat the risotto and serve with the fish.