Book Reviews: 12 September
OUT NOW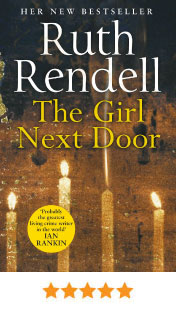 THE GIRL NEXT DOOR by Ruth Rendell (Hutchinson, £18.99; offer price, £15.99)
It's 1944 and a group of children gather to play in tunnels that they have discovered in the suburb of Loughton. Many years later, a pair of skeletal hands are found in a tin buried in those same tunnels, and the find impacts upon those same children, now septuagenarians.
Some have ventured far from their suburban roots, others have remained, leading lives reminiscent of their parents' generation. The hands, while not a mystery to the reader, remain so for the protagonists for most of the book – and they lead to upheaval and change for all who were involved in the childish exploits of the war years. Nobody does suburbs like Ruth Rendell: in her expert hands they exert a morbid fascination. Behind the immaculate exteriors lurks a world of unhappiness and deceit – and at times murder. An excellent read.
Victoria Clark
---
MR MAC AND ME by Esther Freud (Bloomsbury, £16.99; offer price, £15.29)
An unlikely friendship is at the centre of Esther Freud's new novel, set in 1914 on the Suffolk coast. Local boy Thomas Maggs meets a mysterious Scotsman, known as Mac to his father's pub regulars.
'Mac' turns out to be the iconic architect Charles Rennie Mackintosh, and along with his red-haired artist wife, they soon become a source of fascination to Thomas – and of suspicion to the local community.
Freud, who divides her time between Suffolk and London, paints a vivid portrait of village life during the First World War, deftly etching details of personalities, family life and landscapes. She captures the contrast between Walberswick's countryside, with its ancient seasonal rhythms, and the horrors of the Somme and Passchendaele.
While it lacks the sparkling originality of her debut novel Hideous Kinky, this is a thoughtful and enjoyable book.
RW
---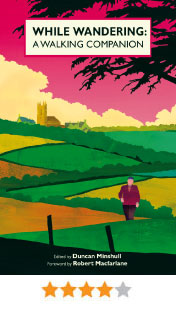 WHILE WANDERING: A Walking Companion, by various authors (Vintage, £10.99; offer price, £9.89)
'The young fellows have begun a kind of fashion to walk…' so wrote Jonathan Swift, but it's an observation that could pass today. Hiking, tramping, rambling: all are enjoying new popularity, which makes the reissue of this diverting anthology particularly welcome.
With reference to more than 200 writers, it illustrates the many reasons for 'footing it', from inspiration to consolation to – in the case of Jane Austen's Jane Fairfax – simply making a point: setting out in a shower, Miss Fairfax summarily scotches the twittering of the village worrywarts.
There's advice to be had – vinegar foot-baths and new socks every 10 miles, according to Wilkie Collins – and a few sceptical voices: 'I nauseate walking,' declares a character in Congreve's The Way Of The World. But chiefly, this is a paean to all forms of striding, sauntering and stomping – and a fantastic incitement to pull on your boots.
Stephanie Cross
---
BOOK OF THE WEEK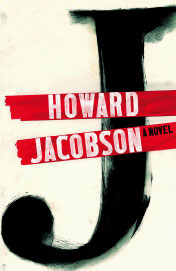 Time present and time past J by Howard Jacobson (Jonathan Cape, £18.99; offer price, £15.99)
Longlisted for 2014's Man Booker Prize, J is an eerie, philosophical novel set in an Orwellian future – where the past is a dangerous country, not to be talked about or visited. Although also about dysfunctional relationships, the novel's mood couldn't be more di€ erent from Jacobson's funny last book, Zoo Time, about a Jewish man obsessed with his mother-in-law.
The awkward hero, Kevern Cohen, falls in love with Ailinn Solomons, 'a wild-haired, quiveringly delicate beauty', who has just moved into his remote, rural community.
Although Kevern and Ailinn are immediately attracted to each other, menacing dark shadows threaten their newfound happiness. A past catastrophe referred to as 'what happened, if it happened' is at the core of the narrative.
At the end, all is revealed and we understand why Kevern and Ailinn are so important to their post-apocalyptic society. Nightmarish and thought-provoking, this beautifully written, complex novel builds slowly and is rather like a jigsaw puzzle.
Although not usually a fan of the timetravelling genre, I loved this book. Not an easy read, but worth persevering to be rewarded with the plot's 'final and very clever twist.
A compelling tale that is bound to be a hot contender for the Booker.
Rebecca Wallersteiner
---
COFFEE TABLE BOOK
REYNOLDS: PORTRAITURE IN ACTION by Mark Hallett (Yale University Press, £50; offer price, £45)

Like an early-day Bailey, Joshua Reynolds was the portraitist du jour of the 18th century. His studio sessions on St Martin's Lane were, as skilfully recorded here by Mark Hallet, ebullient, social affairs. Women adored his fine touch, men his capacity to shine a serious light while hinting at freedom of spirit.
His portrait of Reverend Laurence Sterne (shown here), for instance, shows a clergyman, but also an anarchic friend – his wig all wonky, his look dangerously sexy. From his birth in a vicarage, via a knighthood and the first presidency of the Royal Academy to a state funeral at St Paul's Cathedral, all of Reynolds, and our lives, is here.
Sam Taylor
---
PAPERBACKS

GOODBYE TO ALL THAT: Writers On The Conflict Between Life And Art, edited by Lavinia Greenlaw (Pushkin Press, £7.99; offer price, £7.59)
This superb collection of essays by some of today's leading writers stands out among the many books commissioned to mark the centenary of the First World War.
Its broader remit encompasses not only remembrance and the ways in which the impact of war ripples across generations and countries, but also how conflict – armed or not – continues to disrupt our lives, and how our dialogue with the past can shape our present.
From Ali Smith's conversations with her dead father to Jeannette Winterson's incisive look at the relationship between economics, creativity and culture, this is a wide-ranging, thought-provoking book.
Juanita Coulson
FLAPPERS: Six Women Of A Dangerous Generation by Judith Mackrell (Pan Books, £8.99; offer price, £8.54)
When you think of the 1920s, flappers come to mind. Their glitzy images fill the history books and old film reels, but some of these women were much more than party girls in sparkly headbands.
This book charts the lives of Josephine Baker, Diana Cooper, Nancy Cunard, Tallulah Bankhead, Zelda Fitzgerald and Tamara de Lempicka: icons and heroines of the age.
Going beyond the clichés and delving into what was going on in these ladies' inner worlds, it is a most enjoyable read.
Melonie Clarke
---
ALSO ON THE SHELF
A CONœSPIRACY OF RAVENS by Bill Oddie and Thomas Bewick (The Bodleian Library Publishing, £9.99; offer price, £9.49)
The practice of inventing ingenious collective nouns for birds began in the Middle Ages – and is still amusing today. This charming compendium will delight birdwatchers and lovers of language alike: from the predictable 'wisdom of owls' to the witty wordplay of 'a grain of sanderlings'.
JC
---
3 GREAT BOOKS: ABOUT FARMING

THE GRAPES OF WRATH by John Steinbeck
COLD COMFORT FARM by Stella Gibbons
ALL CREATURES GREAT AND SMALL by James Herriot
---
THE LADY BOOKSHOP
Order by phone 0843-060 0035
Online
www.theladybookshop.com
By post Send your cheque, payable to The Lady Bookshop, to: The Lady Bookshop, PO Box 69, Helston TR13 OTP