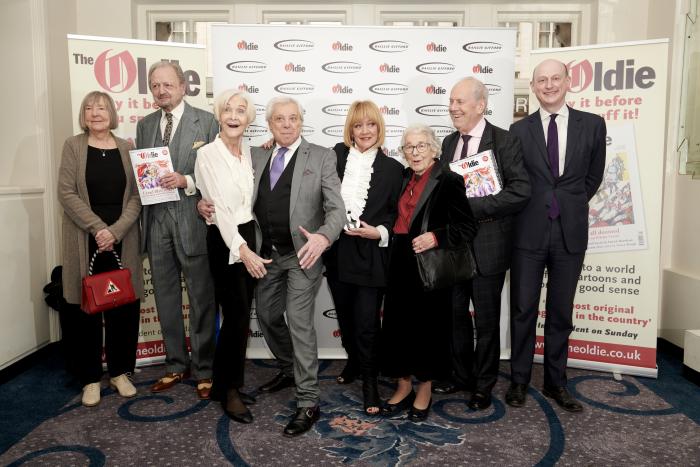 Enormous fun was had as The Oldie of the Year Awards 2019 (TOOTY) returned on Tuesday 29th January in a lunchtime ceremony which celebrated the best of the older generation. Celebrity guests gathered for a three-course lunch at Simpson's-in-the-Strand followed by a tongue- in-cheek ceremony during which the nation's favourite Oldies received an eclectic array of awards ranging from reverent to ridiculous.
Giles Brandreth, host of the awards, said: "We are saluting those who simply brought joy into our lives this year - those who have given pleasure. And who still have snap in their celery."
About the Winners:
The Lionel d'Or Oldie of the Year
Lionel Blair (90) first graced our screens in the 60s and has been acting, dancing and entertaining his way to the present. In 2018 he entered his 10th decade in showbiz with panache, celebrating his 90th birthday in style by tap dancing on the radio. He takes home the Lionel d'Or Oldie of the Year Awardsimply because, in a dark world, he glows.
The Keep Calm and Carry On Award
Amanda Barrie (83) made an unforgettable debut in the Carry On Film franchise 55 years ago as the nympho of the Nile in Carry On Cleo. Now, 60 years since the first film, she is one of many cast members to have enjoyed a long-running TV career. Appearing in last year's Big Brother as one of the oldest contestants ever to be on the show, she takes home the Keep Calm and Carry On Award.
Oldie Signwriter of the Times
Margaret Calvert (82) made an iconic contribution to British design 60 years ago when she designed the classic road signage system that still guides us around Britain's motorways today. In 2018 she released her first print 'Woman at Work', drawing on her emblematic designs, and is honoured for her services to Britain's roads with the Oldie Signwriter of the Times Award.
Oldie Tigress We'd Like to Have to Tea
Judith Kerr (95) has written 35 children's books, most notably her bestselling classic The Tiger Who Came to Tea which celebrated its 50th anniversary in 2018. At 95 she has just released a new story Mummy Time and has no plans to stop. She is crowned Oldie Tigress We'd Like to Have to Tea.
Oldie Who Has Seen It All Before and Worse
Lady Avon, who turns 100 next year, grew up and lived amongst some of the most interesting men and women of her day. Niece of Winston Churchill and widow of former Prime Minister Anthony Eden, her time spent at the epicentre of British politics makes her the consummate candidate for the Oldie Who Has Seen it All Before and Worse Award.

Oldie Silver Screen Stars of the Year
Sheila Hancock (85) and Peter Bowles (82) are being jointly honoured as Oldie Silver Screen Stars of the Year, both having released new films last year. Hancock's starring role in Edie saw her scale one of Scotland's most spectacular mountains, while Peter Bowles made history as the oldest leading man in British movie Together.
The Oldie Creative Ape of the Year
Desmond Morris (90) is one of the last surrealist artists alive and has been a household name in Britain for nearly 60 years. His famous 1967 book, The Naked Ape, is just one of over 35 books he has written on human behaviour and zoology. Last year at 90, he had yet another book published and his own art show, making him this year's winner of The Oldie Creative Ape of the Year Award.
Peter Bowles, winner of Oldie Silver Screen Star of the Year alongside leading lady Sheila Hancock, said:
"What's so wonderful about this is that it's so quintessentially Oldie. As an actor, you get an award not for your role, but for getting a job at all."
The Lady congratulates all the winners.