Personality Colour
'Just paint it white,' a friend said when offered the chance to swoon over my paint chart collection. But which white? Dulux's White Cotton is the new Magnolia; the property developer's best friend.
Then there's the raft of 'designer whites'. Some, like Farrow & Ball's 'Cornforth White' aren't white at all, more a sooty grey. While James White looks pale enough but turns green on the wall.
Colour psychologists (yes, they do exist) claim that white is a blank canvas that allows us to open up our senses. Project our own feelings on to the walls.
The Modernist designer, Eileen Gray, used white both inside and outside at E1027, the house she built in the south of France for her young lover, the architect Badovici.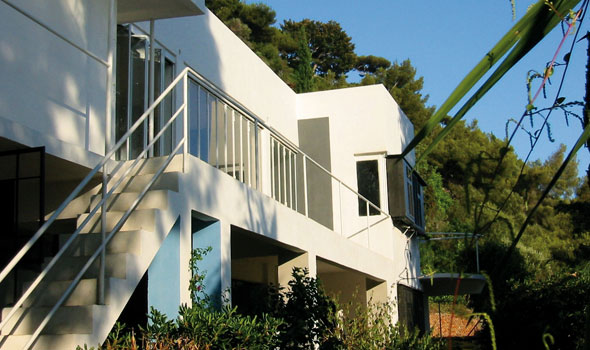 Admired as a masterpiece of the stripped-down form, when Eileen finally moved out, Badovici allowed Le Corbusier to paint eight large murals on the wall; photographs exist of him lounging on a day bed in the living room admiring his handiwork. Needless to say, Eileen was furious.
The house has subsequently been restored by the French government but she never forgave her one-time friend. Personally, I feel so frozen by my own lack of interior décor choices that I'd almost welcome the intervention of a mad pal with a paintbrush.
As it is, I've managed only two rooms – and one of those is the loo. Stiffkey Blue, in case you were wondering.
Anyway, back to the colour psychologists. Another reason we like white so much is it's a chance to wipe the slate clean.
If you test 'white' as your personality colour – available at any number of websites, such as
www.personalityquiz.net
– you are someone who is neat and immaculate in your appearance, in the presentation of your home and in your car, almost to the point of being fanatical.
You've impeccable standards of cleanliness and hygiene and you expect others to adhere to these. You are far-sighted, with a positive and optimistic nature. You are well balanced, sensible, discreet and wise. And, crucially, you are cautious, practical and careful with money.
Speaking as someone who impulsively spent all her children's inheritance on a house that, two years on, is still barely habitable, it doesn't look as if I'll be using much white.
Next week: Bush trials