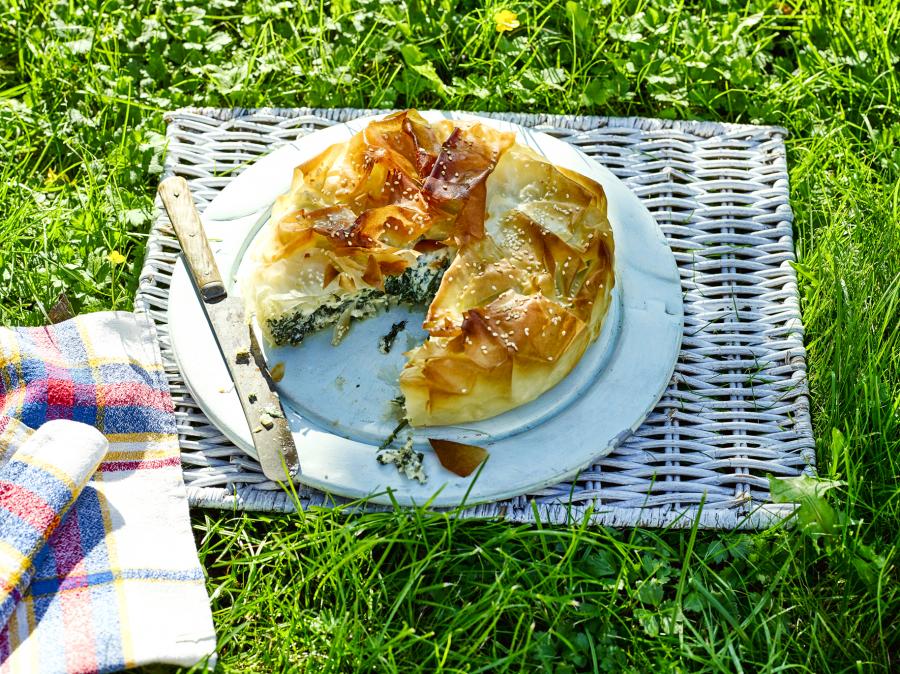 May 2019. These vibrant veggie recipes using fresh, seasonal flavours, are perfect for a relaxed al fresco supper with friends. Spinach & Ricotta Pie with Fresh Mint Jelly is a combo hard to beat, while Sweetcorn and Halloumi Fritters are made exceptional courtesy of the tangy, sweet and sour Cucumber & Sweet Pepper Relish (which includes just a dash of mustard seed and chilli to keep you on your toes).
Spinach & Ricotta Pie with Tracklements Fresh Mint Jelly
Ingredients:
1 tbsp. olive oil
1 medium onion, finely chopped
2 cloves garlic, peeled and crushed 350g spinach
3 tbsp. Tracklements Fresh Mint Jelly 2 eggs
250g ricotta, drained
1⁄2 tsp grated nutmeg
salt and pepper
100g feta cheese, crumbled
50g melted butter
5 sheets filo pastry
1 tbsp. sesame seeds
Method:
 Pre-heat oven to 200°C/fan 180°C/350°F/gas mark 6.

 In a large pan, fry the onion and garlic in the oil until soft and transparent, remove from the pan and set aside to cool.

 Wash the spinach and wilt using the same large pan as before. Place the wilted spinach in a sieve over a bowl to catch any juices and squash using the back of a spoon to remove as much excess water as possible.

 Melt the Fresh Mint Jelly in a small pan until runny.

 Beat the egg with the ricotta and nutmeg. Season. Stir in the feta, Fresh Mint Jelly, onions, garlic and spinach.

 Brush a 20cm round cake tin with a little of the melted butter. Line with sheets of filo

brushing each sheet of filo with the melted butter and off-setting the pastry sheets to form a rough star shape. Spoon the cheese and spinach mixture into the middle of the pastry. Fold the overhanging pastry up and over the top of the pie filling. Brush with a little more melted butter and sprinkle with the sesame seeds.

 Bake for 25-30 mins or until the pastry is golden brown and crisp. Serve warm, straight from the oven or cold with salads or as part of a picnic spread.