Recipes: Perfect pancakes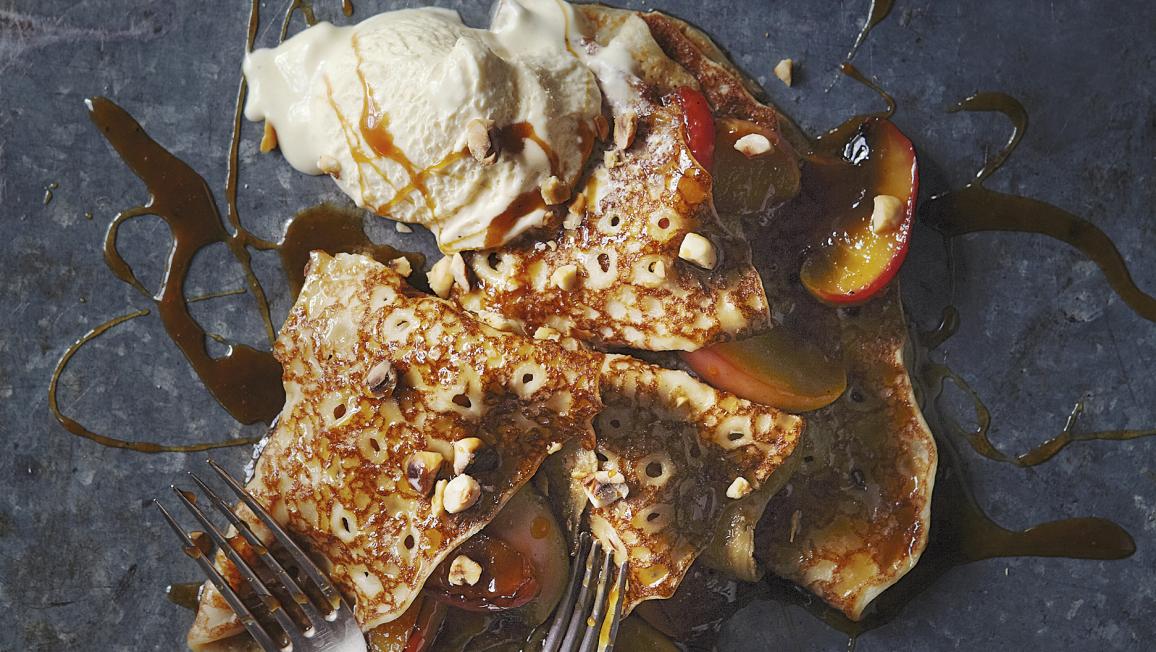 Toffee apple pancakes with vanilla ice cream
Total time: Ready in 20 minutes
Ingredients
40g essential Waitrose Dairy Butter
4 apples, cored and cut into thin wedges
3 tbsp clear honey
3 tbsp light brown soft sugar
480g pack Waitrose 8 Pancakes
4 generous scoops Carte D'Or Vanilla Ice Cream
25g hazelnuts, chopped and toasted
Method
1. Heat the butter in a large frying pan. Add the apple wedges and fry for 3 minutes until beginning to soften and turn golden. Stir through the honey and sprinkle over the brown sugar. Continue to cook for a further 4 minutes until sticky and glazed.
3. Warm the pancakes in the microwave or oven, according to the packet instructions.
4. Divide the toffee apples between the warmed pancakes then fold each one in half and in half again. Place 2 filled pancake cones on each plate and top with a scoop of vanilla ice cream. Drizzle over any sauce left in the pan and scatter with hazelnuts before serving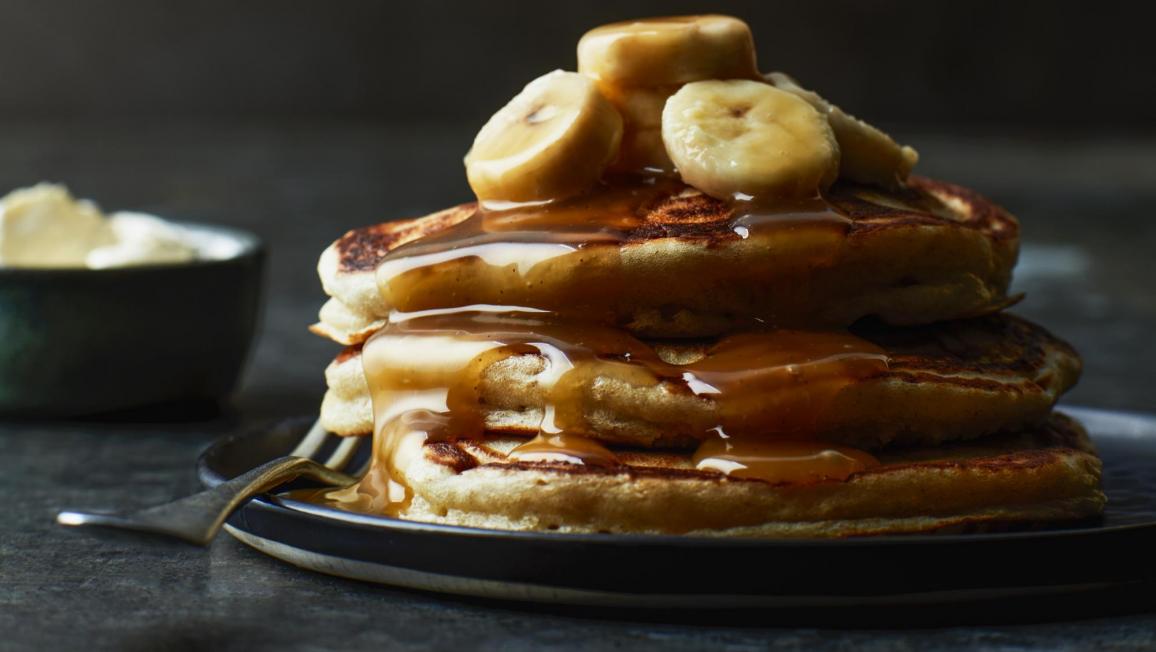 Banana butterscotch pancakes
Vegetarian
Preparation time:10 minutes, plus sitting
Cooking time: 25 minutes
Total time:35 minutes, plus sitting
Ingredients
150g plain flour sifted
50g Tate & Lyle Fairtrade Golden Caster Sugar
½ tsp bicarbonate of soda
284ml tub buttermilk
1 egg, beaten
Unsalted butter, for frying
2 small bananas, sliced
Butterscotch sauce
75g unsalted butter
75g Tate & Lyle Fairtrade Golden Caster Sugar
100ml double cream, plus extra to serve
½ tsp vanilla bean paste
¼ tsp flaky sea salt
Method
1. Mix the flour, sugar and bicarbonate of soda in a mixing bowl with a pinch of salt. Make a well in the centre and pour in the buttermilk and egg, whisk together until smooth, then set aside for 30 minutes.
2. For the butterscotch sauce, melt the butter in a small saucepan over a medium heat, then add the sugar and allow to dissolve. Simmer for 4-5 minutes, stirring regularly, until golden. Take off the heat and stir in the cream, vanilla and salt.
3. Heat a large frying pan over a medium-low heat. Melt a knob of butter, then add a small ladleful of the batter and spread to a circle roughly 12cm in diameter – cook 2-3 at once, if possible. Flip after 2-3 minutes when bubbles appear, then cook for another 2-3 minutes. Repeat to make about 8 pancakes. Stack onto plates, top with the banana and spoon over the warm butterscotch sauce. Serve with whipped cream too, if liked.
Cook's tip
Don't worry if the butter and sugar look separated as they melt and simmer, as the sauce will come together when you add the cream.
This recipe appeared within the February 2018 recipe card collection.
Recipe cards are free to pick up every month in Waitrose stores
Perfect buttermilk pancakes with chocolate sauce
Preparation time:15 minutes
Cooking time:30 minutes
Total time:45 minutes
Ingredients
For the chocolate sauce:
100ml essential Waitrose Double Cream
1 Cooks' Ingredients Chipotle Chilli, roughly chopped
200g Divine Fairtrade 70% Dark Chocolate
For the pancakes:
150g essential Waitrose Plain Flour
Pinch of table salt
25g golden caster sugar
4 essential Waitrose Free Range Eggs
100ml whole milk
100ml buttermilk
40g essential Waitrose Dairy Butter
4 tbsp rapeseed or sunflower oil
Duchy Originals from Waitrose Organic Vanilla Ice Cream, to serve
Method
1. To make the sauce, gently warm the cream and chilli in a pan then leave to infuse for 10 minutes. Break the chocolate into a bowl and place on top of a pan of simmering water, making sure the base doesn't touch the water, and allow to melt slowly while stirring.
2. Strain the warmed cream into the melted chocolate and stir. Discard the chilli. Keep the sauce warm while you make the pancakes.
3. Sift the flour into a large bowl and add the salt and half the sugar. In a separate dish, crack 2 eggs into the milk. Separate the remaining 2 eggs and add the yolks to the milk.
4. Add the buttermilk to the milk and eggs and whisk together. Slowly pour into the flour, whisking gently but being careful not to overmix.
5. In a separate bowl, add the remaining sugar to the egg whites, whisk until light and fluffy then fold into the batter mixture in 2 stages.
6. Heat a little butter and oil in a non-stick pan. Depending on the size of your pan, drop up to 5 large tablespoons of the pancake mix into it and fry each pancake for 40 seconds until bubbles appear on the surface. Flip over and fry for a further 40 seconds, then remove. Repeat in batches with the rest of the batter to make 18-24 pancakes.
7. Divide the pancakes between 6 plates and top each with a scoop of ice cream and a drizzle of chocolate sauce. Serve swiftly.
Cook's tip
If you don't like chilli but still want a hit of spicy flavour, add a pinch of ground ginger to the chocolate sauce instead.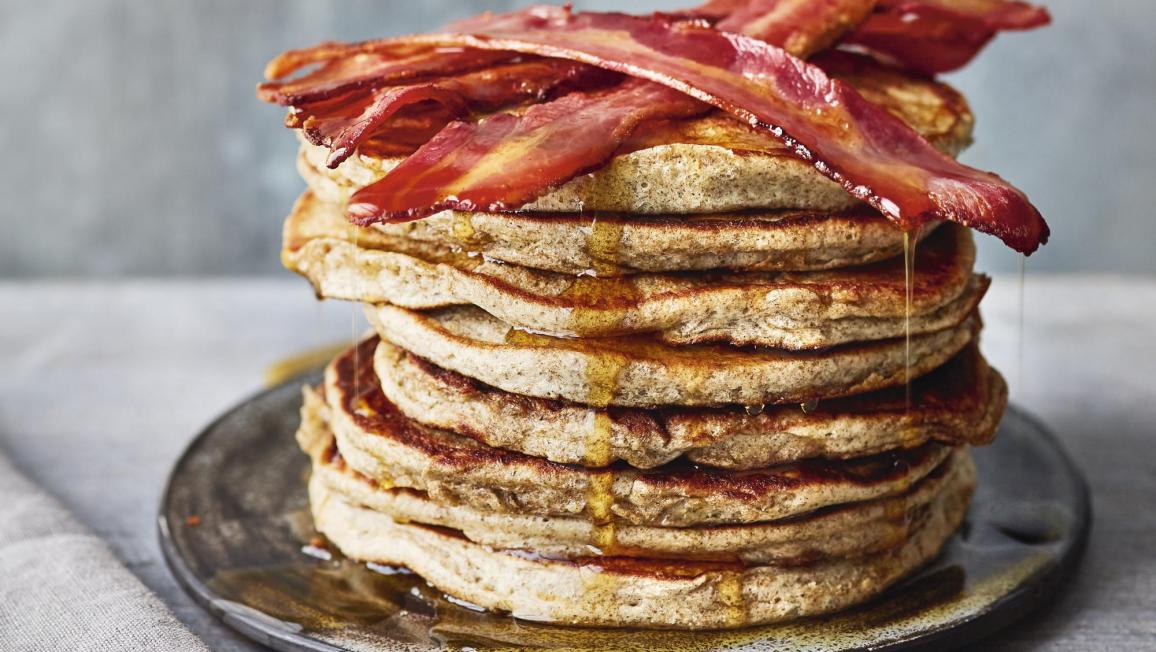 Rye & almond milk pancakes with crispy bacon
Preparation time:10 minutes
Cooking time:15 minutes
Total time:25 minutes
Ingredients
150g dark rye flour, or a mixture of dark and white rye flour
1½ tsp baking powder
175ml almond milk or skimmed milk
2 tbsp maple syrup, plus extra to serve
4 medium Waitrose British Blacktail Free Range
Eggs, separated
6 rashers streaky bacon, halved lengthways
Spray olive oil (x 10 sprays)
Method
1. Place the flour, baking powder and a pinch of salt in a large bowl. Slowly whisk in the milk, maple syrup and egg yolks.
2. In another bowl, whisk the egg whites until forming stiff peaks. Gradually add the whites to the flour mixture, folding in gently between each addition.
3. Place the bacon on a foil-lined grill pan. Put under a preheated grill for 4-5 minutes until crispy. Drain on kitchen paper.
4. Meanwhile, warm a large non-stick frying pan sprayed with oil over a high heat.
5. Cook spoonfuls of pancake batter to make 12cm x 10cm rounds, cooking for 2 minutes on each side, or until golden. Keep warm while preparing the rest. Serve the pancakes with the bacon and extra maple syrup to drizzle over.
Mango mojito pancakes
For this delicious dessert, seasonal mangoes from warmer climes are teamed with zesty lime and a hint of rum to give these traditional pancakes a tropical flavour.
Vegetarian
Preparation time:15 minutes
Cooking time:15 minutes
Total time:30 minutes
Ingredients
2 Waitrose 1 Perfectly Ripe Mangoes, peeled, stoned and sliced
3 tbsp golden rum or apple juice
2 tbsp light brown muscovado sugar
Finely grated zest and juice of 1 lime
2 tbsp shredded fresh mint
120g natural coconut yogurt, to serve
For the pancakes
100g plain flour
1 medium British Blacktail Free Range Egg
300ml milk
A little sunflower oil, for greasing
Method
1. Place the mango in a heatproof bowl. Gently heat the rum (or apple juice) and sugar in a pan, stirring until the sugar dissolves. Pour over the mango and set aside to cool. Add most of the lime zest, juice and mint to the cooled mango, then chill until ready to serve.
2. Place the flour and a pinch of salt in a bowl. Make a well in the centre and crack in the egg and a little of the milk. Whisk together, gradually incorporating the remaining milk to make a smooth batter.
3. Lightly grease a 20cm heavy-based non-stick frying pan. Add enough batter to thinly coat the pan's base and cook over a medium heat for about 1 minute, or until golden brown. Flip over and cook the other side until golden brown.
4. Place on a warm plate and cover with greaseproof paper. Repeat to make 8 pancakes. Keep them warm by placing in the oven at 120°C, gas mark ½. Place 2 pancakes on each plate and top with the mango and the yogurt sprinkled with the remaining lime zest.
See more pancake recipe inspiration at waitrose.com/home/inspiration/pancake_day.html