Recipes: Waking up healthy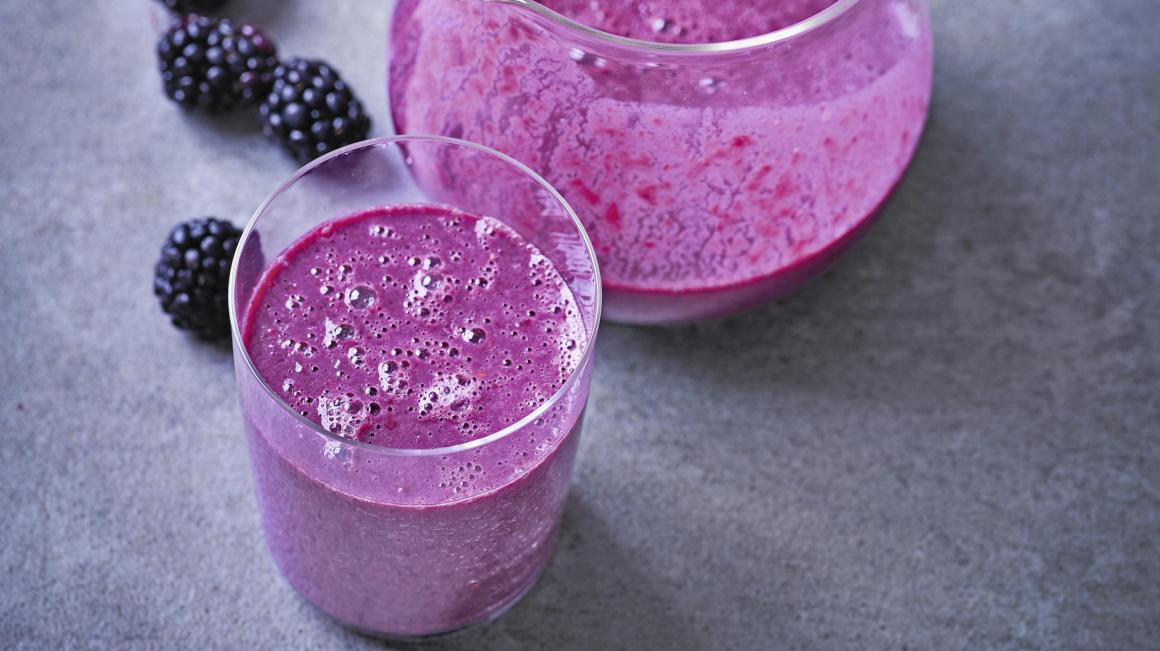 Purple smoothie
Preparation time:5 minutes
Serves: 2 – 4
Vegetarian
1 of your 5 a day
Low in fat
Ingredients
200g frozen blackberries
½ medium raw beetroot, peeled and grated
125g pack pomegranate seeds
2cm piece root ginger, peeled and chopped
100g firm silken tofu
1-2 tsp honey (optional)

Method
1. Place all the ingredients except the honey in a blender and then add 250ml water.
2. Blend until smooth then, if using, sweeten with honey to taste. Serve immediately.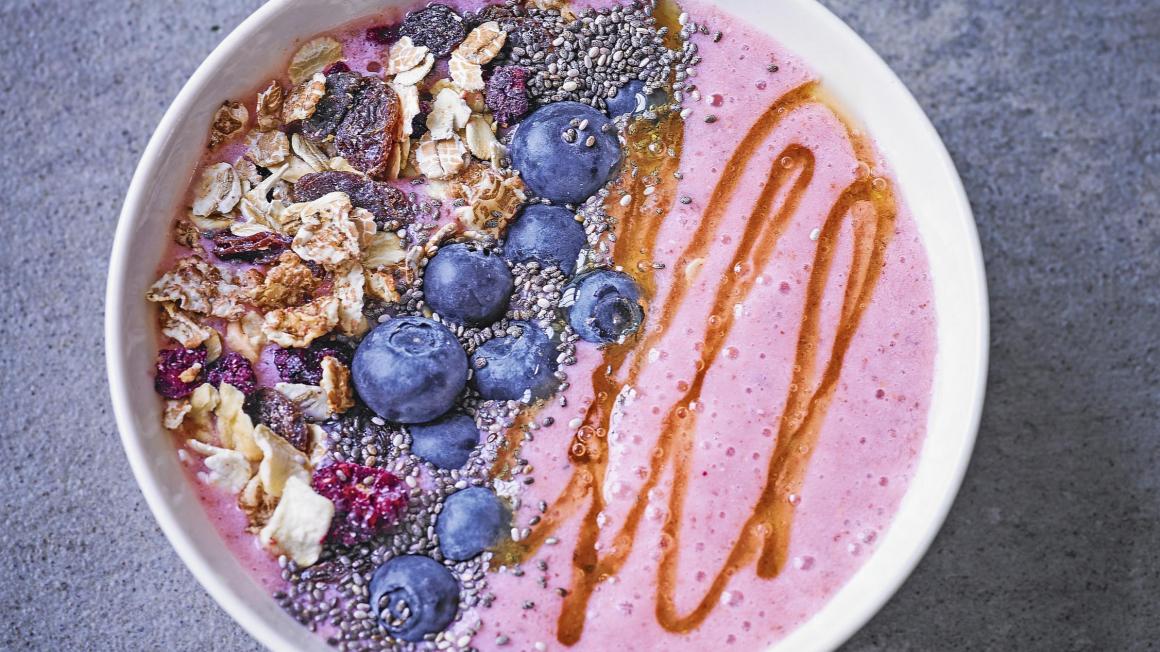 Berry, coconut & chia smoothie bowl
Vegetarian
Preparation time:5 minutes
Serves: 4
1 of your 5 a day
Low in fat
Ingredients
480g frozen strawberries & bananas
350ml coconut milk drink, plus extra for blending
4 tbsp muesli
1½ tbsp chia seeds
1 tsp clear honey, plus extra to serve
120g pack blueberries
Method
1. Place the frozen fruit in a blender with the coconut drink and whizz until smooth, adding a little more liquid if your blender is struggling.
2. Add 2 tbsp muesli, 1 tbsp chia seeds and the honey. Blend again and once smooth, spoon into 4 breakfast bowls.
3. Top with the blueberries and the remaining muesli and chia seeds. Serve immediately, with an extra drizzle of honey, if liked.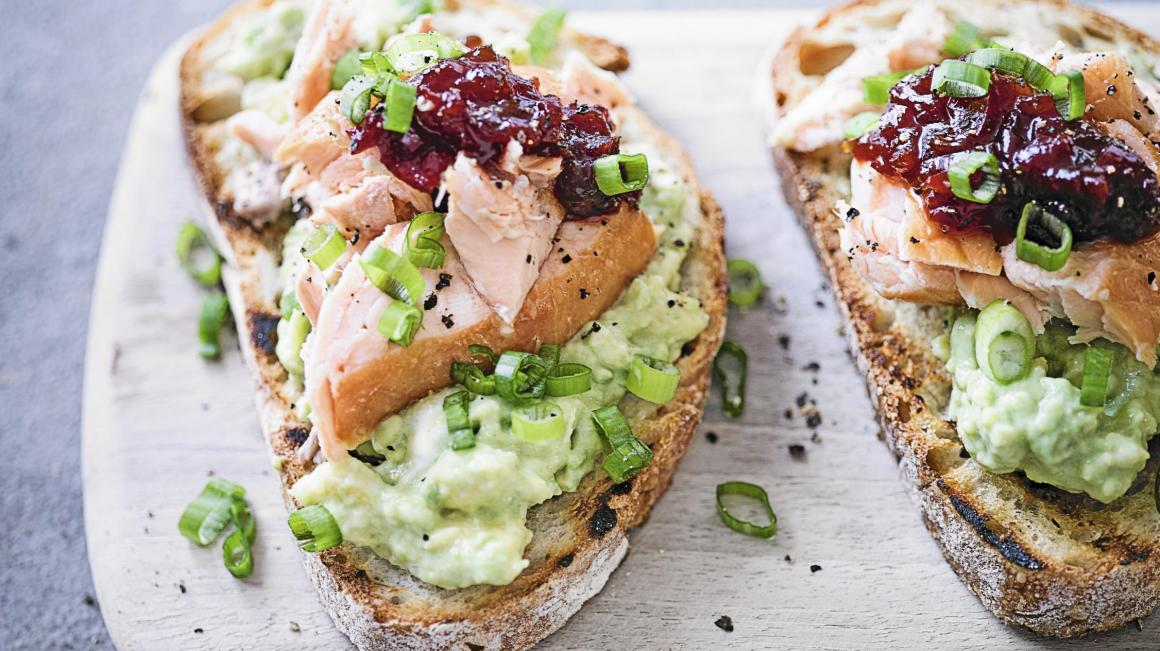 Hot smoked salmon on toast with avocado & chilli jam
Preparation time:10 minutes
Serves: 4
Ingredients
4 thick slices dark sourdough
1 ripe avocado, stoned and peeled
3 tbsp essential low fat natural yogurt
Squeeze of lemon juice
160g hot smoked salmon, skinned and broken into large flakes
2 salad onions, sliced
4 tsp chilli jam
Method
1. Toast the sourdough. Spoon the avocado into a bowl and mash up the flesh with a fork. Stir through the yogurt and lemon juice. Season with salt. Spread onto the sourdough toast.
2. Scatter over the flaked salmon and salad onions, then top with the chilli jam, to serve.
Sweet potato hash browns with roasted tomatoes & crispy Serrano ham
Low Fat
Preparation time: 40 minutes
Serves: 4
Ingredients
FOR THE ROASTED TOMATOES
500g cherry tomatoes, halved
2 tsp thyme leaves
3 cloves garlic, sliced
½ tsp chilli flakes
1 tbsp olive oil
FOR THE HASH BROWNS
2 sweet potatoes, grated
1 floury potato, such as King Edward or Maris Piper, grated
1 medium egg, lightly beaten
1 tbsp plain flour
2 tbsp olive oil
4 slices Serrano ham
115g pack baby spinach
Method
1. Preheat the oven to 170°C, gas mark 3. Place the tomatoes in a roasting tin. Top with the thyme leaves, garlic and chilli. Season with salt and drizzle with the olive oil. Roast for 30-35 minutes, until the tomatoes look rich and have softened. Set aside to cool.
2. Meanwhile, heat the grill to high. Lay the ham slices onto a baking sheet and grill for 1-1½ minutes, until golden and crisp.
3. When the tomatoes are almost ready, prepare the hash browns. Combine both types of potato in a bowl. Stir through the egg and flour. Season with salt and black pepper. Heat the oil in a large non-stick frying pan over a medium heat. Working in batches, spoon large tablespoons of mixture into the pan, forming 8 little mounds. Press down gently with the back of a spoon to shape the hash browns and cook for 2-3 minutes on each side until golden. Drain on kitchen paper before serving on a bed of spinach topped with the roasted tomatoes and their juices, and crispy ham.