WIN a Luxury Gold HANDiBAC 3in1 Sanitiser Kit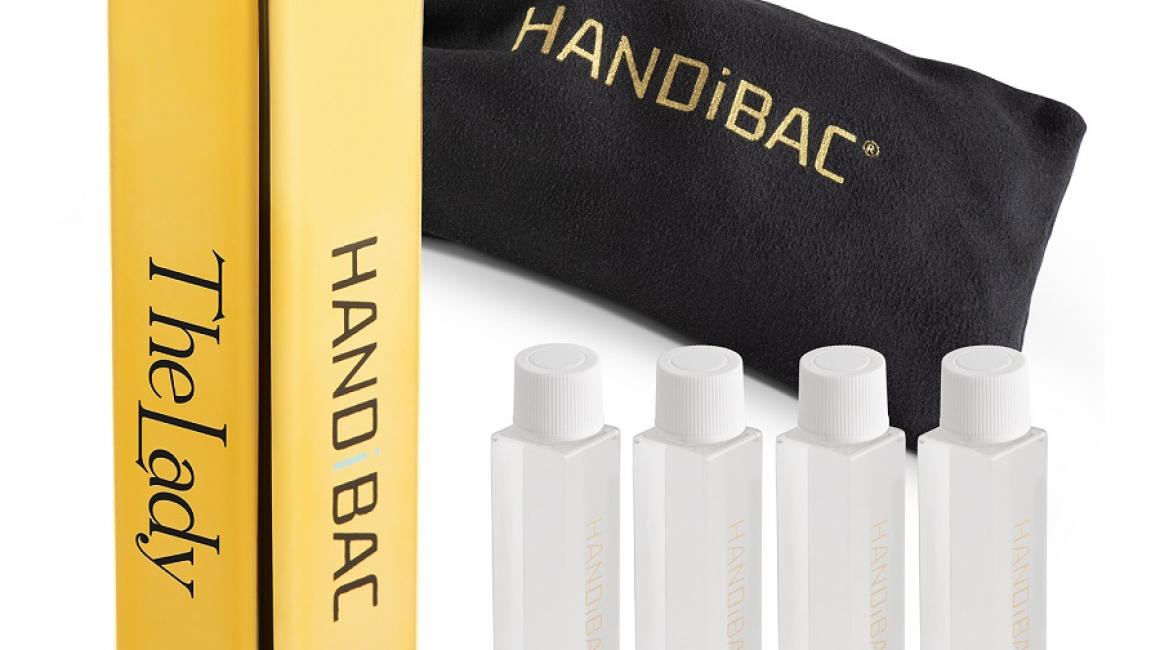 WIN a Luxury Gold HANDiBAC 3in1 Sanitiser Kit exclusively branded for The Lady magazine.
WIN A GOLD 'OPULENT POMEGRANATE' SCENTED HANDiBAC 3in1 – For Hands, Phones & surface sanitiser, which fits easily in your pocket or bag.
HANDIBAC is for your own personnel protection - The original 3-in-1 Hand, Surface & Screen Sanitiser 'Made in the UK'.
The HANDiBAC has been designed for convenience, its own unique solution which is 70% alcohol-based sanitiser kills 99.9% of germs and perfect when on the move.
Essential for extra care of your hands, phone, tablet, car, office, home, gym, gaming consoles, restaurants, planes, trains, all public transport, cinema, concerts schools and many other uses in everyday life. HANDiBAC "Don't leave home without it"
READERS' EXCLUSIVE OFFER:
If you can't wait to see if you have won in February 2022, You can order today and receive your choice of Handibac within 48 hours!
Click here to recieve a FREE gift worth over £10.00 with your order. Use code HBPM21 at checkout.
SUPPORT FOR OUR ONE FOR ONE MISSION
We wanted to give back to all the nurses, doctors, medical professionals and unsung heroes across the UK, who are working around the clock for us all, every day. Our ONE FOR ONE Mission: We will donate 1 x HANDiBAC for every HANDiBAC sold via our online store on going forever more.
HandiBac Terms and Conditions: The 'Gold 3in1 Handibac 3in1 sanitiser Kit' Competition is run by Handibac (the "Company"). By entering, you fully agree and accept these Free prize draw Terms and Conditions ("Free prize draw T&Cs")
1. Who Can Enter: The Free prize draw is targeted to all customers who enter the competition via THE LADY online magazine (third party). All entries must be the name of yourself only who will be entered directly into the Free prize draw. If you are under the age of 18, we may request that you obtain parental / legal guardian consent before making a purchase. In most cases, the Company will rely on the parental / legal guardian consent that was obtained as part of the order process for anyone who purchases under the age of 18. By entering the competition you are automatically entered into the Free prize draw.
2. How to Enter: The Competition Free prize draw has its own closing date of 09.02.2022 Any purchases received outside the Free prize draw Period will not be considered for the Free prize draw.
3. The Prize: The winner will be chosen at random from all entries and 15 winners will be drawn. All entries will be verified by the Company and or its agents. Any third party sales, the company will only be given names and order number of the customer, which will then be entered into the free prize draw. The winner will be notified by email and/or telephone following the closing date by the company. In order to accept the prize, the winner will be required to communicate their
Start date:
Wednesday, 19 January, 2022 - 12:00

to

Wednesday, 9 February, 2022 - 11:59
Deadline:
For your chance to win simply enter your details below before 11:59am on Wednesday 9th February
Log In