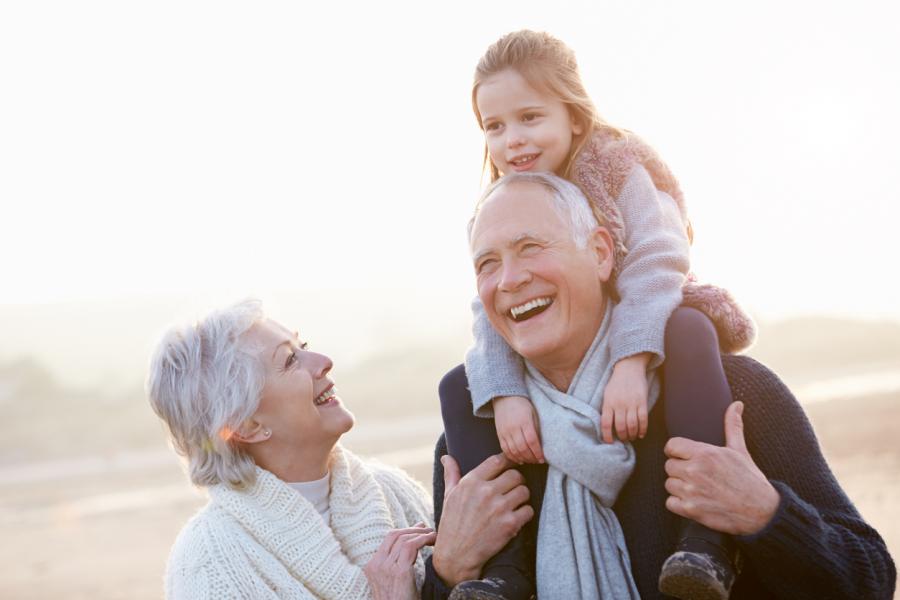 Day in, day out, the heart pumps blood around the body, delivering important oxygen and nutrients to cells and removing waste products. The heart is certainly central to our health and taking good care of it is a must.
But – take heart - the good news is that looking after your heart doesn't have to be hard. From what you eat, to reducing stress and getting enough sleep - simple lifestyle changes can have a big impact.
To help you get started, California Walnuts has teamed up with award-winning dietitian Sian Porter and shared 5 tips for a healthy heart.
As Sian says, "We often use the phrase the 'heart' of something to describe the significant centre and it's for a reason. Your heart is central to your health so it's important to take care of it whatever your age." So show your heart the love it deserves and follow Sian's top tips.
Enjoy a handful of Californian Walnuts daily. Sprinkle on your cereal, add to your salads or simply eat alone as a snack. California Walnuts can help maintain normal blood cholesterol levels reduce the risk of cardiovascular disease and are high in Omega-3 fatty acids (ALA) - important for heart health.
Be active - find and take part in an activity you love whether it's dancing, swimming or walking. Having an exercise buddy can help with making a plan and sticking to it. Walking (briskly!) and talking is a fun way to catch up.
Don't forget to be active as you go about your day too. Small steps such as walking the children to school, getting up regularly from your desk, a walk at lunchtime, using the stairs instead of the lift, walking up escalators, walking on local journeys rather than taking the car and stepping or stretching in the advert breaks when watching TV can help.
The centre of green leafy vegetables like cabbage and lettuce is called the heart. Make half you plate at meal times veg and put it on first. Add a non-creamy side salad to your sandwich at lunchtime as part of your heart healthy diet.
Take time to relax and respect your sleep. Managing stress and getting enough sleep are important parts of living healthily.Sort out your sleep length, routine and environment. Lack of sleep can impact your food choices and weight gain.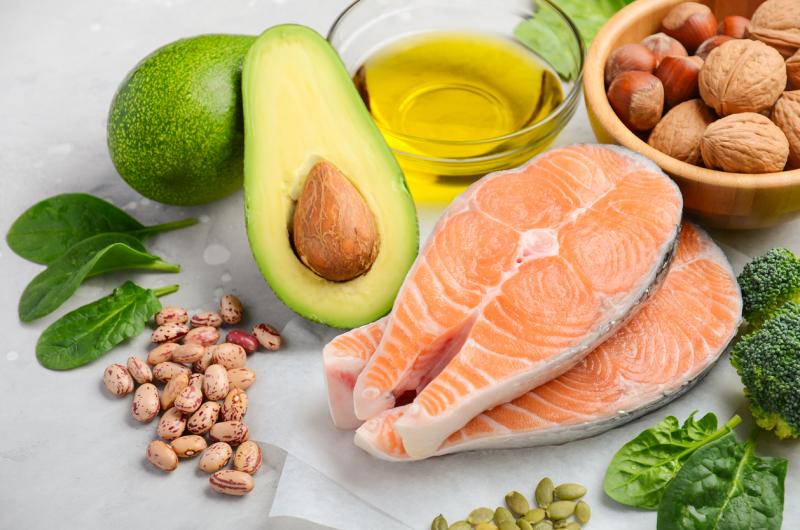 Salmon, Walnut and Avocado Grain Bowls
Dietitian Sian Porter says: "This delicious bowl is full of heart healthy ingredients. Essential fatty acids DHA and EPA in the salmon contribute to the normal function of the heart, maintaining healthy blood pressure and triglyceride levels*. The essential omega-3 fatty acid ALA in the California Walnuts helps maintain normal blood cholesterol levels*. The veg, beans, wholegrains and California Walnuts are packed with fibre which is associated with a lower risk of both cardiovascular disease and coronary heart disease. This bowl provides over one third (10.7g) of the UK adult daily fibre recommendation (30g) and 3 portions of vegetables per serving (3 of your '5 a day')."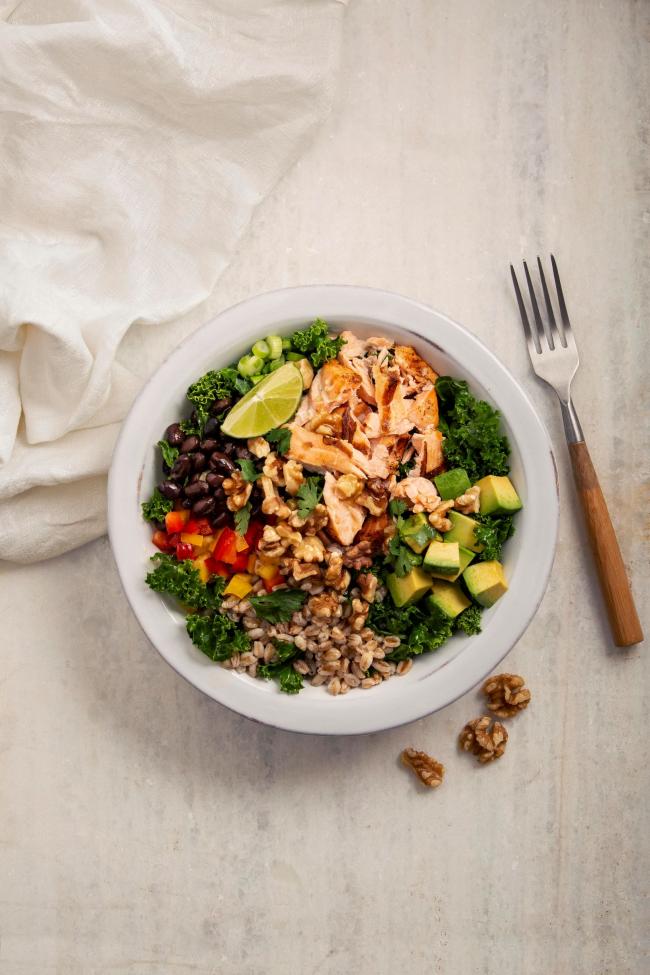 Serving: 6 People
Description
Kale, grains and toasted walnuts are the base for this healthy bowl. Toss with a chipotle lime vinaigrette and top with salmon, avocado, beans, peppers and coriander.
Ingredients
Chipotle Lime Vinaigrette:
60ml extra virgin olive oil
3 tbsp lime juice
3/4 tsp chipotle chilli powder
Pinch black pepper
Salmon Bowl
450g salmon fillets
140g kale
500g cooked brown rice
120g California walnuts, toasted and coarsely chopped (plus more for garnish)
400g can black beans, drained and rinsed
1 red or green pepper, diced
1 large avocado, peeled, stoned and cubed
2 large onions, sliced
25g fresh coriander leaves, roughly chopped
Preparations
Whisk together all vinaigrette ingredients in a small bowl. Cover and refrigerate until ready to serve. (May be prepared several days ahead.)
Cook salmon in a well-oiled frying pan over medium-high heat for 3 - 4 minutes on each side until just cooked throughout. Remove from the pan and remove skin. Let them cool, then cut into 1.5cm pieces.
Mix kale and brown rice together in a large bowl and toss with vinaigrette. Place equal amounts on one side of 4 large salad bowls.
Place equal amounts of walnuts, salmon, black beans, peppers, avocado and onion on the other side of the bowl.
Garnish with coriander and additional walnuts for garnish.