In the grandiose ballrooms of The Plaza Hotel in New York City, Myka Meier is the Founder of Beaumont Etiquette, the most well-recognized finishing program and etiquette company in the United States. Each year, hundreds of women from all over the world flock to Manhattan to take The Duchess Effect, a course which offers to teach clients how to emulate the style, grace, and poise of a duchess. Meier, who has dual British-American citizenship, was trained in London by a former member of The Royal Household of Her Majesty the Queen, as well as at a formal finishing school in Switzerland.
So what do students learn when they enroll in the course? The five-hour intensive training covers British dining, afternoon tea, dressing and styling tips (with brand partner Catherine Walker), live hair and makeup tutorials and even in person hair training that teaches students how to achieve "the Chelsea blow dry" which was made famous by The Duchess of Cambridge.
Here are some of her etiquette tips to try...
Posture & Poise:

When the Duchess crosses her legs, it is by the knee. She keeps her ankles and knees together at all times and either crosses at the ankle into the "Cambridge Cross" or does the "Duchess Slant" which is a coin termed by Myka Meier to identify a method long practised by Princess Diana and The Duchess of Cambridge. Typically 'the Duchess Slant' is used when a lady has to sit for an extended amount of time while keeping poise and posture. The key to the technique is to square your shoulders straight ahead while maintaining perfect posture. Keeping knees and ankles together at all times, position your legs so that you create a slant, angling your knees to the side. Hands should be folded one over the other and placed in your lap. It is the perfect pose for when a camera is shooting directly in front of you because by slightly slanting the knees to create a zig-zag effect when wearing a dress or skirt, your legs are angled so that the camera only shoots the sides of your legs and protects your modesty.
What should you do with your hands when you don't have anything in them? Put the webs of your hands together and in front of you for a "resting" poise or lay one on top of the other.
It's all about Grace! To appear more graceful… simply slow down, both your movements and the speed of your voice.
Posture:
When seated, shoulders are rolled back. Do not use armrests and sit about 2 inches away from the back of the chair and 2 hands away from the table. Never lean back into your chair, as your spine automatically curves and you break posture!
Another important posture cornerstone is your chin. Like the Duchess, your chin should be parallel to the ground level. If it is too high, you may appear uninterested, or too low may show lack of confidence. Remember to gesture instead of pointing.
Posture while walking, climbing and descending stairs - do not look down at the step after the first one. Your chin should be lifted slightly and eyes should remain ahead of you. Do not grasp the staircase railing but instead gently put your hand on top of the railing to guide yourself. Toes should be pointed toward the staircase wall and be sure to walk very slowly upwards and downwards.
Style:
Dress the way you want to be addressed…even at the gym! Fitness gear doesn't give you an excuse to appear sloppy - The Duchess is always perfectly coordinated and organized. Instead of sweatpants and a hoodie, go sports-luxe with pair lycra training pants with a matching zip-up top.
The Duchess typically wears no more than 3 pieces of jewellery in addition to marital or religious; She mixes real with costume!
Skirt length - Put your hands to your side, and if the hemline of your dress or skirt goes above your middle finger, it's probably a sign to reconsider wearing it. Front facing slits and sequins and sparkles - The Duchess wears these two things…but typically only for formal wear. Black tie means floor-length gowns.
The Duchess wears closed-toe shoes when she is dressed professionally.
Nails are always manicured and never chipped.
Dining Tips: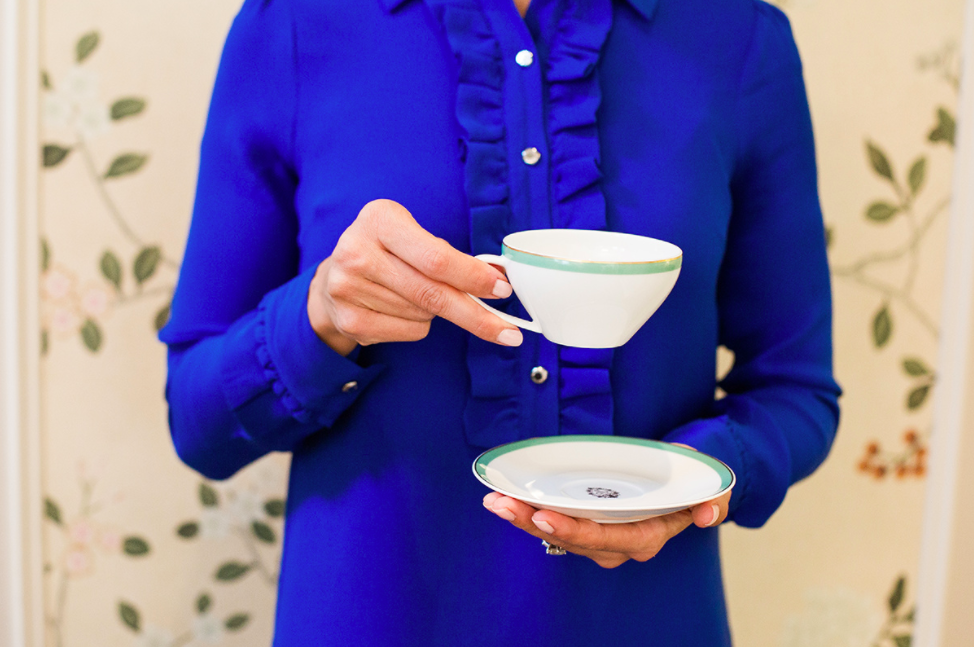 Teacup - Hold the handle of coffee & tea cups so it is facing 3 o'clock. For tea, hold your cup by pinching your thumb and index finger together and then resting your middle finger underneath the handle. For coffee, your index finger may loop through the handle. The saucer stays on the table if seated, but as soon as you stand with your cup, be sure to take your saucer with you.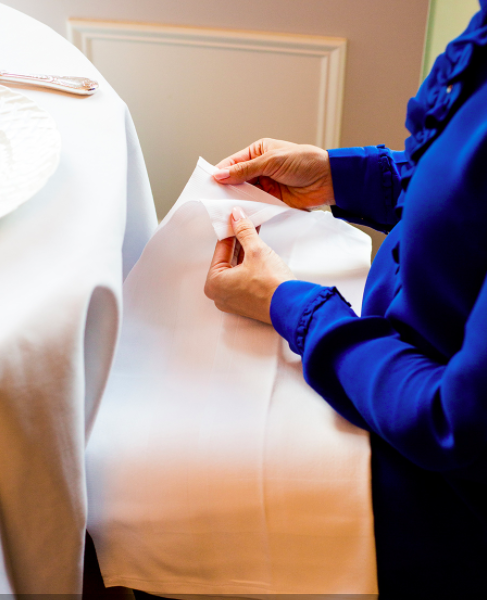 Napkins - Cloth napkins should be folded in half and the crease should face toward you. When you need to use your napkin, open the right-hand corner of the napkin and dab your mouth…then stains always stay inside of the napkin and never on the visual side.
No chewing ice or gum!
Never announce you must use the restroom, simply excuse yourself.
No lipstick or makeup application at the table, or anywhere in public.
Quite possibly the most important etiquette tip - Having etiquette like the Duchess simply means being kind, thoughtful, respectful and gracious to everyone and all living things around you.
The next course, The Duchess Effect can be booked here and is $599 per person including lunch, available at The Plaza Hotel on Saturday, March 24th from 10 am to 3 pm.
To view more on Myka, please visit her Instagram: @mykameier