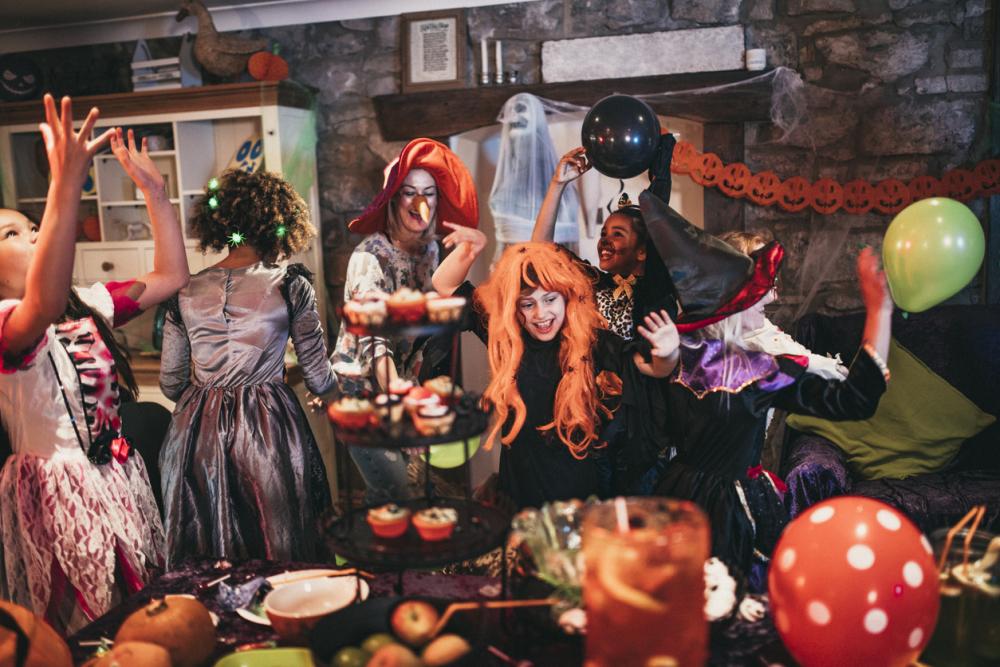 This Halloween on the 31st October throw a fright night feast for your friends. Kikkoman, makers of the famous naturally brewed soy sauce, have some spooktacular recipes for your party to goblin down.
Start off with a Bloody Geisha Cocktail, a Japanese twist on the Bloody Mary, spiced up with a few drops of Kikkoman Soy Sauce, and hand round a platter of canapes - ruby red stained Beetroot Marinated Salmon and bite-sized Sticky Kikkoman Sausages.
Keeping with the ghoulish theme, serve a cauldron of bubbling Red Pepper, Tomato and Vodka Soup as a starter, followed by some fiendishly 'rare-as-you dare' Soy and Chilli Marinated Steaks for sinking fangs into. Non-carnivores will love getting their pitchforks into Roast Pumpkin with Spicy Chick Peas.
Happy Halloween!
Find more Kikkoman recipes on www.kikkoman.co.uk and @KikkomanUK on social media.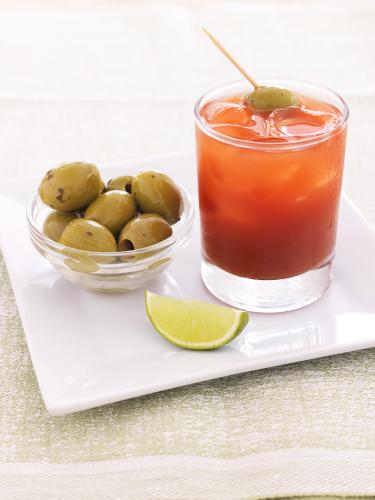 Bloody Geisha
Serves 1
Ingredients
Small glass of chilled tomato juice
1 ½ oz / 45ml measure Sake rice wine
Dash of Kikkoman Soy Sauce
Squirt of lime juice
Serve with Ice cubes
Method
Mix the tomato juice, Sake, soy sauce and lime juice together.
Pour into a glass over plenty of ice cubes.
Serve immediately!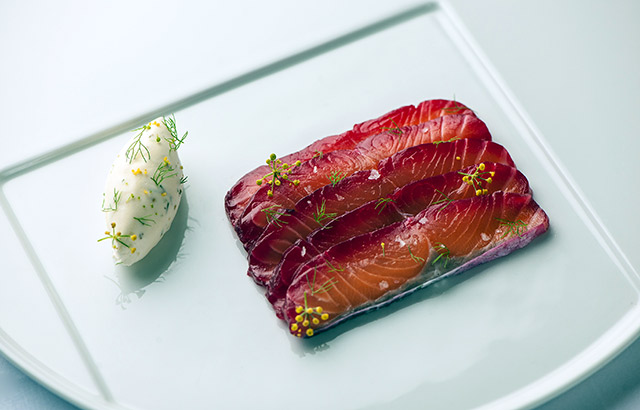 Beetroot Stained Salmon gravlax
Serves 6
100g of sugar
530g of fresh beetroot, grated
100g of sea salt
25ml of Kikkoman soy sauce
75ml of vodka
500g of salmon fillet, skin on
Fennel flowers or dill to garnish
Method
Combine the salt, sugar, beetroot, vodka, and soy sauce and mix well. Place the salmon on a tray and run the salt mix over the salmon fillet to completely cover.
Place in the fridge to marinate for 12 hours, turning after 6 hours to ensure an even cure. Scrape the layer of beetroot off gently and lightly wash away any excess salt. Pat the salmon dry with absorbent kitchen towel and place in fridge till needed.
Use a very sharp knife to slice the salmon into thin strips. Garnish with fennel flowers or small pieces of dill and serve.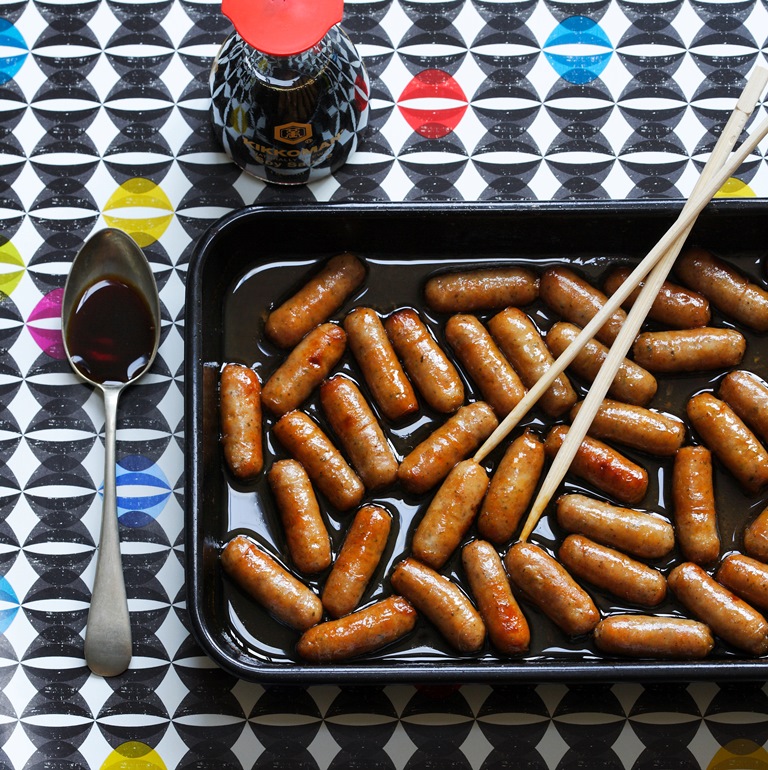 Sticky Kikkoman Sausages
Serves 6
Ingredients
500g cocktail sausages
1tbsp runny honey
1tbsp Kikkoman Soy Sauce
1tbsp water
Method
Preheat the oven to 200°C/400°F/Gas Mark 6. Lay the sausages in a single layer in the bottom of a roasting tin.
Pour over the honey, Kikkoman and water. Roast in the oven for 15 to 20 minutes, turning or shaking a couple of times during the cooking time.
When the sausages are sticky and browned all over, pile into a bowl to serve.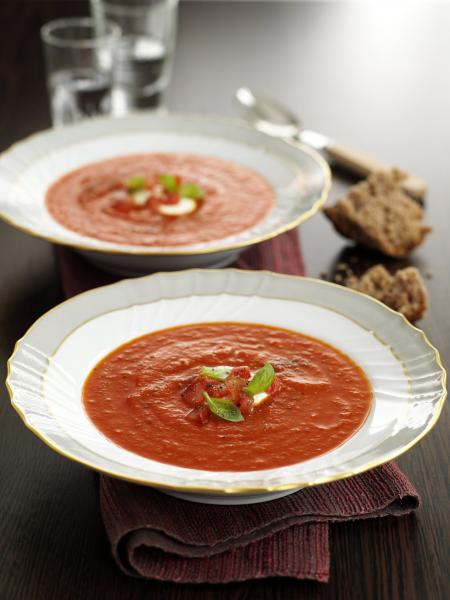 Red Pepper, Tomato and Vodka Soup
Serves 4-6
Ingredients
3 red peppers, deseeded and chopped
2 garlic cloves, peeled and chopped
1 medium onion, peeled and roughly chopped
About 600ml stock
600ml tomato juice
1tsp sugar
2tbsp Kikkoman Less Salt Soy Sauce
Freshly ground black pepper
1tbsp chopped fresh basil, plus extra leaves to garnish
2tbsp vodka
To garnish
4tsp soured cream
1 tomato, deseeded and diced
Method
Put the peppers, garlic, onion, stock, tomato juice, sugar and soy sauce in a pan and bring to the boil.
Lower the heat, cover the pan and simmer gently for 1 hour.
Liquidise the soup in batches until smooth. Season with freshly ground black pepper and stir in the basil and vodka.
Serve immediately or reheat when needed, garnishing each serving with a teaspoonful of soured cream and a scattering of finely diced tomato and some small basil leaves.
Tip: Making the soup in advance will allow its rich flavours to develop. If the peppers are very large, the finished soup may need thinning to the desired consistency with a little extra stock or water.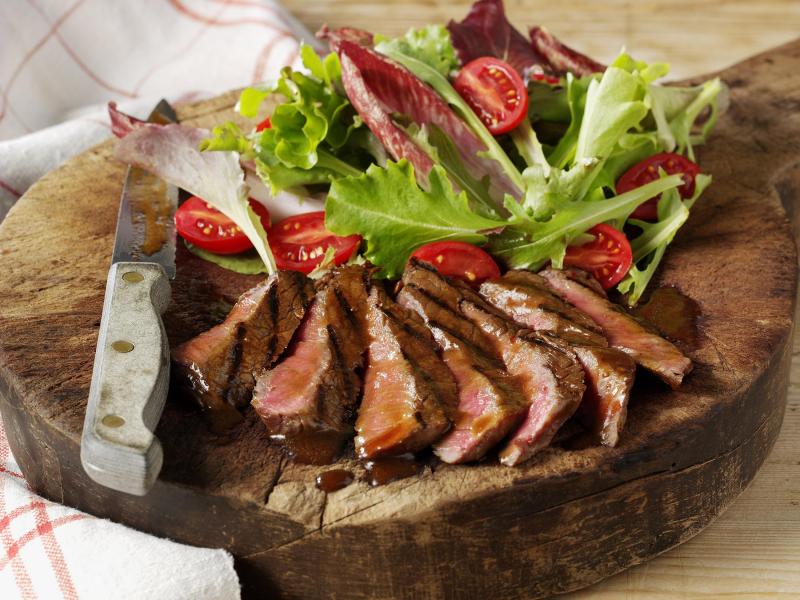 Soy Chilli Steaks
Serves 4
Ingredients
4 sirloin steaks
4 tbsp Kikkoman soy sauce
4 tbsp olive oil
3 tbsp Worcestershire sauce
½ - 1 tsp red chilli paste
1 clove garlic, peeled and crushed
Method
Pour the ingredients into a large bowl and whisk together. Pour over steaks and leave to marinate for up to 30 minutes. Drain the steaks, reserving the marinade and cook on a hot griddle for 2-3 minutes on each side, or until cooked to your liking.
Transfer the steaks to a plate to rest then pour the remaining marinade into the pan to deglaze. Let the mixture bubble away for a minute or so until glossy, then pour over the steaks. Slice the steaks and serve with a crisp green salad and chips.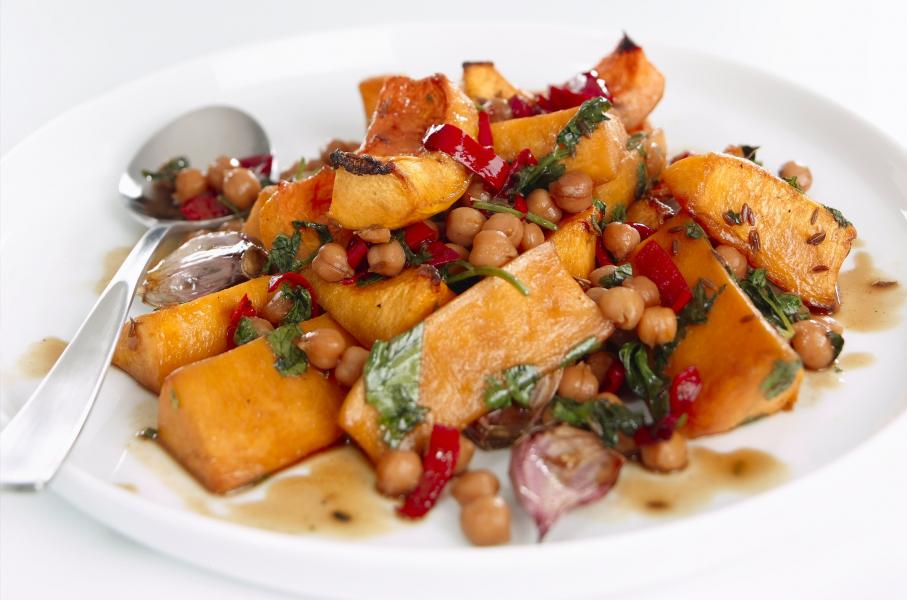 Roast Pumpkin with Spicy Chick Peas
Serves 4
Ingredients
1 small pumpkin or butternut squash, peeled, de-seeded and cut into chunks
1 can of chickpeas, washed and drained
2 medium red chillies, de-seeded and chopped
1 bulb of garlic, broken into cloves
3 tbsp Kikkoman Soy Sauce
Sprinkling of cumin seeds
1 tbsp brown sugar
1 tbsp olive oil
1 tbsp fresh coriander, chopped
Method
Pre-heat the oven to 200°C/gas mark 6.
Place the butternut squash into a roasting tin. Toss in the olive oil and roast for 10 minutes.
Meanwhile, mix all the other ingredients except the coriander and after the 10 minutes pour over the butternut.
Continue roasting for 20 minutes, tossing every so often, until tender. Serve.