Recipes: Royal wedding party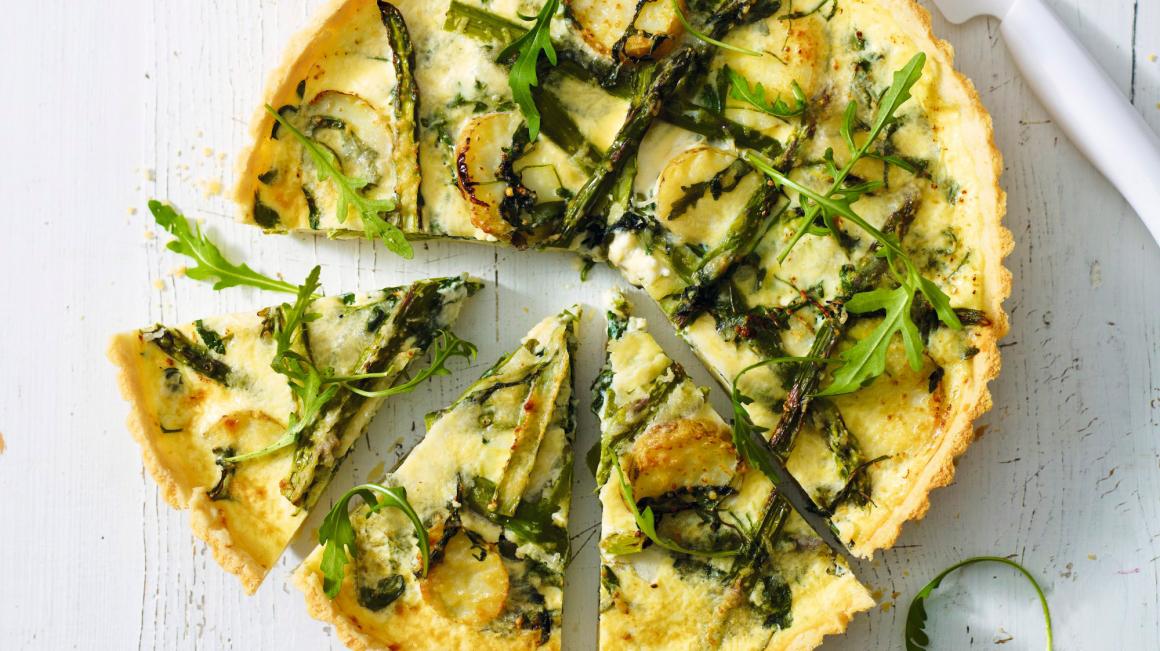 Asparagus, rocket & new potato tart
Tender asparagus, creamy new potatoes and peppery rocket – celebrate the best of spring with this delicious tart.
Preparation time:
20 mins
Cooking time:
1 hour 10-20 mins
Total time: 1 hour 40 mins
Serves: 8
Ingredients
350g shortcrust pastry
Plain flour, for dusting
250g Jersey
Royals or other small new potatoes, cut into 5mm thick slices
230g pack Waitrose British Asparagus, trimmed and halved lengthways
50g wild rocket
50g finely grated
Parmigiano Reggiano
3 medium essential Waitrose Eggs
300ml pot essential Waitrose single cream
Method
1. Preheat the oven to 180°C, gas mark 4. Roll the pastry on a lightly floured surface to the thickness of a £1 coin. Place a 23cm x 4cm loose-bottomed tart tin on a baking sheet and line with the pastry. Leave the edges overhanging, prick the base and chill for 15 minutes.
2. Line the pastry case with parchment and baking beans or rice. Blind bake for 25 minutes until the edges are golden brown. Remove the baking beans and paper. Cook for 10-15 minutes, until light golden.
3. Meanwhile, boil the potatoes in a large pan of salted boiling water for 5 minutes. Add the asparagus and rocket, then cover and cook for 1 minute. Drain and leave to steam dry for 5 minutes. Add to the pastry case and scatter over the cheese. Whisk the eggs and cream together until smooth, then pour into the tart case.
4. Bake for 35-40 minutes until just set. Cool for 5 minutes, carefully trim the excess pastry using a serrated knife. Serve warm or cold.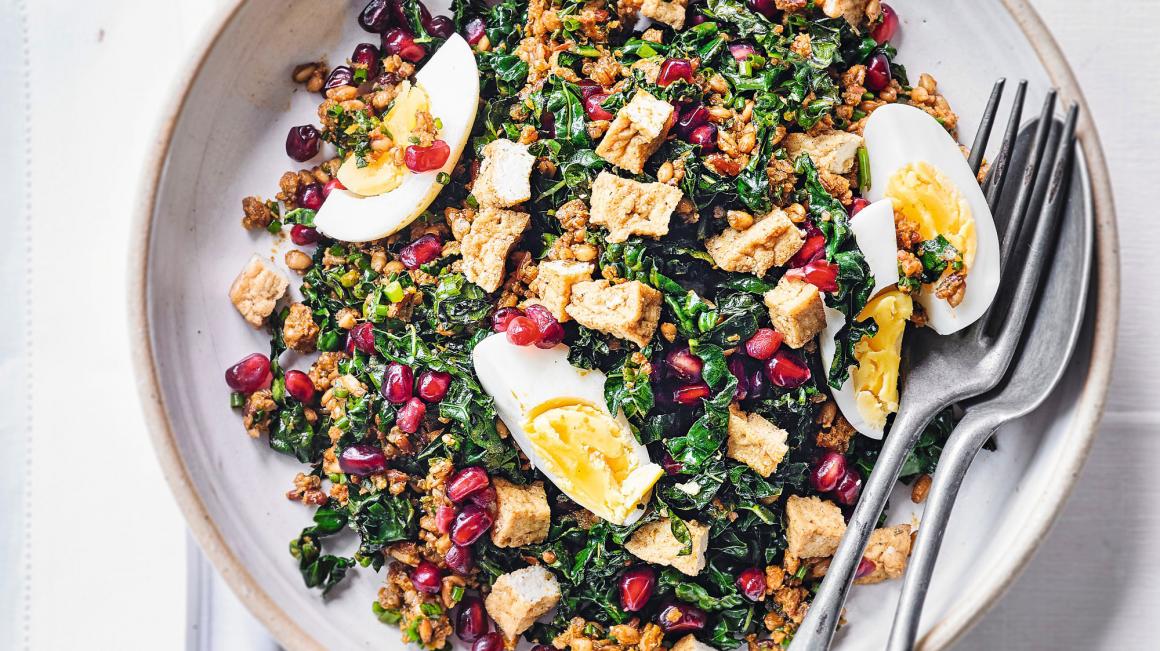 Smoked tofu, wild rice & pomegranate salad
Preparation time: 10 minutes
Cooking time: 10 minutes
Serves: 2
Ingredients
1 tsp extra virgin olive oil
200g pack cavolo nero, stalks removed, leaves chopped
250g pack Waitrose Spelt, Quinoa, Red Rice & Wild Rice
50g Waitrose Tomato Pesto
25g pack fresh chives, finely chopped
150g smoked tofu, cut into 1cm cubes
1 Waitrose British Blacktail Medium Free Range Egg, hard boiled then peeled and quartered
3 tbsp pomegranate seeds
Method
1. Warm the oil in a large saucepan over a high heat. Add the cavolo nero, fry for 4 minutes until slightly crispy then season.
2. Cook the spelt mix according to the pack instructions. Combine with the cavolo nero, pesto and chives. Divide between 2 plates, top with the tofu, egg and pomegranate seeds. Season and serve.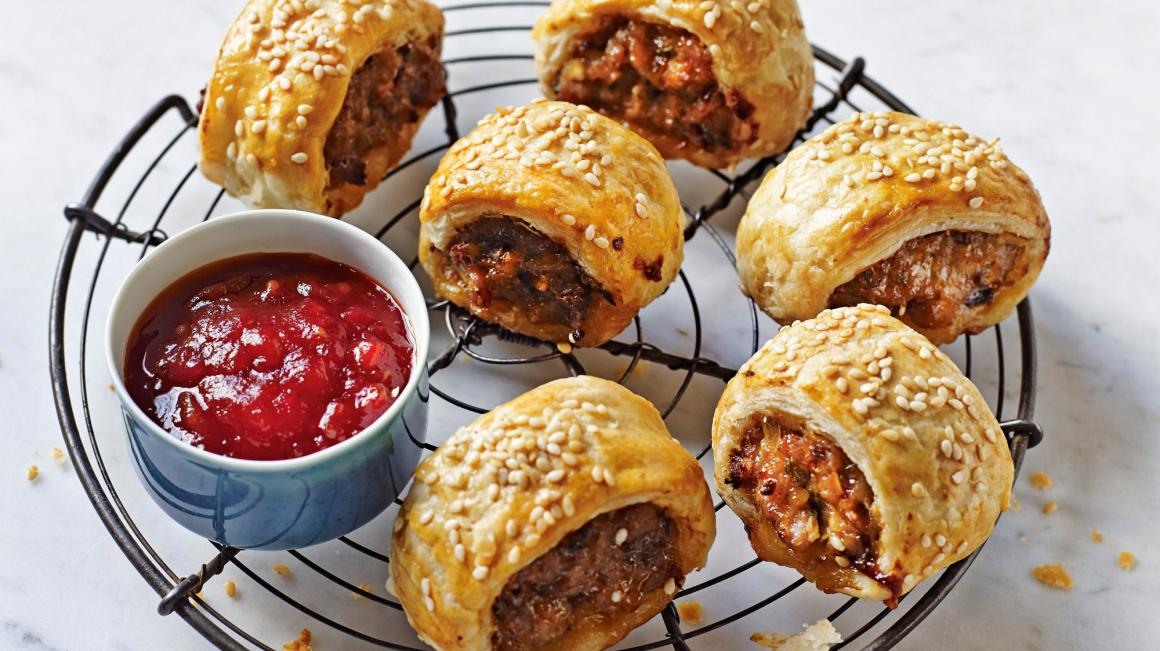 Marmite sausage rolls
Preparation time: 20 minutes, plus cooling and chilling
Cooking time: 25 minutes
Total time: 45 minutes, plus cooling and chilling
Makes: 16
Ingredients
15g salted butter
150g chestnut mushrooms, finely chopped
1 tbsp Marmite
400g pork sausages, skins removed
1 small red onion, finely chopped
2 tbsp chopped thyme leaves plain flour, for dusting
215g sheet Cooks' Ingredients all butter puff pastry, defrosted
1 egg, beaten
1 tbsp sesame seeds
Method
1. Heat the butter in a large frying pan until foaming; cook the mushrooms over a high heat for 3-5 minutes, until browned and all the liquid has evaporated. Stir in the Marmite. Cool, then mix with the sausage meat, onion and thyme; season.
2. On a floured surface, unroll the pastry, halve lengthways and roll each ½ out about 2-3cm wider. Halve the sausage meat and place in a cylinder along the middle of each pastry strip. Brush one side of each strip with egg, then fold over the other side tightly. Roll so that the seam is underneath. Trim the ends and cut each roll into 8 pieces. Chill on a parchment-lined baking sheet for 15 minutes.
3. Preheat the oven to 200˚C, gas mark 6. Brush the rolls with more egg; sprinkle on the sesame seeds. Bake for 20 minutes.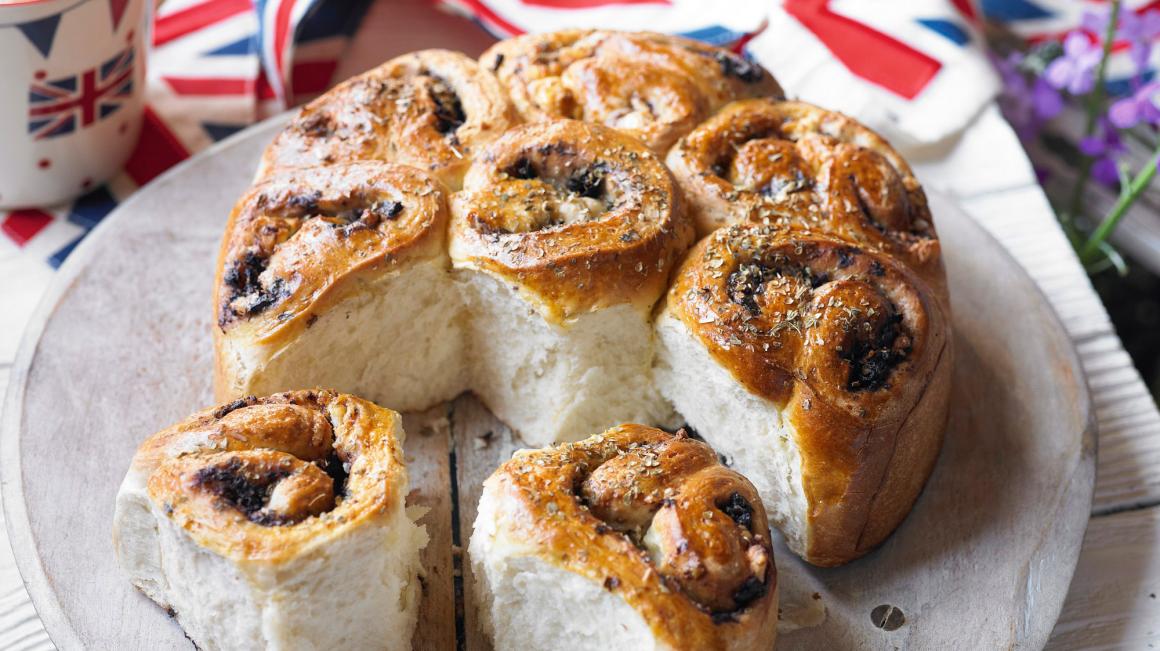 Savoury feta and tepenade 'Chelsea' bun loaf
Preparation time: 15 minutes and proving
Cooking time: 30 minutes
Total time: 45 minutes and proving
Serves: 8
Ingredients
500g pack Wright's Premium White Bread Mix
4 tbsp Waitrose Kalamata Olive & Anchovy Tapenade
100g feta cheese, diced
1 egg, beaten to glaze
1 tsp dried oregano
Method
1. Sift the bread mix into a large bowl and mix with 320ml lukewarm water to form a soft dough. Turn onto a lightly floured work surface and knead for 5 minutes then leave to sit for 5 minutes.
2. Roll the dough to a 30cm square and spread with the tapenade right to the edges. Scatter over the diced feta. Roll the dough up from opposite ends to meet in the middle then cut across the rolls to make eight slices. Place one cut-side down in the centre of an oiled 23cm loose-bottomed shallow cake tin. Arrange the rest around it. Cover loosely with oiled clingfilm and leave in a warm place for 45 minutes until it has doubled in size.
3. Preheat the oven to 220°C, gas mark 7. Brush the top of the loaf with beaten egg and scatter with the oregano. Bake for 25 minutes until well risen and golden brown, remove from the tin and return to the oven for 5 minutes to cook the bottom. The loaf should sound hollow when tapped. Cool on a wire rack.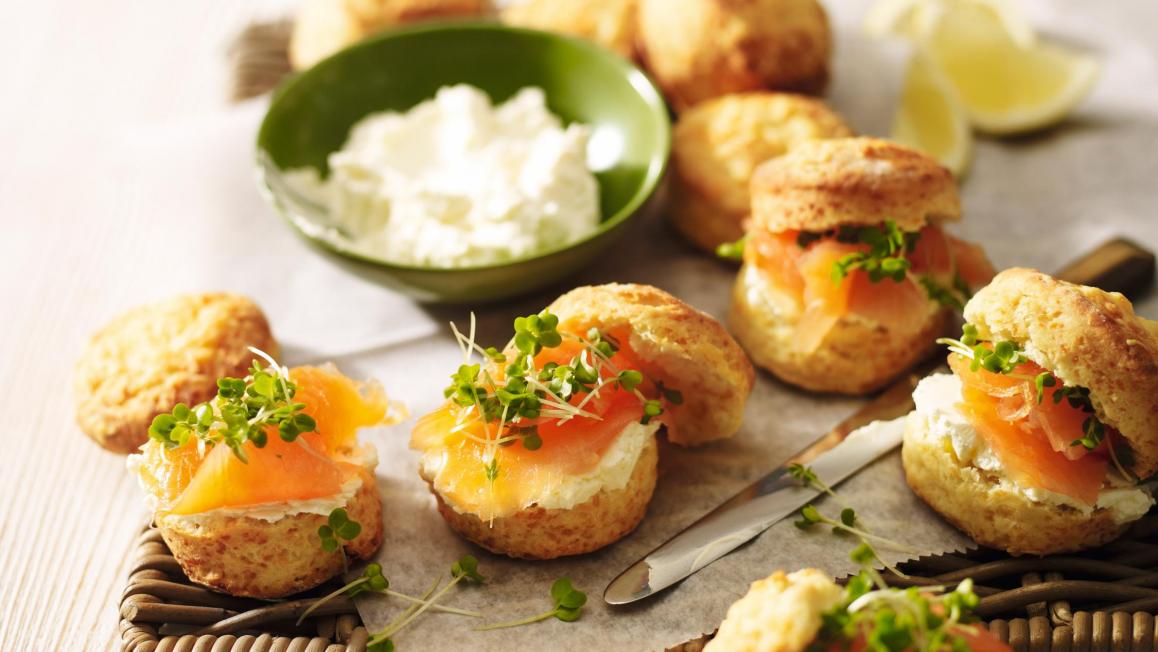 Cheddar & smoked salmon scones
Preparation time: 15 minutes
Cooking time: 10 minutes to 12 minutes
Total time: 25 minutes to 27 minutes 30 minutes
Serves: 12
Ingredients
225g self-raising flour, plus extra for dusting
1 tsp baking powder
50g salted butter, diced
100g Seriously Strong Extra Mature Cheddar, finely grated
150ml milk, plus extra for brushing
150g soft cheese
100g Waitrose Scottish Smoked Salmon, torn into 12 pieces
Salad cress
Lemon wedges, to serve
Method
1. Preheat the oven to 220ºC, gas mark 7. Stir together the flour and baking powder, then using your fingertips, rub in the butter until it resembles breadcrumbs. Using a table knife, stir in three quarters of the Cheddar and then the milk to make a fairly soft dough.
2. On a lightly floured surface, pat the dough out to a thickness of 2cm and stamp out 5cm-wide rounds. Reuse the trimmings to make a total of 12 scones. Transfer to a non-stick baking sheet, brush lightly with milk and scatter over the reserved cheese. Bake for 10–12 minutes until risen and golden brown. Transfer to a wire rack and leave to cool.
3. Split each scone in half, spread the base with soft cheese, top with a piece of smoked salmon and sprinkle over some cress before replacing the top. Serve with small wedges of lemon for squeezing over the salmon. Add texture to these scones with the inclusion of pumpkin seeds. Mix a handful in with the ingredients at the end of step 1.
For more entertaining ideas, please visit Waitrose.