Cleaning expert reveals the simple habits of people who always have a clean kitchen
You know the type- their kitchen tap is always sparkling, floors are gleaming and they're not afraid to show you the inside of their oven. You might wonder how they have so much time to keep their home clean and may feel like you're playing catch up in comparison. With working long hours, daily errands, and spending time with family, keeping your kitchen clean may feel like an impossible task.
However, a clean kitchen doesn't have to take a lot of time or effort. The Lady spoke to Cleaning expert, Joyce French from HomeHow.co.uk who reveals that the secret is a little daily maintenance, which is a lot less daunting than the bi-annual deep clean. With these few simple habits, you can keep your kitchen the way you want it, even when life feels generally upside down.
Get the right kitchen tools, and keep them close by.
If you've ever attempted to purchase cookware, you know how easy it is to get carried away. When shopping for your new kitchen, you might feel as though you need a dozen pots and pans, bakeware, alongside extra cutlery 'just in case'. Everywhere we look there is someone trying to convince us that by buying their product, our lives will be easier. Avoid the clutter by separating essentials from the junk. Invest in quality essentials, that will withstand years of use and require little maintenance. Store your kitchen tools neatly in a cabinet or display them decoratively around your kitchen with hooks and rails.
Make sure your rubbish and recycling containers are big enough.
An overflow of recycling and rubbish is never ideal. Not only does it make your kitchen feel cluttered, constantly manoeuvring around the bags can be hazardous too. Luckily, there are plenty of container options to find the right bin for you and your family's needs. Consider whether you need a large or small bin, as well as the size of your kitchen. For example, if you need a large bin but are working with a smaller space, don't opt for a kitchen cupboard bin. This takes up valuable storage space and limits your options for different size containers. Instead, simply invest in a bin that is 'pretty' enough to leave out. Take your rubbish and recycling out regularly to avoid unpleasant smells and overspills.
Clean as you cook.
Instead of leaving all the clean up until you're done cooking, clean as you go. Set out a large empty bowl and throw in vegetable peels, wrappers, and eggshells so that all rubbish is contained and easily disposable. Fill your sink with hot, soapy water and throw in dirty dishes along the way to soak. If your meal requires baking or simmering, use this time effectively to clean your dirty dishes. Before you know it, you will clean as you go without much thought- that's the real goal!
Reorganise your fridge, freezer and pantry every time you get groceries.
Clutter can accumulate quickly in an overfilled kitchen. Filling every inch of your fridge, freezer and pantry can lead to forgotten foods, produce that has deteriorated, cross-contamination, foul smells, and unsanitary spaces. An easy way to maintain an organised fridge, freezer and pantry is to clean them out every time you get groceries. It sounds simple but before your grocery shop, look and see whether you already have the item. Plan your meals around what you do have to avoid food waste, and then buy anything else you need. It will be so much easier to place your new groceries in your fridge, freezer and pantry once it has been organised.
Know when to cut corners.
People who have clean kitchens are not cleaning from sunrise to sunset. Instead, they know how to use their time effectively and utilise easy cleaning hacks. For instance, to clean your microwave in 5 minutes you can fill a measuring jug with water till the halfway point. Add half a lemon and put on high for 3 minutes, ensuring to use oven gloves when removing the bowl. All the grease and grime will easily wipe away, leaving you with a sparkling microwave in a matter of minutes. Other examples include letting the blender self-clean with a pitcher of hot water and soap, cleaning out the coffee maker with vinegar and picking up crumbs with duct tape.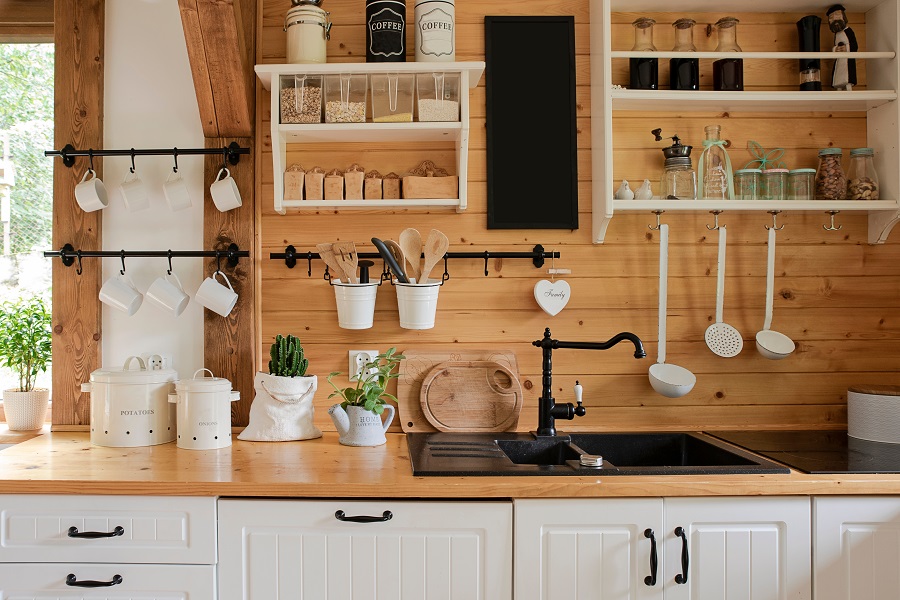 Looking to recruit a new housekeeper for your home? The Lady is the marketplace for domestic recruitment. For over 135 years The Lady has been the first and last stop for those looking for an exciting new position or much needed member of household staff. Let us help you find the perfect candidate, contact our friendly team today: theladyrecruits@lady.co.uk