Top five festive themed venues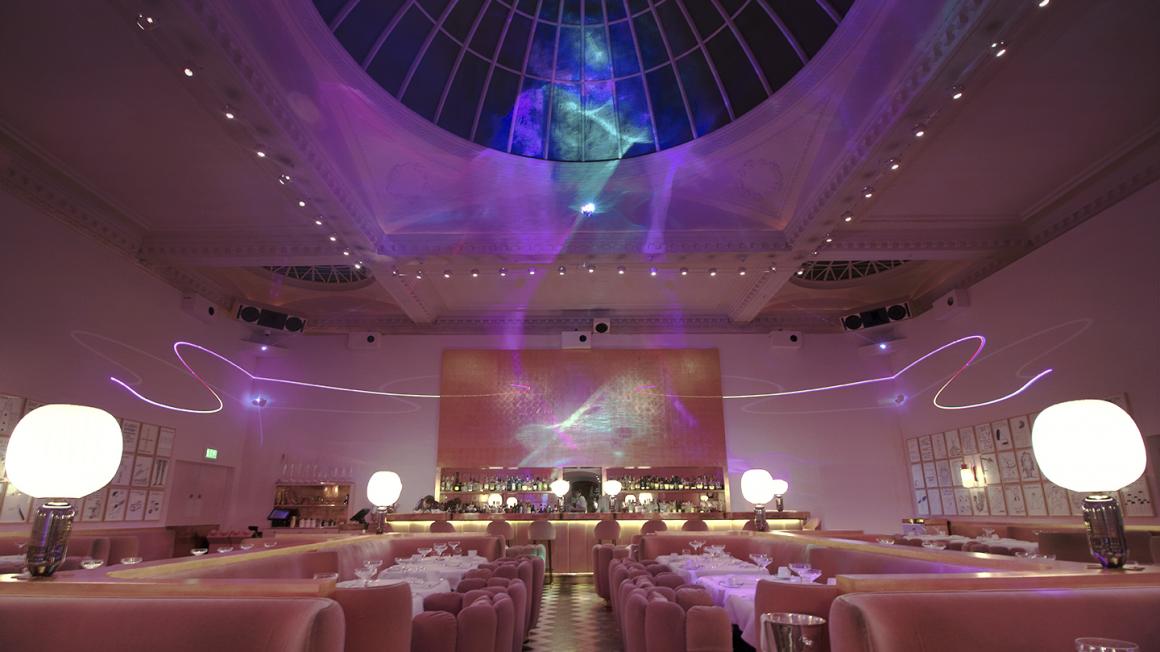 1. 'Silent Night' at Sketch
What: Leading innovative light artist Chris Levine graces Sketch with his 'Silent Night' installation over the festive season. An immersive laser and sound installation with the use of suspended crystals, Silent Night was developed as a meditative experience for the viewer, encouraging celebration of spirituality and senses. Inspired by solfeggio sound frequencies, the installation aims to resonate with the inner workings of your mind and body. Unique, and definitely worth seeing!
Highlight: Try sketch's limited edition Christmas cocktail, 'Electrictide' (£18.50) created by bar manager Pepijn Vanden Abeele. Comprimising of Havana Club Rum, Pommery Champagne and home-made apple spiced cordial, the cocktail incorporates traditional Christmas flavours with a contemporary twist, finished with an electric sugar rim and topped with a star anise.
Where: 9 Conduit St, Mayfair, London W1S 2XG, sketch.london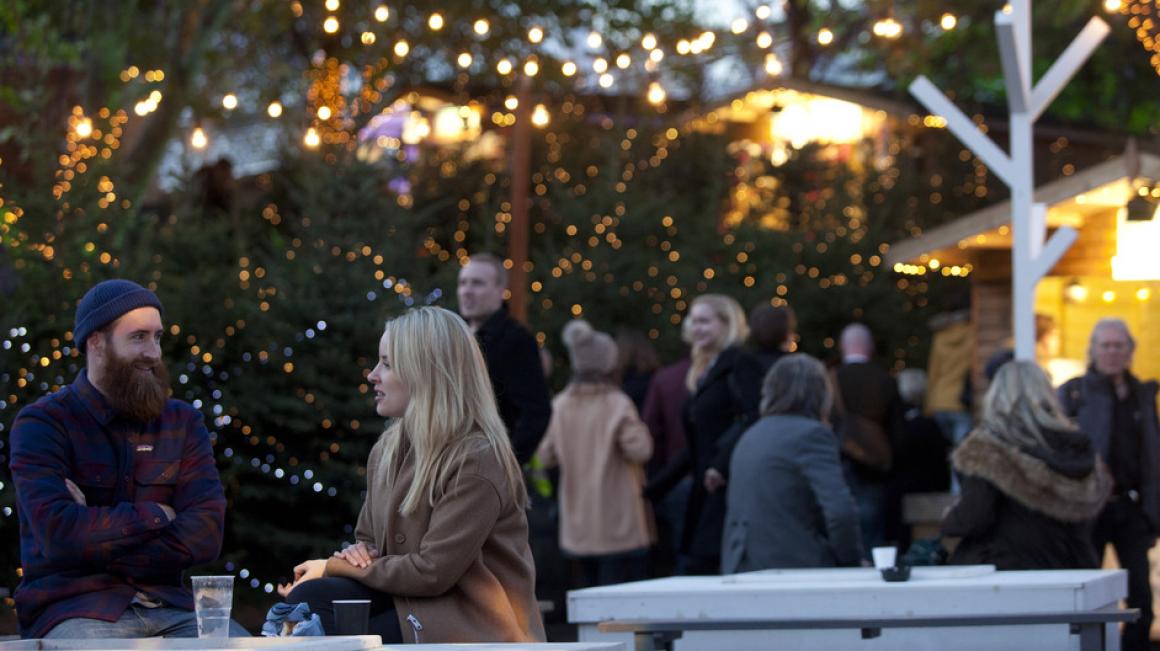 2. Rekorderlig cider lodge at Southbank
What: The Rekorderlig Cider Lodge brings a touch of Scandinavia back to Southbank Centre's winter festival, complete with authentic Scandi food, culture, style, and cider. Guests can immerse themselves in seasonal settings including fire pits, Christmas trees and pelts that are all reminiscent of classic Swedish surroundings. Rekorderlig also invites guests to experience a taste of the new and exciting Botanicals Cider range with 3 beautiful flavours: Grapefruit-Rosemary, Peach-Basil and Rhubarb-Lemon-Mint.
Highlight: The Hearth and Home cocktail, a deliciously warm blend of Spiced Plum, honey, Port and orange juice is something not to be missed!
Where: Entrance off Southbank Centre's Queen's Walk, London SE1 8XX, southbanklondon.com/rekorderlig-cider-lodge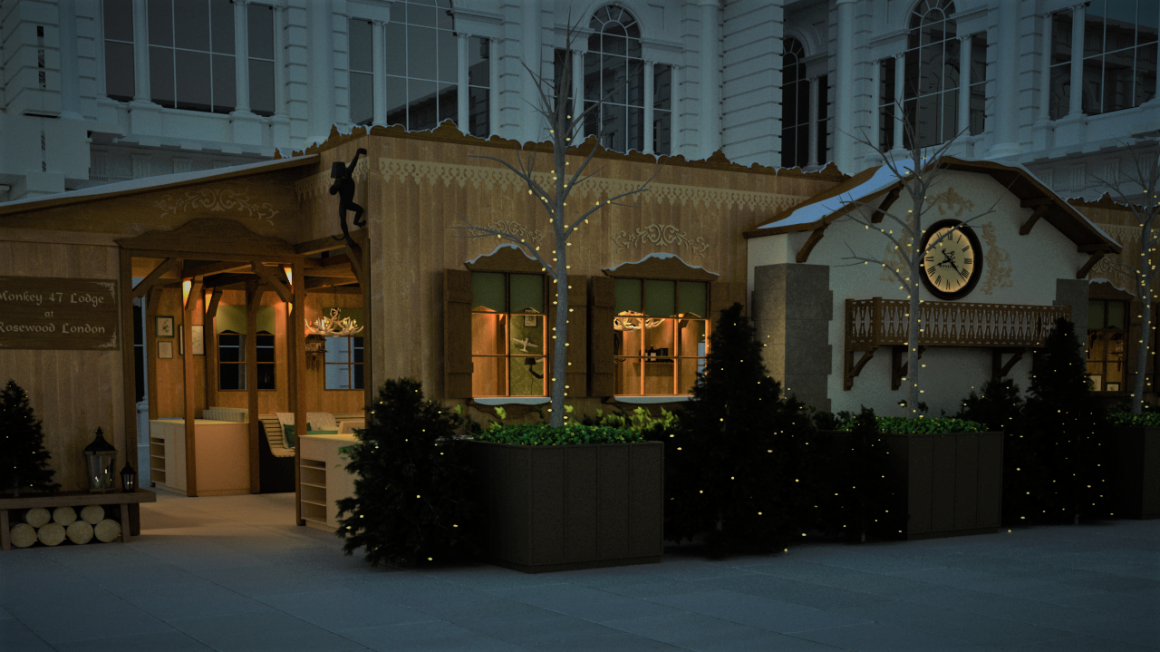 3. Rosewood London Monkey 47 Winter Lodge
What: Rosewood London in the heart of Holborn have partnered with artisanal German gin brand Monkey 47 to bring a festive winter lodge to the courtyard of the hotel. Tucked away in the heart of central London, The Monkey 47 Winter Lodge takes inspiration from British Commander Montgomery "Monty" Collins, and his Schwarzwald dry gin brand, 'Max the Monkey' Gin, which he named after a monkey that he sponsored in the Berlin Zoo. Monkey 47 lodge aims to evoke the festive spirit with a selection of hot and cold gin cocktails paired with delicious desserts.
Highlight: Monty's Strudel cocktail (available hot or cold) paired with homemade apple pie is not one to miss!
Where: 252 High Holborn, London WC1V 7EN, rosewoodhotels.com/en/london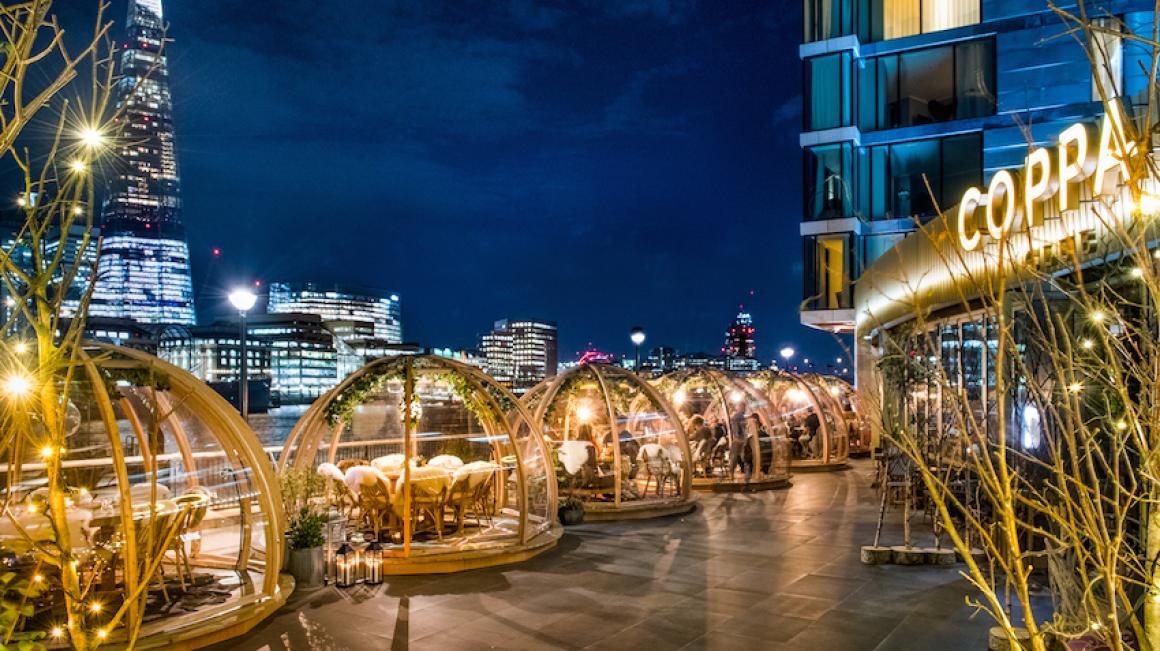 4. Coppa Club Igloos
What: Can't make it to Scandinavia this Christmas? Not to worry: on the terrace by the Tower of London, overlooking the Thames, lies the Coppa Club Igloos. Seven giant heated PVC igloos are filled with sheepskin blankets, speakers for your Christmas sing-a-longs and a selection of Modern-European cuisine for you to enjoy. Available for private hire and walk-ins, the igloos proved to be a massive hit last year, so book now before it's too late!
Highlight: Seasonal cocktails including the Spiced Berry Caipirissima or Maple Old Fashioned.
Where: Coppa Club, 3 Three Quays Walk, Lower Thames Street, London EC3R 6AH, coppaclub.co.uk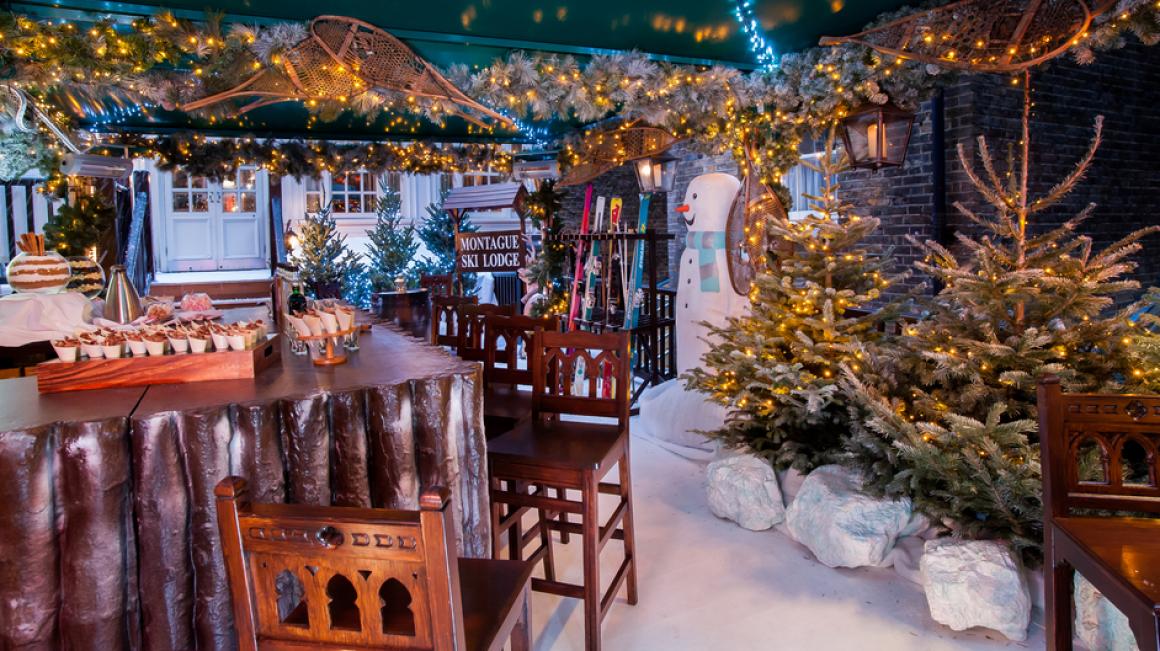 5. Montague Ski Lodge
What: Over the festive period, The Montague on the Gardens Hotel transforms The Wood Deck into the magical Montague Ski Lodge complete with ski racks, pine trees, reindeer, snowmen, fairy lights, piste maps and even falling snow. A perfect place to get into the Christmas spirit, guests can enjoy an array of festive food and drinks from candied pecans, mini bratwurst mulled wine, hot spiced cider and more.
Highlight: The centrepiece is a bar serving a selection of beverages from a choice of 12 including Schnapps and flavoured vodkas.
Where: 15 Montague St, Bloomsbury, London WC1B 5BJ, montaguehotel.com/ski-and-beach/the-ski-lodge